Clinical Implications of Cytotoxic T Lymphocyte Antigen-4 Expression on Tumor Cells and Tumor-Infiltrating Lymphocytes in Extrahepatic Bile Duct Cancer Patients Undergoing Surgery Plus Adjuvant Chemoradiotherapy
Original Research Article
Abstract
Background
There currently is only limited knowledge on the role of tumor-specific immunity in cholangiocarcinoma.
Objective
This study evaluated the clinical implications of cytotoxic T lymphocyte antigen-4 (CTLA-4) expression levels and CD4+ and CD8+ tumor-infiltrating lymphocytes (TILs) in extrahepatic bile duct (EHBD) cancer.
Patients and Methods
Immunohistochemistry of CTLA-4, CD4, and CD8 was performed for 77 EHBD cancer patients undergoing surgery plus adjuvant chemoradiotherapy. CTLA-4 expression on tumor cells and TILs were assessed by using H-scores and the proportion of CTLA-4+ lymphocytes, respectively.
Results
With optimal cutoff values determined by a maximal chi-square method with overall survival (OS) data, patients with CTLA-4 H-score >70 and a proportion of CTLA-4+ TILs >0.15 showed higher mean density of CD8+ and CD4+ TILs, respectively (P = 0.025 for CD8+ and P = 0.055 for CD4+ TILs). The high CTLA-4 H-score level was associated with prolonged OS and disease-free interval (DFI) (P = 0.025 and 0.004, respectively). With differential levels of CTLA-4 H-score according to hilar and non-hilar locations (high rate 32 vs. 68%, respectively; P = 0.013), an exploratory subgroup analysis demonstrated that the associations between the CTLA-4 expression and OS and DFI were confined to hilar tumors (P = 0.003 and <0.001, respectively), but not to non-hilar ones (P = 0.613 and 0.888, respectively).
Conclusions
This study demonstrates a potential prognostic relevance of CTLA-4 expression in EHBD cancer. We suggest a differential survival impact of the CTLA-4 expression level according to different tumor locations.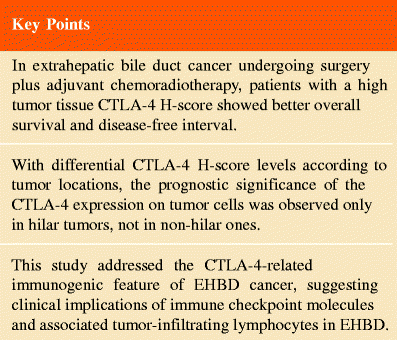 Keywords
Overall Survival 
Cholangiocarcinoma 
Ipilimumab 
Extrahepatic Bile Duct 
Biliary Tract Cancer 
These keywords were added by machine and not by the authors. This process is experimental and the keywords may be updated as the learning algorithm improves.
Notes
Compliance with Ethical Standards
Conflict of Interest
The authors declare no conflicts of interest.
Copyright information
© Springer International Publishing Switzerland 2017