Investigation of pelvic symmetry using CAD software
Abstract
Severe pelvic fractures often prove difficult for surgeons as they require patient-specific surgical treatment plans and customized equipment. Developing virtual patient-specific 3D pelvis models would ease the surgical planning process and enable development of custom fixation plates. This paper aims to examine pelvic symmetry to conclude whether the contralateral side may be used as a reference model for the fractured side of the pelvis. Fourteen subjects with intact pelvises were involved in this study. CT scans of the pelvises were converted to 3D models and the right sides of the pelvises were reflected and aligned with the left sides. A deviation analysis was then performed for each set of models and results showed that the average root mean square (RMS) of values was 1.14 ± 0.26 mm and the average percentage of points below a deviation threshold of ± 2 mm was 91.9 ± 5.55%. The deviation color maps (DCMs) showed that the largest deviations were on the non-articular surfaces. The volume and surface area of each model were also examined and showed no significant differences between left and right sides. These results indicate that the pelvis displays bilateral symmetry and this concept can be used to develop fully intact patient-specific 3D pelvis models for fracture reconstruction using the unfractured contralateral side.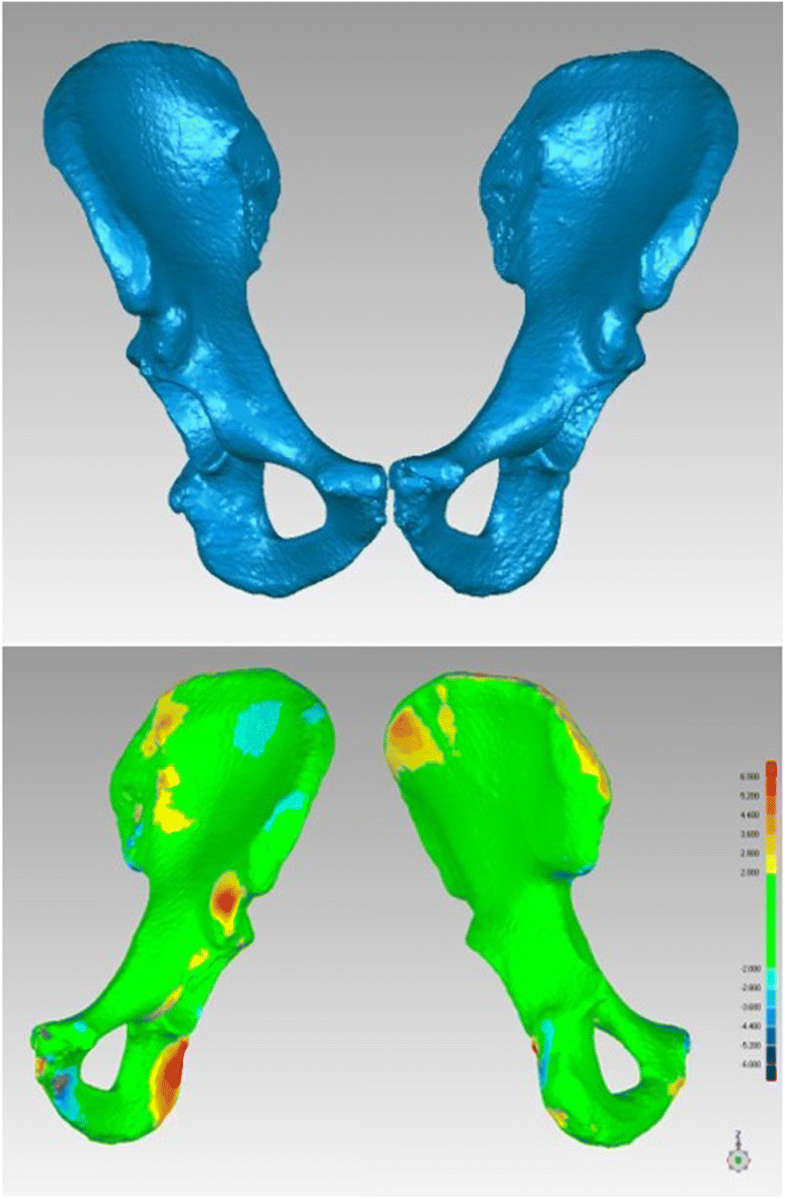 Keywords
Pelvis 
3D models 
Symmetry 
Deviation analysis 
Surgical planning 
Abbreviations
CAD

Computer-aided design

3D

Three dimensional

CT

Computed topography

RMS

Root mean square

DCM

Deviation color map
Notes
Acknowledgments
The authors would like to thank Irina Ilic for her assistance in the pelvis digitization process.
Funding information
This work was funded by the Natural Sciences and Engineering Research Council of Canada (NSERC).
Compliance with ethical standards
In order to use the clinical data, a waiver of consent was received and approval was obtained from the Health Research Ethics Board at the University of Alberta.
Conflict of interest
The authors declare that they have no conflict of interest.
Copyright information
© International Federation for Medical and Biological Engineering 2019