Monitoring respiratory rates with a wearable system using a stretchable strain sensor during moderate exercise
Abstract
Respiratory rate, a sensitive indicator of respiratory status, is rarely measured during the field walking test. Our objective was to develop and validate a non-invasive, wearable monitoring system using stretchable strain sensors and an accompanying algorithm capable of providing real-time measurements of respiration during exercise. Twenty-four healthy volunteers wore stretchable sensors during a walking test protocol that included standing, sitting, walking, and walking with a stick. Sensors were placed on the ribcage and abdomen. The Bland-Altman method was used to assess the accuracy and precision of breath counts; total respiration time and inspiration time ratio were determined by custom algorithms and compared with measurements obtained with the standard flow sensor. The output signal from the stretchable sensor was highly synchronized with flow signals. The limits of agreement were within 3 breaths/min throughout the test protocol. Differences between sensors for total respiration time and inspiration time ratio were less than 14% and 26%, respectively. The agreement was maintained regardless of respiratory rate or volume. The wearable respiratory monitoring system yielded accurate and precise breath counts and total duration of respiratory cycle during moderate exercise in healthy young individuals, suggesting that it might be useful in clinical practice.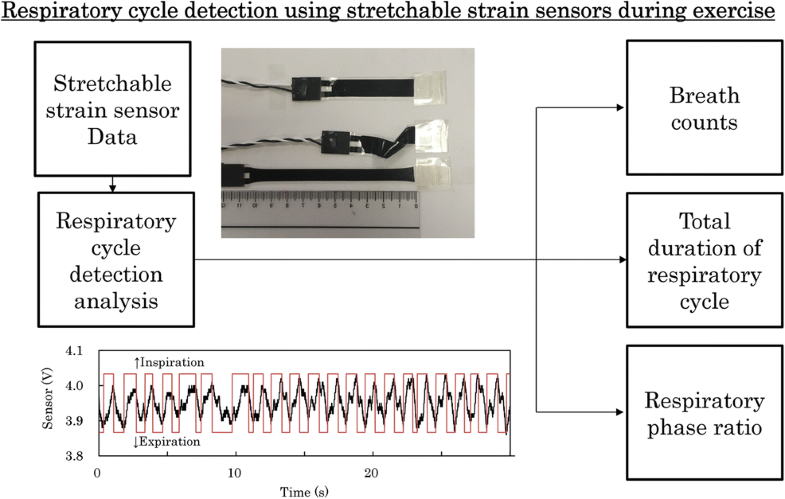 Keywords
Rehabilitation 
Stretchable strain sensor 
Respiratory rate 
Vital signs 
Walking test 
Wearable sensor 
Respiration 
Abbreviations
ABD

Abdomen

BC

Breath count

FLOW

Flow sensor

LOA

Limit of agreement

RC

Ribcage

RMSRD

Root mean square relative difference

STR

Stretchable strain sensor

STS

Sit-to-stand/stand-to-sit

TT

Total time of respiratory duration

TITT

Time of inspiration per total time of respiratory duration (inspiration time ratio)
Notes
Author contributions
The literature search was done by AY, YO, YG and YW; data collection by AY, YB, YO, YF, YW, and KO; and all authors contributed to study design. Data analysis was done by AY, manuscript preparation by AY, and manuscript review was done by all the authors.
Funding information
The study was funded by a grant from Bando Chemical Industries Ltd, and was partly supported by a grant from JSPS KAKENHI Grant Numbers JP17K17502, Grant-in-Aid for Young Scientists (B), and JP18K10744.
Compliance with ethical standards
Conflict of interest
AY, HN, TT, AI received research grants and part of the experimental materials used for data collection from Bando Chemical Industries Ltd. YB is an employee of Bando Chemical Industries, Ltd.
Ethical approval
All procedures were in accordance with the ethical standards of the institutional and/or national research committee and with the 1964 Helsinki declaration and its later amendments. The study was approved by the ethical standards of the Committee on Human Experimentation at the Graduate School of Health Sciences, Kobe University.
Informed consent
Individual written informed consent was obtained from all participants included in the study.
Copyright information
© International Federation for Medical and Biological Engineering 2019