Accuracy of electromagnetic models to estimate cardiomyocyte membrane polarization
Abstract
External electric fields (E) induce a spatially heterogeneous variation in the membrane potential (ΔVm) of cardiomyocytes that, if sufficiently large, results in an action potential and contraction. Insights into the phenomenon of ΔVm induction by E have been classically gained with electromagnetic models due to the lack of adequate experimental approaches. However, it is not clear yet how reliable these models are. To assess the accuracy of commonly used models, a reference 3D numerical model for cardiomyocytes (NMReal) was developed, consisting of the cell membrane shell reconstructed from rendered confocal microscopy images of freshly isolated ventricular myocytes. NMReal was used to estimate the E-induced maximum ΔVm values (ΔVmax), which were compared with estimates from seven other electromagnetic models. Accurate ΔVmax estimates (average error < 2%) were obtained with a less complex 3D model (NM3D) based on the extruded 2D image of the cell longitudinal section. Acceptable ΔVmax estimates (average error < 5%) were obtained with the prolate spheroid analytical model (PSAM) when the angle of E incidence and the cell major axis was < 30°. In this case, PSAM, a much simpler model requiring only the measurement of the longitudinal and transversal cell dimensions, can be a suitable alternative for ΔVmax calculation.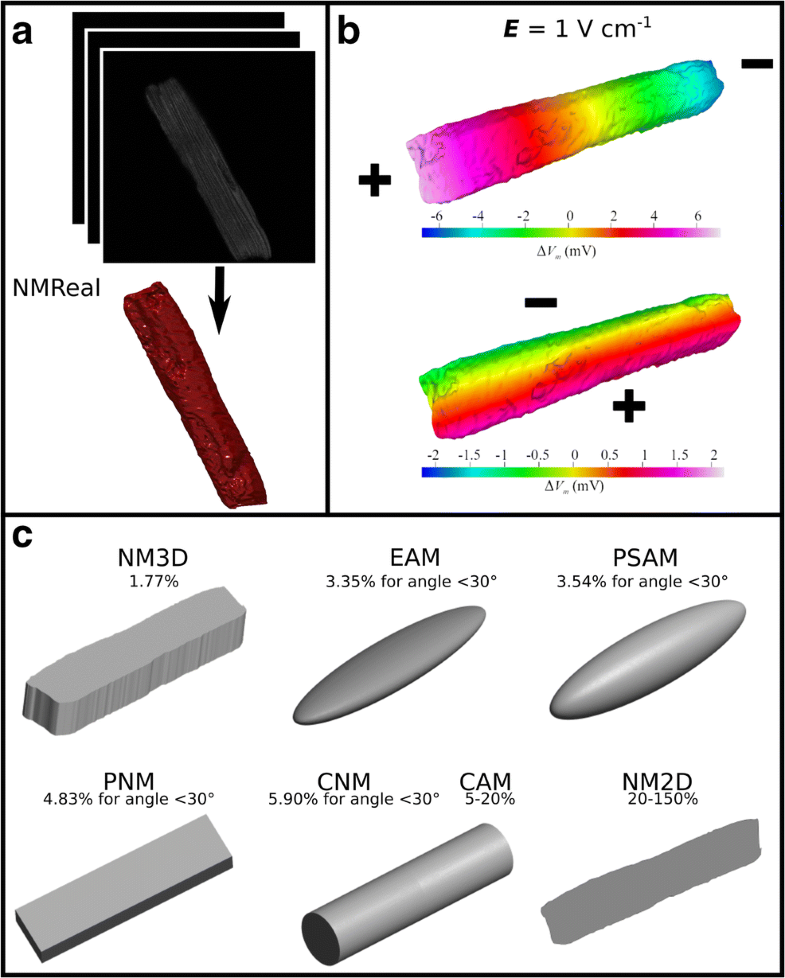 Keywords
Finite element analysis 
Transmembrane electric potential 
Electric field 
Electric stimulation 
Myocardial cell 
Notes
Acknowledgments
The authors are grateful to the Brazilian National Center for High Performance Computing in the São Paulo State (CENAPAD-SP) for providing computational resources (Proj587) and to Ms. Elizângela S. Oliveira and Mr. Renato S. Moura from the Center for Biomedical Engineering of University of Campinas for technical support.
Funding information
This work was supported by São Paulo Research Foundation (FAPESP, Proc. 2013/05441-5), Brazilian National Council for Scientific and Technological Development (CNPq, Proc. 304010/2016-2, 203312/2014-7, 308092/2015-5), Minas Gerais Research Foundation (FAPEMIG, Proc. PPM-00666-16), and Coordination for the Improvement of Higher Education Personnel (CAPES).
Copyright information
© International Federation for Medical and Biological Engineering 2019