The synergetic effect of pelvic rotation and X-ray offset on radiographic angles of the acetabular cup
Abstract
The objective of this study is to investigate the synergetic effect of the pelvic rotation and X-ray offset on the radiographic anteversion/inclination (RA/RI) angles of the acetabular cup using a mathematical model. A cone model for establishing the spatial relationship between a three-dimensional (3D) circle and its two-dimensional (2D) elliptical projection is utilized to quantify the relationship between the 3D RA/RI angles of the cup and their 2D counterparts with different types of pelvic rotations in pelvic/hip anteroposterior radiographs. The results reveal that the effect of inlet/outlet views on the 2D RA angle is similar to that of iliac/obturator views. The permissible ranges of pelvic rotation for the 2D RA angle with an acceptable bias are the 3D space formed by the limits of triple axial rotations. For a specified acceptable bias of the 2D RA angle, these ranges are almost equal between pelvic and hip radiographs. The combined inlet/obturator or outlet/iliac views can maintain the 2D RA angle of a pelvic radiograph within the same range of acceptable bias as that of a hip radiograph. For a 2D RA angle with an acceptable bias, the permissible range of pelvic rotation needs to be evaluated with equal attention in both radiographs.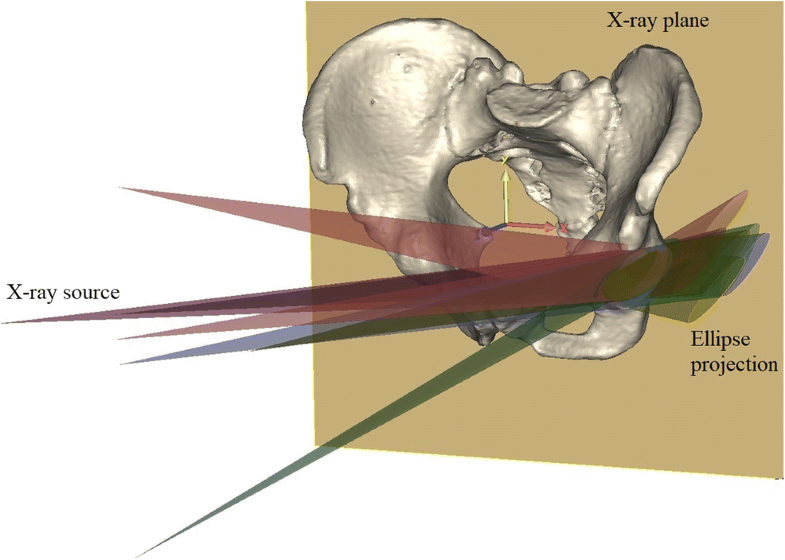 Keywords
Acetabular cup 
2D radiographic angle 
3D radiographic angle 
Pelvic rotation 
X-ray offset 
Nomenclature
2D

Two-dimensional

3D

Three-dimensional

AP

Anteroposterior

RA

Radiographic anteversion

RI

Radiographic inclination

THA

Total hip arthroplasty
Notation
r

The radius of the cup

(o, p, q)

The coordinate of the X-ray beam source

(x0, y0, z0)

The coordinate of the center of the cup

[k1, i1, j1]

The normal vector of the cup before rotation

[k, i, j]

The normal vector of the axis of the cup after rotation

[l, m, n]

The normal vector of the space line

α

The x-axial rotation of the cup

β

The y-axial rotation of the cup

γ

The z-axial rotation of the cup
Notes
Acknowledgments
Anonymous reviewers are appreciated very much for their help to improve this manuscript.
Funding information
This study was partially funded by the Fundamental Research Funds for the Central Universities (FRF-TP-16-045A1).
Compliance with ethical standards
Conflict of interest
The authors declare that they have no conflict of interest.
Ethical approval
This article does not contain any studies with human participants or animals performed by any of the authors.
Copyright information
© International Federation for Medical and Biological Engineering 2019