Infant posture and movement analysis using a sensor-supported gym with toys
Abstract
Infant posture and motor pattern development are normally analyzed by clinical assessment scales. Lately, this approach is combined with the use of sensor-supported systems, such as optical, inertial, and electromagnetic measurement systems, as well as novel assessment devices, such as CareToy. CareToy is a modular device for assessment and rehabilitation of preterm infants, comprising pressure mattresses, inertial and magnetic measurement units, and sensorized toys. Since such integrated sensor system combination is new to the field of sensor-supported infant behavior assessment and rehabilitation, dedicated methods for data analysis were developed and presented. These comprise trunk rotation, arm movement, forearm orientation, and head movement analysis, along with toy play and trunk posture stability evaluation. Methods were tested on case study data, evaluating suitability of developed algorithms for infant posture and activity analysis, regardless of behavioral responses. Obtained results demonstrate suitability of the proposed methods for successful use in studies of different motor pattern subfields. This represents an important step on the course towards objective, accurate, sensor-supported infant motor development assessment.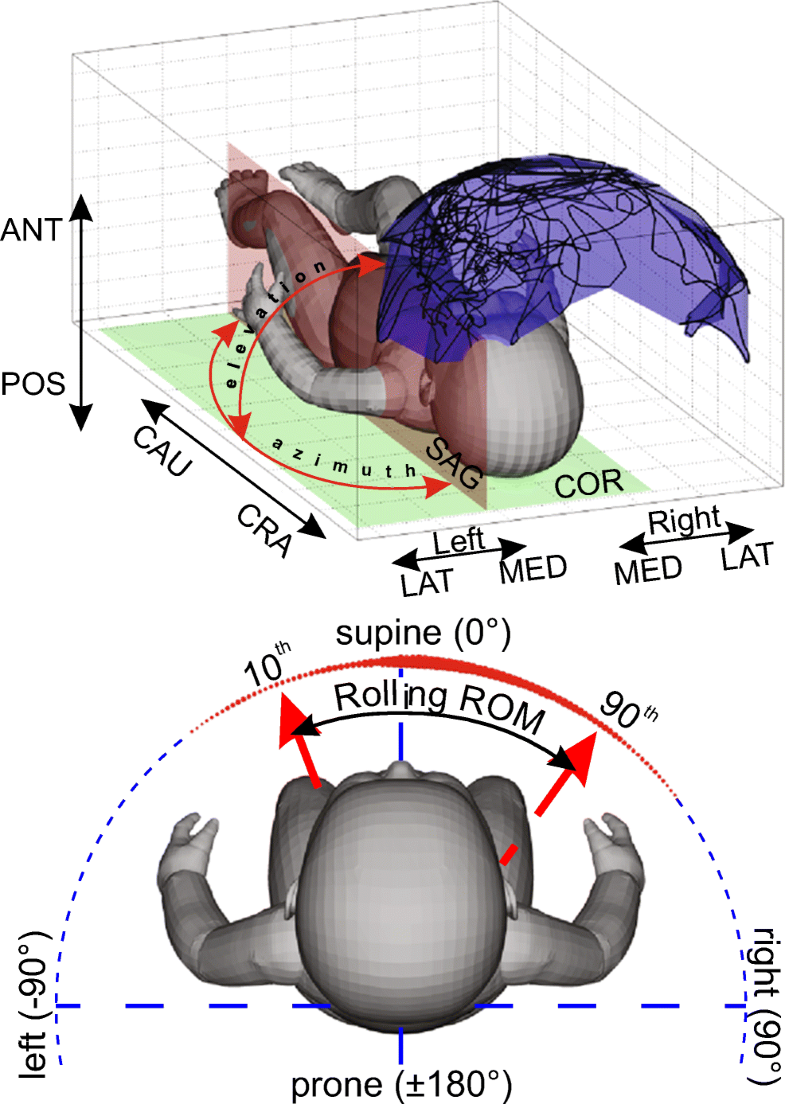 Keywords
Data processing algorithms 
Infant activity assessment 
Pressure mattress 
Inertial and magnetic measurement units 
Sensorized toys 
Abbreviations
AIMS

Alberta Infant Motor Scale

ANT

anterior

CAU

caudal

COP

center-of-pressure

COR

coronal plane

CRA

cranial

EMG

electromyography

FA

forearm

IMU

wireless magneto-inertial measurement unit

LAT

lateral

MED

medial

POS

posterior

RCT

randomized clinical trial

RMSd

root-mean-square displacement

ROM

range-of-motion

TIMP

test of infant motor performance

UKF

unscented Kalman filter
Notes
Acknowledgments
The authors gratefully acknowledge Elena Beani and Emanuela Inguaggiato for monitoring infants' training, as well as Matteo Giampietri and Laura Bartalena for enrolling infants at Santa Chiara Hospital of Pisa (Neonatal Intensive Care Unit).
Funding information
This work was funded by the European Union Collaborative Project CareToy grant ICT-2011.5.1-287932 and additionally supported by the Slovenian Research Agency.
Compliance with ethical standards
Signed informed consent was obtained from infant parents before the start of assessment, while the measurements were performed in compliance with Helsinki Declaration. Suitability of the measurement protocol was approved by Tuscan Region Pediatric Ethics Committee and Italian Ministry of Health (DGDFSC 0066613-P-17/09/2013).
Conflict of interest
The authors declare that they have no conflict of interest.
Copyright information
© International Federation for Medical and Biological Engineering 2018