Effects of the arterial radius and the center-line velocity on the conductivity and electrical impedance of pulsatile flow in the human common carotid artery
Abstract
In order to investigate the contribution of arterial radius and center-line velocity to the blood conductivity and electrical impedance of pulsatile flow in the human common carotid artery, we proposed three simplified mathematical models to describe the relationship between the center-line velocity, the arterial radius, and the blood conductivity. By comparing the fitting results with those obtained from our previously proposed elastic-tube hemodynamic model, we found that the change in center-line velocity had more notable effect on the blood conductivity than the change in arterial radius. Moreover, the change in arterial radius contributed much more to the electrical impedance than the change in blood conductivity induced by the center-line velocity.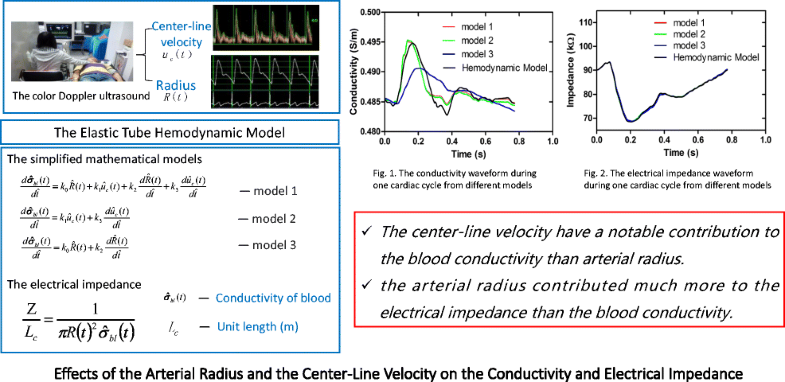 Keywords
Electrical impedance 
Blood conductivity 
Pulsatile blood flow 
Simplified mathematical model 
Arterial radius 
Centre-line velocity 
Human common carotid artery 
Notes
Funding information
This work was, in part, supported by the National Natural Science Foundation of China (Grant No. 31370948), Liaoning Province Natural Science Fund (Grant No. 20170540052), and Liaoning Province Science Fund for Research and Development Program (Grant Nos. 2017225078, 2017225079).
Copyright information
© International Federation for Medical and Biological Engineering 2018