Physiological study of pulmonary involvement in adults with cystic fibrosis through simulated modeling of different clinical scenarios
Abstract
Cystic fibrosis is an inherited disorder of the cystic fibrosis transmembrane conductance regulator gene (CFTR) that affects the respiratory system. Current treatment is palliative, but there is a gene therapy under investigation which involves inserting a functional CFTR gene into affected cells. Given the clinical variety of the disease, it is necessary to characterize key indicators in its evolution (e.g., the number of functional alveolar sacs and its relationship with a healthy lung function), to anticipate its advancement. A dynamic model was used to evaluate the evolution of cystic fibrosis over time. We considered the application of conventional medical treatments and evaluated the benefits of the application of an experimental gene therapy that would reverse lung damage. Without treatment the life expectancy of the patient is low, but it is increased with the application of conventional treatments, being the progressive loss of the lung function inevitable. Simulating the application of a gene therapy, the life expectancy of patients would not be limited, given the recovery of all altered cellular processes. With this model we can make predictions that demonstrate the need for a curative treatment, in addition to presenting the evolution of pathology in a specific clinical setting.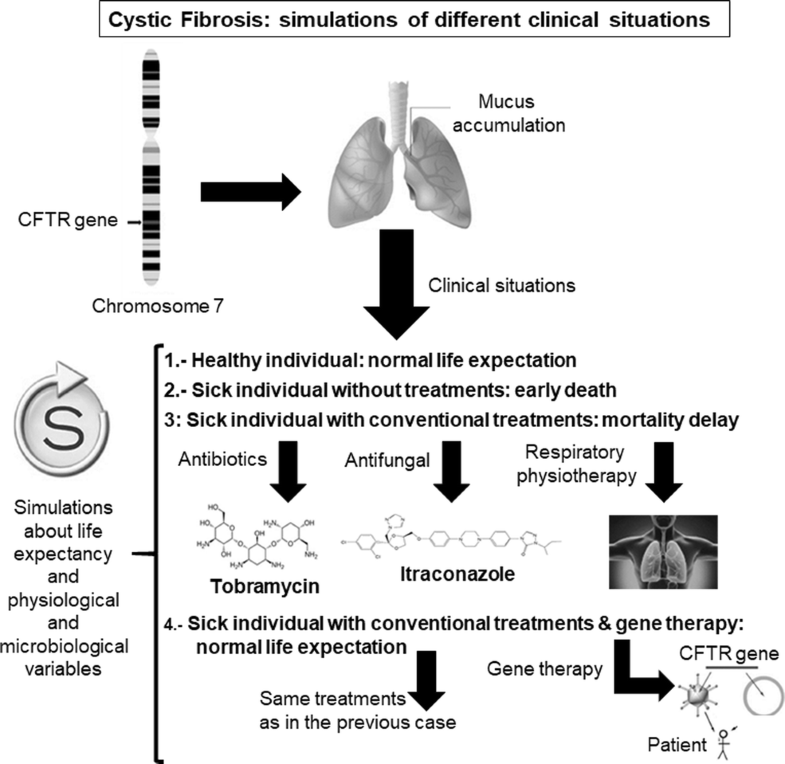 Keywords
CFTR protein (cystic fibrosis transmembrane conductance regulator) 
Dynamic modeling 
Genetic therapy 
Pulmonary function 
Respiratory physiology 
Notes
Acknowledgments
Authors want to thank the support received for this work by a predoctoral contract of researcher in training (UCM-Santander scholarship) granted by University Complutense of Madrid to Antonio Alberto Rodríguez Sousa and a predoctoral scholarship granted to Jonathan Pereira Miller. Finally, special thanks to Ms. María Aurora Rodríguez Sousa, for her unconditional support and advice in carrying out this work from its inception. In Memoriam: Sergio Rodríguez Valido.
Compliance with ethical standards
Conflict of interest
The authors declare that they have no conflict of interest.
Ethical approval
This article does not contain any studies with human participants or animals performed by any of the authors. Such, there is no necessary any informed consent.
Copyright information
© International Federation for Medical and Biological Engineering 2018