An automatic multi-class coronary atherosclerosis plaque detection and classification framework
Abstract
Detection of different classes of atherosclerotic plaques is important for early intervention of coronary artery diseases. However, previous methods focused either on the detection of a specific class of coronary plaques or on the distinction between plaques and normal arteries, neglecting the classification of different classes of plaques. Therefore, we proposed an automatic multi-class coronary atherosclerosis plaque detection and classification framework. Firstly, we retrieved the transverse cross sections along centerlines from the computed tomography angiography. Secondly, we extracted the region of interests based on coarse segmentation. Thirdly, we extracted a random radius symmetry (RRS) feature vector, which incorporates multiple descriptions into a random strategy and greatly augments the training data. Finally, we fed the RRS feature vector into the multi-class coronary plaque classifier. In experiments, we compared our proposed framework with other methods on the cross sections of Rotterdam Coronary Datasets, including 729 non-calcified plaques, 511 calcified plaques, and 546 mixed plaques. Our RRS with support vector machine outperforms the intensity feature vector and the random forest classifier, with the average precision of 92.6 ± 1.9% and average recall of 94.3 ± 2.1%. The proposed framework provides a computer-aided diagnostic method for multi-class plaque detection and classification.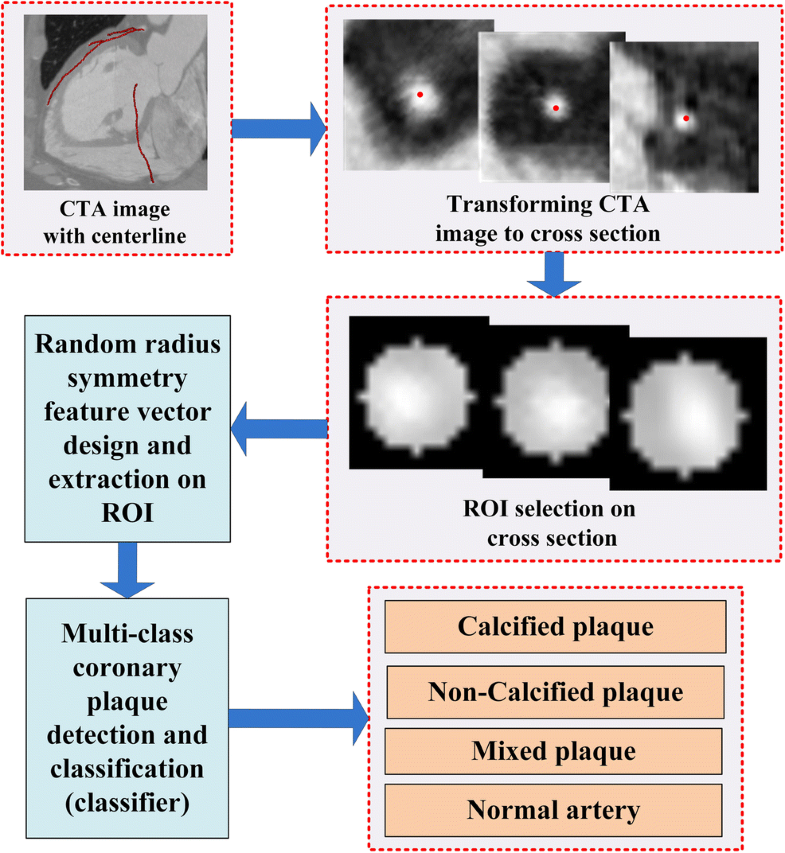 Keywords
Coronary atherosclerosis plaque 
Detection 
Classification 
Computed tomography angiography 
Notes
Acknowledgements
The authors also would like to thank Dr. Muhan Liu for his assistance in polishing the manuscript.
Funding information
This work was partly supported by the National Key R&D Program of China under Grant No. 2016YFC1300300; the National Natural Science Foundation of China under Grant Nos. 61601363, 61701403, 61401264, 11571012, 81530058; the Natural Science Research Plan Program in Shaanxi Province of China under Grant Nos. 2017JQ6017, 2017JQ6006, 2015JM6322, and 2015JZ019; and the Scientific Research Foundation of Northwest University.
Compliance with ethical standards
Conflict of interest
The authors declare that they have no conflict of interest.
Ethical approval
All the CTA data are obtained from public database. No human/animal experiments are involved in this paper.
Copyright information
© International Federation for Medical and Biological Engineering 2018