Augmented reality surgical navigation with accurate CBCT-patient registration for dental implant placement
Abstract
It is challenging to achieve high implant accuracy in dental implant placement, because high risk tissues need to be avoided. In this study, we present an augmented reality (AR) surgical navigation with an accurate cone beam computed tomography (CBCT)-patient registration method to provide clinically desired dental implant accuracy. A registration device is used for registration between preoperative data and patient outside the patient's mouth. After registration, the registration device is worn on the patient's teeth for tracking the patient. Naked-eye 3D images of the planning path and the mandibular nerve are superimposed onto the patient in situ to form an AR scene. Simultaneously, a 3D image of the drill is overlaid accurately on the real one to guide the implant procedure. Finally, implant accuracy is evaluated postoperatively. A model experiment was performed by an experienced dentist. Totally, ten parallel pins were inserted into five 3D-printed mandible models guided by our AR navigation method and through the dentist's experience, respectively. AR-guided dental implant placement showed better results than the dentist's experience (mean target error = 1.25 mm vs. 1.63 mm; mean angle error = 4.03° vs. 6.10°). Experimental results indicate that the proposed method is expected to be applied in the clinic.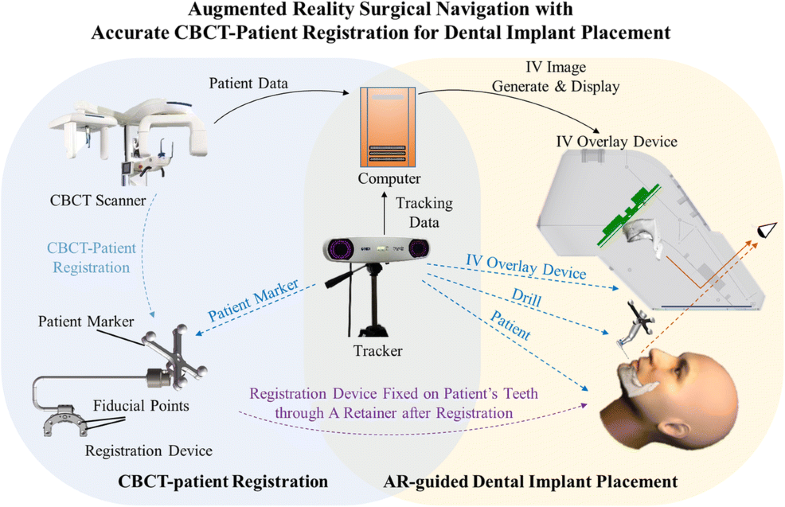 Keywords
Augmented reality 
Surgical navigation 
Accurate registration 
Dental implant placement 
Accuracy evaluation 
Notes
Acknowledgments
We thank Dr. Jiuyue Yu and Shengde Niu of Beijing Enjoy Dental Clinic for their help in the operative component of the experiments and computed tomography data collections.
This work was supported in part by the National Natural Science Foundation of China (81427803, 81771940), National Key Research and Development Program of China (2017YFC0108000), Beijing Municipal Science & Technology Commission (Z151100003915079), Beijing Municipal Natural Science Foundation (7172122), Soochow-Tsinghua Innovation Project (2016SZ0206), and China Postdoctoral Science Foundation (043220007).
Compliance with ethical standards
Conflict of interest
The authors declare that they have no conflict of interest.
Informed consent
This article does not contain patient data.
Copyright information
© International Federation for Medical and Biological Engineering 2018