Short-term prediction of glucose in type 1 diabetes using kernel adaptive filters
Abstract
This study aims at presenting a nonlinear, recursive, multivariate prediction model of the subcutaneous glucose concentration in type 1 diabetes. Nonlinear regression is performed in a reproducing kernel Hilbert space, by either the fixed budget quantized kernel least mean square (QKLMS-FB) or the approximate linear dependency kernel recursive least-squares (KRLS-ALD) algorithm, such that a sparse model structure is accomplished. A multivariate feature set (i.e., subcutaneous glucose, food carbohydrates, insulin regime and physical activity) is used and its influence on short-term glucose prediction is investigated. The method is evaluated using data from 15 patients with type 1 diabetes in free-living conditions. In the case when all the input variables are considered: (i) the average root mean squared error (RMSE) of QKLMS-FB increases from 13.1 mg dL−1 (mean absolute percentage error (MAPE) 6.6%) for a 15-min prediction horizon (PH) to 37.7 mg dL−1 (MAPE 20.8%) for a 60-min PH and (ii) the RMSE of KRLS-ALD, being predictably lower, increases from 10.5 mg dL−1 (MAPE 5.2%) for a 15-min PH to 31.8 mg dL−1 (MAPE 18.0%) for a 60-min PH. Multivariate data improve systematically both the regularity and the time lag of the predictions, reducing the errors in critical glucose value regions for a PH ≥ 30 min.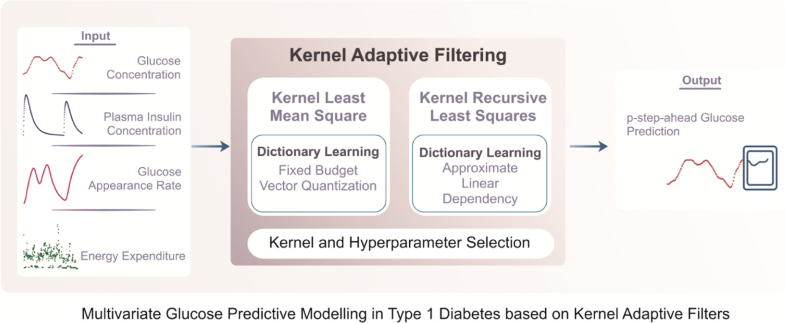 Keywords
Glucose concentration prediction 
Kernel methods 
Nonlinear regression 
Online learning 
Type 1 diabetes 
Notes
Compliance with ethical standards
Conflict of interest
The authors declare that they have no conflict of interest.
Ethical approval
All procedures performed in studies involving human participants were in accordance with the ethical standards of the institutional and/or national research committee and with the 1964 Helsinki declaration and its later amendments or comparable ethical standards.
Informed consent
Informed consent was obtained from all individual participants included in the study.
Copyright information
© International Federation for Medical and Biological Engineering 2018