Driver electronics design and control for a total artificial heart linear motor
Abstract
For any implantable device size and efficiency are critical properties. Thus, a linear motor for a Total Artificial Heart was optimized with focus on driver electronics and control strategies. Hardware requirements were defined from power supply and motor setup. Four full bridges were chosen for the power electronics. Shunt resistors were set up for current measurement. Unipolar and bipolar switching for power electronics control were compared regarding current ripple and power losses. Here, unipolar switching showed smaller current ripple and required less power to create the necessary motor forces. Based on calculations for minimal power losses Lorentz force was distributed to the actor's four coils. The distribution was determined as ratio of effective magnetic flux through each coil, which was captured by a force test rig. Static and dynamic measurements under physiological conditions analyzed interaction of control and hardware and all efficiencies were over 89%. In conclusion, the designed electronics, optimized control strategy and applied current distribution create the required motor force and perform optimal under physiological conditions. The developed driver electronics and control offer optimized size and efficiency for any implantable or portable device with multiple independent motor coils.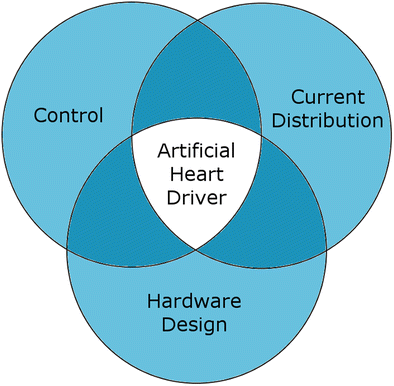 Keywords
Artificial heart 
Biomedical engineering 
Artificial implant 
Notes
Acknowledgements
The ReinHeart was developed in cooperation with MecoraMedizintechnik GmbH (Aachen, Germany) in a research project funded by the European Union and the state of North Rhine-Westphalia and the Erich und Hanna Klessmann Stiftung (Grant ID: 005-GW01-206B).
Copyright information
© International Federation for Medical and Biological Engineering 2018