This is a preview of subscription content, log in to check access.
Access options
Buy single article
Instant unlimited access to the full article PDF.
US$ 39.95
Price includes VAT for USA
Subscribe to journal
Immediate online access to all issues from 2019. Subscription will auto renew annually.
US$ 99
This is the net price. Taxes to be calculated in checkout.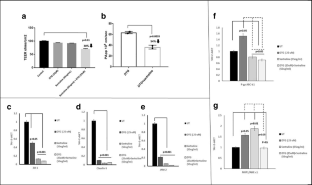 References
Abbott NJ, Patabendige AA, Dolman DE, Yusof SR, Begley DJ (2010) Structure and function of the blood-brain barrier. Neurobiol Dis 37:13–25

Cottrell ML, Hadzic T, Kashuba AD (2013) Clinical pharmacokinetic, pharmacodynamic and drug-interaction profile of the integrase inhibitor dolutegravir. Clin Pharmacokinet 52(11):981–994

de Boer MG, van den Berk GE, van Holten N, Oryszcyn JE, Dorama W, Moha DA, Brinkman K (2016) Intolerance of dolutegravir-containing combination antiretroviral therapy regimens in real-life clinical practice. AIDS 30(18):2831–2834

Do AN, Rosenberg ES, Sullivan PS et al (2014) Excess burden of depression among HIV-infected persons receiving medical care in the United States: data from the medical monitoring project and the behavioral risk factor surveillance system. PLoS One 9:e92842

Hoffmann C, Welz T, Sabranski M, Kolb M, Wolf E, Stellbrink HJ, Wyen C (2017) Higher rates of neuropsychiatric adverse events leading to dolutegravir discontinuation in women and older patients. HIV Med 18(1):56–63

Iqbal M, Ho HL, Petropoulos S, Moisiadis VG, Gibb W, Matthews SG (2012) Pro-inflammatory cytokine regulation of P-glycoprotein in the developing blood-brain barrier. PLoS One 7:e43022

Kheloufi F, Boucherie Q, Blin O, Micallef J (2017) Neuropsychiatric events and dolutegravir in HIV patients: a worldwide issue involving a class effect. AIDS 31(12):1775–1777

National Institute of Mental Health (2019) HIV-AIDS. Retrieved October 20, 2019, from https://www.nimh.nih.gov/health/topics/hiv-aids/index.shtml

von Wedel-Parlow M, Wolte P, Galla HJ (2009) Regulation of major efflux transporters under inflammatory conditions at the blood-brain barrier in vitro. J Neurochem 111:111–118

Zlokovic BV (2008) The blood-brain barrier in health and chronic neurodegenerative disorders. Neuron 57:178–201
Additional information
Publisher's Note
Springer Nature remains neutral with regard to jurisdictional claims in published maps and institutional affiliations.
About this article
Cite this article
Ma, Q., Schifitto, G., Venuto, C. et al. Effect of Dolutegravir and Sertraline on the Blood Brain Barrier (BBB). J Neuroimmune Pharmacol (2020) doi:10.1007/s11481-020-09904-z
Received:

Accepted:

Published: