Associations between Antiretroviral Drugs on Depressive Symptomatology in Homogenous Subgroups of Women with HIV
Abstract
Antiretroviral therapy (ART) is inconsistently associated with depression. These associations may depend on factors such as biological sex, age, and health status. Identifying such factors may help optimize treatment of HIV and depression. We implemented a novel approach to examine interindividual variability in the association between ART agents and depressive symptoms. 3434 women living with HIV (WLWH) from the Women's Interagency HIV Study (WIHS) were computationally divided into subgroups based on sociodemographic (e.g., age) and longitudinal (from 1995 to 2016) behavioral and clinical profiles (e.g., substance use, HIV RNA, CD4 counts). Five subgroups (n's ranged from 482 to 802) were identified and characterized as those with: controlled HIV/vascular comorbidities; profound HIV legacy effects; younger women [<45 years of age] with hepatitis C; primarily 35–55 year olds; and poorly controlled HIV/substance use. Within each subgroup, we examined associations between ART agents used over the past 6 months and item-level depressive symptoms on the Center for Epidemiologic Studies Depression Scale. Tenofovir (4 of 5 subgroups) followed by efavirenz, emtricitabine, stavudine, lopinavir, etravirine, nelfinavir, ritonavir, and maraviroc were the most common agents associated with depressive symptoms, although the pattern and directionality varied by subgroup. For example, lopinavir was associated with fewer symptoms among the subgroup with a legacy HIV effect but more symptoms among the subgroup with well-controlled HIV/vascular comorbidities. Unexpectedly, dolutegravir and raltegravir were not associated with depressive symptoms among any subgroup. Findings underscore marked interindividual variability in ART agents on depression in WLWH. Sociodemographic, clinical, and behavioral factors are important determinants of the relationship between ART agents and depressive symptoms in WLWH.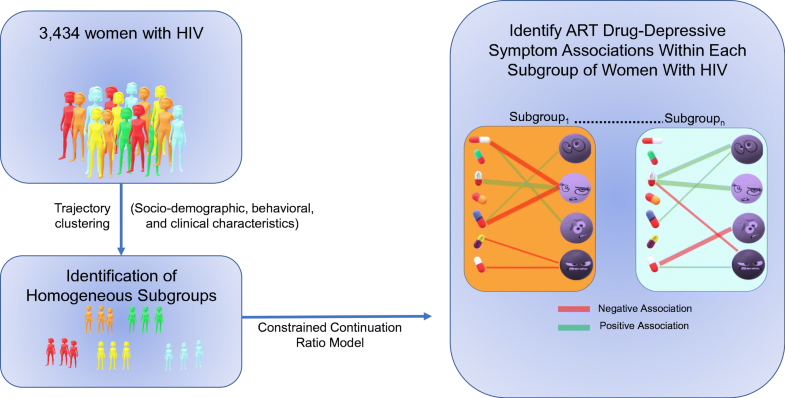 Keywords
HIV 
Women 
Depression 
Heterogeneity 
Antiretrovirals 
Notes
Acknowledgements
This work was supported by the Johns Hopkins University NIMH Center for novel therapeutics for HIV-associated cognitive disorders (P30MH075773) 2018 pilot award to Dr. Rubin. Dr. Williams effort was supported by R00DA044838. Data in this manuscript were collected by the Women's Interagency HIV Study (WIHS). The contents of this publication are solely the responsibility of the authors and do not represent the official views of the National Institutes of Health (NIH). WIHS (Principal Investigators): UAB-MS WIHS (Mirjam-Colette Kempf and Deborah Konkle-Parker), U01-AI-103401; Atlanta WIHS (Ighovwerha Ofotokun, Anandi Sheth, and Gina Wingood), U01-AI-103408; Bronx WIHS (Kathryn Anastos and Anjali Sharma), U01-AI-035004; Brooklyn WIHS (Deborah Gustafson and Tracey Wilson), U01-AI-031834; Chicago WIHS (Mardge Cohen and Audrey French), U01-AI-034993; Metropolitan Washington WIHS (Seble Kassaye and Daniel Merenstein), U01-AI-034994; Miami WIHS (Maria Alcaide, Margaret Fischl, and Deborah Jones), U01-AI-103397; UNC WIHS (Adaora Adimora), U01-AI-103390; Connie Wofsy Women's HIV Study, Northern California (Bradley Aouizerat and Phyllis Tien), U01-AI-034989; WIHS Data Management and Analysis Center (Stephen Gange and Elizabeth Golub), U01-AI-042590; Southern California WIHS (Joel Milam), U01-HD-032632 (WIHS I – WIHS IV). The WIHS is funded primarily by the National Institute of Allergy and Infectious Diseases (NIAID), with additional co-funding from the Eunice Kennedy Shriver National Institute of Child Health and Human Development (NICHD), the National Cancer Institute (NCI), the National Institute on Drug Abuse (NIDA), and the National Institute on Mental Health (NIMH). Targeted supplemental funding for specific projects is also provided by the National Institute of Dental and Craniofacial Research (NIDCR), the National Institute on Alcohol Abuse and Alcoholism (NIAAA), the National Institute on Deafness and other Communication Disorders (NIDCD), and the NIH Office of Research on Women's Health. WIHS data collection is also supported by UL1-TR000004 (UCSF CTSA), UL1-TR000454 (Atlanta CTSA), P30-AI-050410 (UNC CFAR), and P30-AI-027767 (UAB CFAR).
Author Contributions
Dr. Rubin conceived the study idea and wrote the first draft of the manuscript with Drs. Xu and Williams, and Mr. Li. Dr. Xu and Mr. Li take responsibility for the integrity of the statistical analyses. All authors contributed to the writing of the manuscript and approved the final version of the article.
Compliance with Ethical Standards
Financial Disclosures
All authors have nothing to disclose.
Copyright information
© Springer Science+Business Media, LLC, part of Springer Nature 2020