Beta1- and Beta2-Adrenoceptors Expression Patterns in Human Non-small Cell Lung Cancer: Relationship with Cancer Histology
Abstract
Assessment of Beta-AR protein expression on tumour tissues might be a plausible strategy to select cancer patients who can benefit from Beta-blockers therapy. The aim of this study is to evaluate the differences between resected tissue specimens from primary lung cancer (adenocarcinoma (ADC) and squamous cell carcinoma (SCC)) in terms of expression pattern of Beta1- and Beta2-AR in both tumour and adjacent surrounding non-tumour tissue. This retrospective study was based on the analysis of 80 patients with histologically confirmed diagnosis of primary Non-Small Cell Lung Cancer (NSCLC) who received surgical treatment. The cases were carefully selected in order to obtain the most homogeneous sample in terms of histologic subtype (40 ADCs and 40 SCCs) and clinical stage (10 each). Beta1- and Beta2-AR expression was determined by immunohistochemistry and the staining evaluated by semi-quantitative scoring using the H-score method. In our NSCLC series, Beta1- and Beta2-AR are differentially expressed. Beta1-AR expression is present at low levels in both SCC and ADC. Likewise, when compared with the matched surrounding non-tumour tissues, Beta1-AR expression level was significantly lower in both histologic subtypes. Conversely, Beta2-AR is highly expressed in both histologic subtypes, but clearly highly expressed in ADC when compared with SCC and with their matched surrounding non-tumour tissue. Overall, this clinicopathological study highlights the differential expression of Beta1- and Beta2-AR in ADC and SCC. Repurposing non-selective Beta-blockers in oncologic setting might be a suitable therapeutic strategy for lung ADC.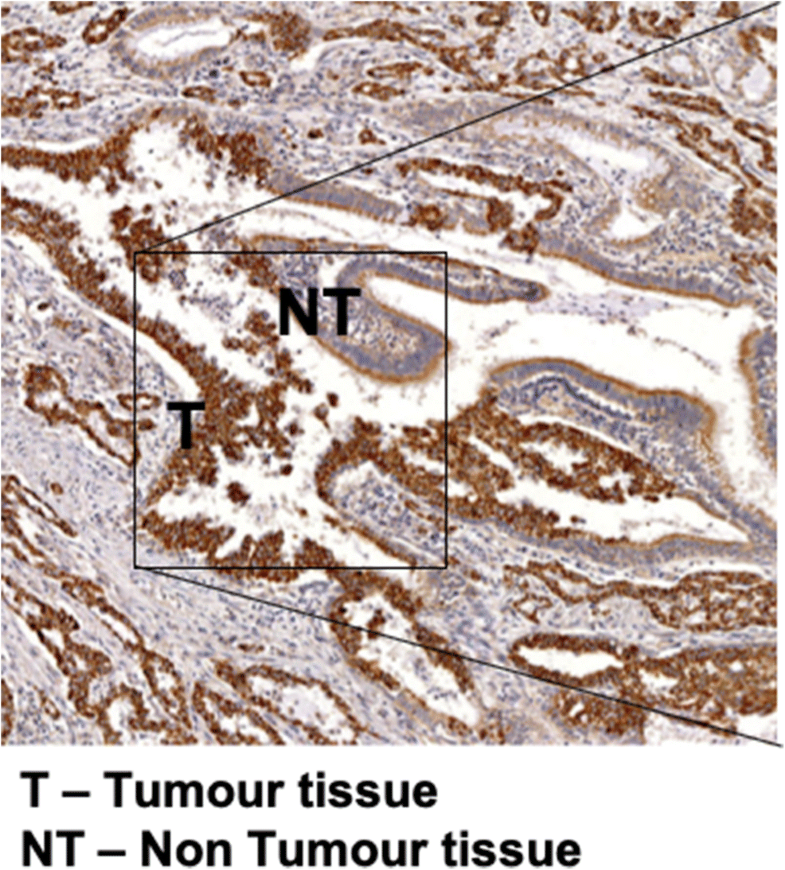 Keywords
Beta-adrenoceptors 
Non-small cell lung cancer 
Clinicopathological study 
Immunohistochemistry 
Notes
Acknowledgements
The authors gratefully acknowledge all the staff from Unit of Pathology, Department of Medicine and Surgery (University of Insubria), particularly, Professor Fausto Sessa for his availability and Daniele Sabatino for kindly helping us capturing the IHC photos. The authors also thank the staff of Department of Medicine and Surgery, Center for Thoracic Surgery, (University of Insubria), especially Professor Lorenzo Dominioni. Marisa Coelho is grateful to the PhD Course in Clinical and Experimental Medicine and Medical humanities, University of Insubria, Italy for the PhD scholarship.
Compliance with Ethical Standards
Conflict of Interest
The authors declare that they have no conflicts of interest.
Ethics Approval and Consent to Participate
All procedures performed in this study involving human participants were in accordance with the ethical standards of the institutional research committee. Permission was obtained from the local ethics committee (Ospedale del Circolo - Varese) for this retrospective analysis. For this type of study formal consent is not required. All data were recorded and analysed anonymously.
Copyright information
© Springer Science+Business Media, LLC, part of Springer Nature 2019