Dissociable Contributions of Precuneus and Cerebellum to Subjective and Objective Neuropathy in HIV
Abstract
Neuropathy, typically diagnosed by the presence of either symptoms or signs of peripheral nerve dysfunction, remains a frequently reported complication in the antiretroviral (ART)-treated HIV population. This study was conducted in 109 healthy controls and 57 HIV-infected individuals to investigate CNS regions associated with neuropathy. An index of objective neuropathy was computed based on 4 measures: deep tendon ankle reflex, vibration sense (great toes), position sense (great toes), and 2-point discrimination (feet). Subjective neuropathy (self-report of pain, aching, or burning; pins and needles; or numbness in legs or feet) was also evaluated. Structural MRI data were available for 126/166 cases. The HIV relative to the healthy control group was impaired on all 4 signs of neuropathy. Within the HIV group, an objective neuropathy index of 1 (bilateral impairment on 1 measure) or 2 (bilateral impairment on at least 2/4 measures) was associated with older age and a smaller volume of the cerebellar vermis. Moderate to severe symptoms of neuropathy were associated with more depressive symptoms, reduced quality of life, and a smaller volume of the parietal precuneus. This study is consistent with the recent contention that ART-treated HIV-related neuropathy has a CNS component. Distinguishing subjective symptoms from objective signs of neuropathy allowed for a dissociation between the precuneus, a brain region involved in conscious information processing and the vermis, involved in fine tuning of limb movements.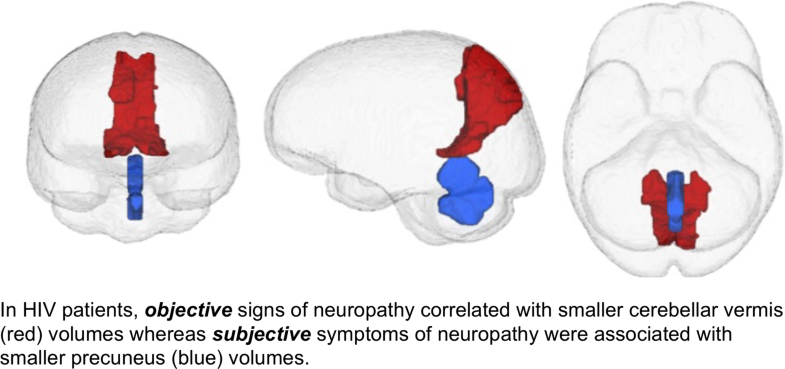 Keywords
Magnetic resonance imaging (MRI) 
Position sense 
Vibration 
Reflex 
Aesthesiometer 
Notes
Acknowledgements
The authors would like to thank Priya Asok, Karen Jackson, and Anne-Lise Pitel for their help with data collection. The authors would also like to thank Ehsan Adeli for creating the regional brain atlas figure.
Funding
This study was supported with grant funding from the National Institute of Alcohol Abuse and Alcoholism (NIAAA): AA017347, AA010723, AA017168; and from the National Institute of Mental Health MH113406.
Compliance with Ethical Standards
Conflict of Interest
The authors report no competing interests.
Ethical Approval
All procedures performed in studies involving human participants were in accordance with the ethical standards of the institutional and/or national research committee and with the 1964 Helsinki declaration and its later amendments or comparable ethical standards. Please also sees statement under Participant header in Material and Methods.
Informed Consent
Informed consent was obtained from all individual participants included in the study.
Copyright information
© Springer Science+Business Media, LLC, part of Springer Nature 2019