Ultrasensitive Detection of Aggregated α-Synuclein in Glial Cells, Human Cerebrospinal Fluid, and Brain Tissue Using the RT-QuIC Assay: New High-Throughput Neuroimmune Biomarker Assay for Parkinsonian Disorders
Abstract
Adult-onset neurodegenerative disorders, like Parkinson's disease (PD) and dementia with Lewy bodies (DLB), that share the accumulation of aggregated α-synuclein (αSynagg) as their hallmark molecular pathology are collectively known as α-synucleinopathies. Diagnosing α-synucleinopathies requires the post-mortem detection of αSynagg in various brain regions. Recent efforts to measure αSynagg in living patients include quantifying αSynagg in different biofluids as a biomarker for PD. We adopted the real-time quaking-induced conversion (RT-QuIC) assay to detect very low levels of αSynagg. We first optimized RT-QuIC for sensitivity, specificity, and reproducibility by using monomeric recombinant human wild-type αSyn as a substrate and αSynagg as the seed. Next, we exposed mouse microglia to αSyn pre-formed fibrils (αSynPFF) for 24 h. RT-QuIC assay revealed that the αSynPFF is taken up rapidly by mouse microglia, within 30 min, and cleared within 24 h. We then evaluated the αSyn RT-QuIC assay for detecting αSynagg in human PD, DLB, and Alzheimer's disease (AD) post-mortem brain homogenates (BH) along with PD and progressive supranuclear palsy (PSP) cerebrospinal fluid (CSF) samples and then determined protein aggregation rate (PAR) for αSynagg. The PD and DLB BH samples not only showed significantly higher αSynagg PAR compared to age-matched healthy controls and AD, but RT-QuIC was also highly reproducible with 94% sensitivity and 100% specificity. Similarly, PD CSF samples demonstrated significantly higher αSynagg PAR compared to age-matched healthy controls, with 100% sensitivity and specificity. Overall, the RT-QuIC assay accurately detects αSynagg seeding activity, offering a potential tool for antemortem diagnosis of α-synucleinopathies and other protein-misfolding disorders.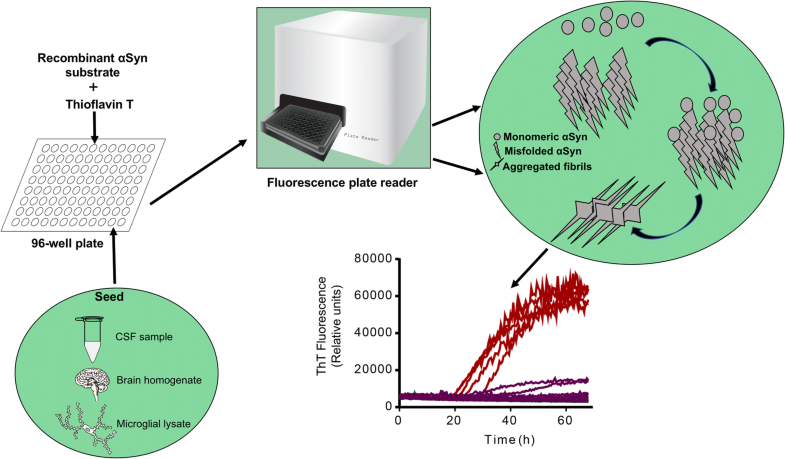 Keywords
Biomarker 
α-synuclein 
α-synucleinopathy 
RT-QuIC assay 
Neuroimmune 
Diagnosis 
Protein aggregation 
Notes
Acknowledgments
We thank Gary Zenitsky for proofreading the manuscript and Griffin Clabaugh for technical assistance. We would like to thank Kayla Guthals for assistance with the figures. We also are indebted to Dr. Julien Roche, Iowa State University, for providing us with human WT αSyn-expressing plasmid, Dr. Douglas T. Golenbock, U Mass, for the mouse microglial cell line, Alzheimer's disease Center at UC Davis for supplying AD, DLB and control samples (funded by NIH/NIA P30 AG10129), and the University of Miami Brain Endowment Bank of the NIH Neurobiobank for providing PD and control samples. The Lloyd and Armbrust endowments to AGK and Salisbury endowment to AK are also acknowledged. This study was supported in part by the following sources: National Institutes of Health grants ES026892 and NS100090 to AGK, and NS088206 to AK, as well as the Presidential Interdisciplinary Research Initiative for the Big Data Brain Research from Iowa State University. The financial support for human CSF and brain samples received by XH include NS060722 and NS082151 to the Hershey Medical Center Clinical Research Center (National Center for Research Resources, Grant UL1 RR033184 that is now at the National Center for Advancing Translational Sciences, Grant UL1 TR000127), National Center for Advancing Translational Sciences (TL1 TR002016), the PA Department of Health Tobacco CURE Funds (XH), the Translational Brain Research Center, the Michael J. Fox Foundation for Parkinson's Research, Alzheimer's Association, Alzheimer's Research UK, and the Weston Brain Institute.
Compliance with ethical standards
Conflict of Interest
A.G.K. and V.A. have an equity interest in PK Biosciences Corporation located in Ames, IA. The terms of this arrangement have been reviewed and approved by Iowa State University in accordance with its conflict of interest policies. Other authors declare no actual or potential competing financial interests.
Ethics Approval
CSF samples were collected as part of the NINDS Parkinson's Disease Biomarker Program (PDBP) according to guidelines (Rosenthal et al. 2016) for the lumbar puncture. The protocol was reviewed and approved by the Penn State Hershey Internal Review Board and informed written consent was obtained from all subjects. All brain tissues of human subjects were from the University of Miami Brain Endowment Bank and the UC Davis Alzheimer's Disease Center.
Copyright information
© Springer Science+Business Media, LLC, part of Springer Nature 2019