Mechanisms of Blood-Brain Barrier Disruption in Herpes Simplex Encephalitis
Abstract
Herpes simplex encephalitis (HSE) is often caused by infection with herpes simplex virus 1 (HSV-1), a neurotropic double-stranded DNA virus. HSE infection always impacts the temporal and frontal lobes or limbic system, leading to edema, hemorrhage, and necrotic changes in the brain parenchyma. Additionally, patients often exhibit severe complications following antiviral treatment, including dementia and epilepsy. HSE is further associated with disruptions to the blood-brain barrier (BBB), which consists of microvascular endothelial cells, tight junctions, astrocytes, pericytes, and basement membranes. Following an HSV-1 infection, changes in BBB integrity and permeability can result in increased movement of viruses, immune cells, and/or cytokines into the brain parenchyma. This leads to an enhanced inflammatory response in the central nervous system and further damage to the brain. Thus, it is important to protect the BBB from pathogens to reduce brain damage from HSE. Here, we discuss HSE and the normal structure and function of the BBB. We also discuss growing evidence indicating an association between BBB breakdown and the pathogenesis of HSE, as well as future research directions and potential new therapeutic targets.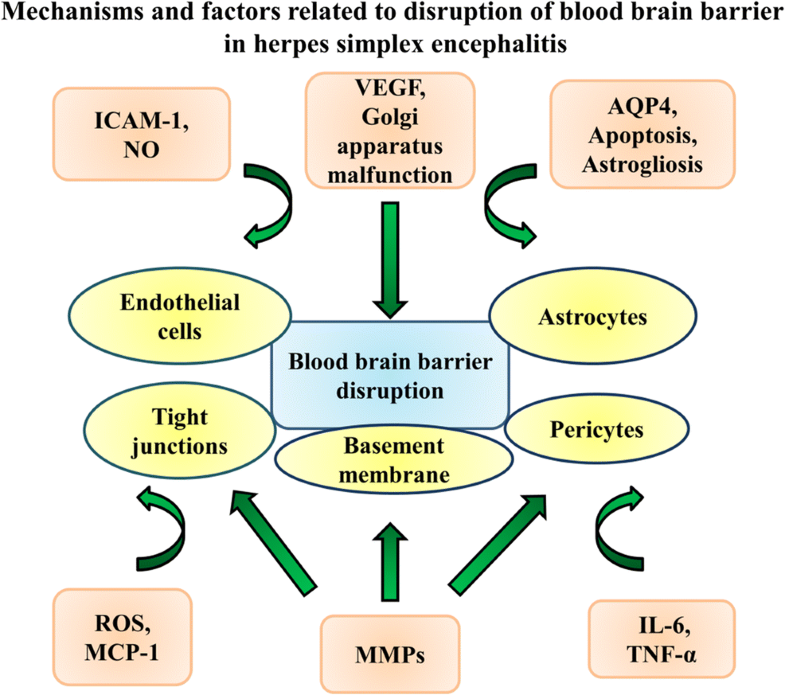 Keywords
Herpes simplex encephalitis 
Blood-brain barrier 
Tight junctions 
Microglia 
Immune response 
Abbreviations
TJs

tight junctions

AJ

adhesion junction

BM

basal membrane

BBB

blood-brain barrier

CNS

central nervous system

EAE

experimental autoimmune encephalomyelitis

EC

endothelial cells

ECM

extracellular molecules

GA

Golgi apparatus

HSE

Herpes simplex encephalitis

HSV-1

herpes simplex virus 1

ICAM

intracellular adhesion molecule

IFN

interferon

IL-1β

interleukin 1-beta

iNOS

inducible nitric oxide synthase

MMP

Membrane metalloprotease

NF-κB

nuclear factor kappa B

PKC

protein kinase C

TEER

transendothelial electric resistance

TNF-α

tumor necrosis factor alpha

TGF-β

transforming growth factor-beta

VEGF

vascular endothelial growth factor

ZO

zonula occluden.
Notes
Acknowledgements
This study was supported by the National Natural Science Foundation (Grant 81571181) of China P.R. HL carried out the literature review and drafted the manuscript. KQ and QH helped to draft the manuscript. QL conceived of, designed, and coordinated the study. WL contributed to and finalized the draft. All authors read and approved the final manuscript.
Funding
This study was supported by the National Natural Science Foundation (Grant 81571181) of China P.R.
Compliance with Ethical Standards
Conflict of Interest
The authors declare that they have no conflict of interest.
Ethical Approval
This article does not contain any studies with human participants or animals performed by any of the authors.
Copyright information
© Springer Science+Business Media, LLC, part of Springer Nature 2018