Most Current Smokers Desire Genetic Susceptibility Testing and Genetically-Efficacious Medication
Abstract
The clinical translation of genetic research on nicotine dependence and treatment response requires acceptance of genetic testing by smokers. This study determines (1) which current smokers are receptive to genetic susceptibility testing for nicotine dependence and (2) to what potential extent smokers motivated to quit desire to take smoking cessation medication when hypothetical genetic results predict their pharmacogenetic medication response. Current smokers from a genetic nicotine dependence study (n = 1306) and an ongoing smoking cessation trial (n = 209) were surveyed on their hypothetical interest in seeing genetic testing results related to risk of nicotine dependence. Most current smokers (84.8%) reported high interest in receiving genetic testing results. Factors associated with high interest included age ≥ 40 years, having a college degree, and a positive medical history (≥1 medical condition). In the ongoing smoking cessation trial, current smokers motivated to quit (n = 474) were surveyed on their desire to take smoking cessation medication given hypothetical below or above average pharmacogenetic responses to the medication. When the hypothetical medication response changed from below to above average, significantly more smokers reported a desire to take medication (from 61.0% to 97.5%, p < .0001). These preliminary findings suggest that genetic testing for personalized smoking cessation treatment is well-received by smokers and that a positive hypothetical pharmacogenetic response increases desire to take smoking cessation medication among current smokers motivated to quit.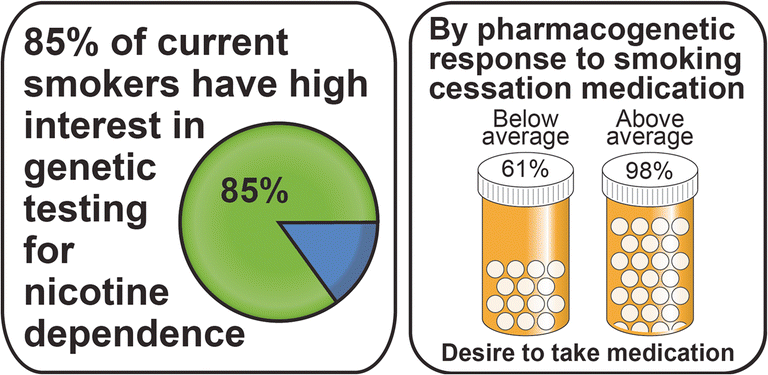 Keywords
Interest in genetic testing 
Smoking cessation 
Genetic predisposition testing 
Pharmacogenomic testing 
Precision medicine 
Notes
Funding
Data reported in this publication were supported by the National Cancer Institute under Award Number P01CA089392 and by the National Institute on Drug Abuse under Award Number R01DA038076 (LSC). Dr. Hartz is supported by National Institutes of Health (NIH) grants R21AA024888, R21DA044744, and UL1TR002345. Dr. Ramsey is supported by NIH grant K12DA041449 and a grant from the Foundation for Barnes-Jewish Hospital. Dr. Bierut is supported by NIH grants R01DA036583, UL1TR002345, and P30CA091842. This content is solely the responsibility of the authors and does not necessarily represent the official views of the National Institutes of Health.
Compliance with Ethical Standards
Ethical Approval
All procedures performed in studies involving human participants were in accordance with the ethical standards of the institutional and/or national research committee and with the 1964 Helsinki declaration and its later amendments or comparable ethical standards.
Conflict of Interest
LJB is listed as an inventor on Issued U.S. Patent 8,080,371 "Markers for Addiction" covering the use of certain SNPs in determining the diagnosis, prognosis, and treatment of addiction, and served as a consultant for the pharmaceutical company Pfizer in 2008. The remaining authors declare no conflict of interest.
Copyright information
© Springer Science+Business Media, LLC, part of Springer Nature 2018