P2X7 Receptor Antagonist A804598 Inhibits Inflammation in Brain and Liver in C57BL/6J Mice Exposed to Chronic Ethanol and High Fat Diet
Abstract
Chronic low-grade neuroinflammation is increasingly implicated in organ damage caused by alcohol abuse. Purinergic P2X7 receptors (P2X7Rs) play an important role in the generation of inflammatory responses during a number of CNS pathologies as evidenced from studies using pharmacological inhibition approach. P2X7Rs antagonism has not been tested during chronic alcohol abuse. In the present study, we tested the potential of P2X7R antagonist A804598 to reduce/abolish alcohol-induced neuroinflammation using chronic intragastric ethanol infusion and high-fat diet (Hybrid) in C57BL/6J mice. We have previously demonstrated an increase in neuroinflammatory response in 8 weeks of Hybrid paradigm. In the present study, we found neuroinflammatory response to 4 weeks of Hybrid exposure. A804598 treatment reversed the changes in microglia and astrocytes, reduced/abolished increases in mRNA levels of number of inflammatory markers, including IL-1β, iNOS, CXCR2, and components of inflammatory signaling pathways, such as TLR2, CASP1, NF-kB1 and CREB1, as well in the protein levels of pro-IL-1β and Nf-kB1. The P2X7R antagonist did not affect the increase in mRNA levels of fraktalkine (CX3CL1) and its receptor CX3CR1, an interaction that plays a neuroprotective role in neuron-glia communication. P2X7R antagonism also resulted in reduction of the inflammatory markers but did not alter steatosis in the liver. Taken together, these findings demonstrate how P2X7R antagonism suppresses inflammatory response in brain and liver but does not alter the neuroprotective response caused by Hybrid exposure. Overall, these findings support an important role of P2X7Rs in inflammation in brain and liver caused by combined chronic alcohol and high-fat diet.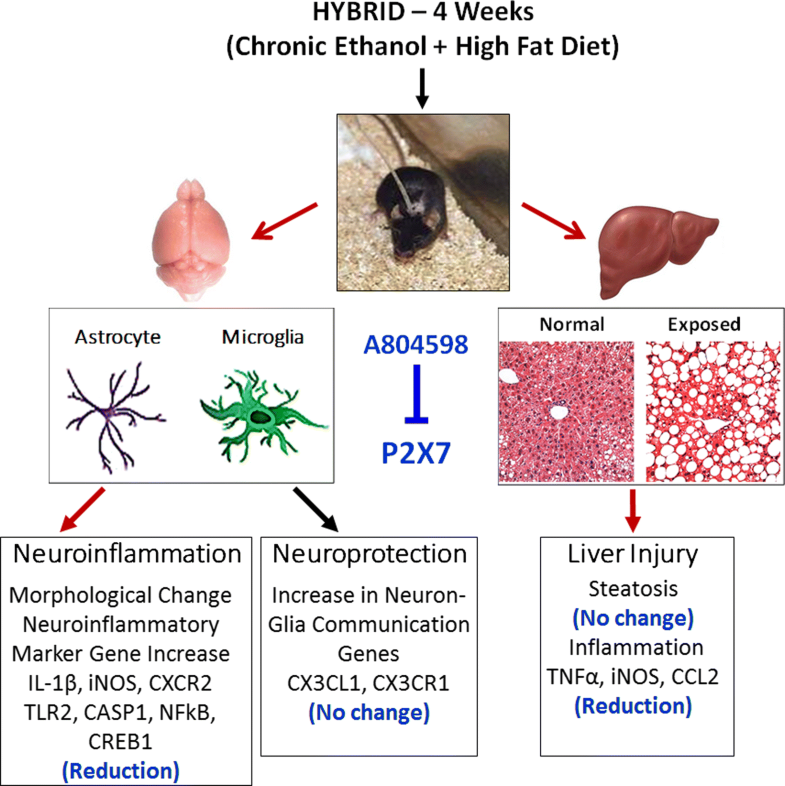 Keywords
Intragastric ethanol and high fat diet exposure 
Purinergic P2X7 receptor pharmacological inhibition 
Neuroinflammation 
Liver inflammation and steatosis 
Immunofluorescence 
Taqman custom gene expression 
Abbreviations
P2X7R

purinergic P2X7 receptor

BEC

blood ethanol concentration

iG

intragastric

HFD

high fat diet

HCFD

high cholesterol high fat diet

RT-qPCR

reverse transcriptase – quantitative polymerase chain reaction

Gapdh

glyceraldehyde 3-phosphate dehydrogenase

GFAP

glial fibrillary acidic protein

Iba1

ionized calcium binding adaptor molecule 1
Notes
Acknowledgements
We would like to thank the Animal Core of the Southern California Research Center for ALPD and Cirrhosis (Director Dr. H. Tsukamoto) for providing us with the experimental animals, Elliott Cheung for Western blots and Lisa Walter for proof reading the manuscript and valuable recommendations. This work was conducted as partial fulfilment of the requirements for the MS. degree in Pharmaceutical Sciences, University of Southern California (D.F.). Sources of support: NIH/NIAAA AA017243 and Zumberge Individual Research Fund (L.A.), NIH/NIAAA A022448 (D.L.D.), NIH P50AA011999 (H.T.).
Compliance with Ethical Standards
Conflict of Interest
The authors declare that they have no conflict of interest.
Copyright information
© Springer Science+Business Media, LLC, part of Springer Nature 2018