Abstract
HIV-associated neurocognitive disorders (HAND) occur in ~50% of HIV infected individuals despite combined antiretroviral therapy. Transmigration into the CNS of CD14+CD16+ monocytes, particularly those that are HIV infected and express increased surface chemokine receptor CCR2, contributes to neuroinflammation and HAND. To examine whether in HIV infected individuals CCR2 on CD14+CD16+ monocytes serves as a potential peripheral blood biomarker of HAND, we examined a cohort of 45 HIV infected people. We correlated CCR2 on CD14+CD16+ monocytes with cognitive status, proton magnetic resonance spectroscopy (1H-MRS) measured neurometabolite levels, and peripheral blood mononuclear cell (PBMC) HIV DNA copies. We determined that CCR2 was increased specifically on CD14+CD16+ monocytes from people with HAND (median [interquartile range (IQR)]) (63.3 [51.6, 79.0]), compared to those who were not cognitively impaired (38.8 [26.7, 56.4]) or those with neuropsychological impairment due to causes other than HIV (39.8 [30.2, 46.5]). CCR2 was associated with neuronal damage, based on the inverse correlation of CCR2 on CD14+CD16+ monocytes with total N-Acetyl Aspartate (tNAA)/total Creatine (tCr) (r2 = 0.348, p = 0.01) and Glutamine-Glutamate (Glx)/tCr (r2 = 0.356, p = 0.01) in the right and left caudate nucleus, respectively. CCR2 on CD14+CD16+ monocytes also correlated with PBMC HIV DNA copies (ρ = 0.618, p = 0.02) that has previously been associated with HAND. These findings suggest that CCR2 on CD14+CD16+ monocytes may be a peripheral blood biomarker of HAND, indicative of increased HIV infected CD14+CD16+ monocyte entry into the CNS that possibly increases the macrophage viral reservoir and contributes to HAND.
This is a preview of subscription content, log in to check access.
Access options
Buy single article
Instant access to the full article PDF.
US$ 39.95
Price includes VAT for USA
Subscribe to journal
Immediate online access to all issues from 2019. Subscription will auto renew annually.
US$ 99
This is the net price. Taxes to be calculated in checkout.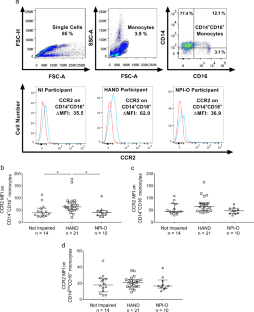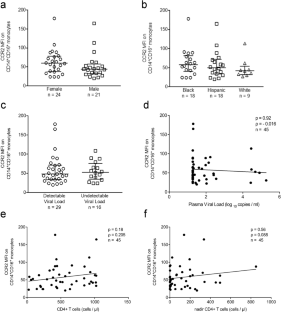 References
Antinori A et al (2007) Updated research nosology for HIV-associated neurocognitive disorders. Neurology 69:1789–1799

Buckner CM, Calderon TM, Willams DW, Belbin TJ, Berman JW (2011) Characterization of monocyte maturation/differentiation that facilitates their transmigration across the blood-brain barrier and infection by HIV: implications for NeuroAIDS. Cell Immunol 267:109–123

Burdo TH, Soulas C, Orzechowski K, Button J, Krishnan A, Sugimoto C, Alvarez X, Kuroda MJ, Williams KC (2010) Increased monocyte turnover from bone marrow correlates with severity of SIV encephalitis and CD163 levels in plasma. PLoS Pathog 6:e1000842

Burdo TH, Lentz MR, Autissier P, Krishnan A, Halpern E, Letendre S, Rosenberg ES, Ellis RJ, Williams KC (2011) Soluble CD163 made by monocyte/macrophages is a novel marker of HIV activity in early and chronic infection prior to and after anti-retroviral therapy. J Infect Dis 204:154–163

Byrd DA, Robinson-Papp J, Mindt MR, Mintz L, Elliott K, Lighty Q, Morgello S, Manhattan HIVBB (2013) Isolating cognitive and neurologic HIV effects in substance-dependent, confounded cohorts: a pilot study. J Int Neuropsychol Soc 19:463–473

Campbell JH, Burdo TH, Autissier P, Bombardier JP, Westmoreland SV, Soulas C, Gonzalez RG, Ratai EM, Williams KC (2011) Minocycline inhibition of monocyte activation correlates with neuronal protection in SIV neuroAIDS. PLoS One 6:e18688

Campbell JH, Ratai EM, Autissier P, Nolan DJ, Tse S, Miller AD, Gonzalez RG, Salemi M, Burdo TH, Williams KC (2014) Anti-alpha4 antibody treatment blocks virus traffic to the brain and gut early, and stabilizes CNS injury late in infection. PLoS Pathog 10:e1004533

Cysique LA, Brew BJ (2011) Prevalence of non-confounded HIV-associated neurocognitive impairment in the context of plasma HIV RNA suppression. J Neuro-Oncol 17:176–183

Cysique LA, Hey-Cunningham WJ, Dermody N, Chan P, Brew BJ, Koelsch KK (2015) Peripheral blood mononuclear cells HIV DNA levels impact intermittently on neurocognition. PLoS One 10:e0120488

Ellery PJ, Tippett E, Chiu YL, Paukovics G, Cameron PU, Solomon A, Lewin SR, Gorry PR, Jaworowski A, Greene WC, Sonza S, Crowe SM (2007) The CD16+ monocyte subset is more permissive to infection and preferentially harbors HIV-1 in vivo. J Immunol 178:6581–6589

Ellis R, Langford D, Masliah E (2007) HIV and antiretroviral therapy in the brain: neuronal injury and repair. Nat Rev Neurosci 8:33–44

Eugenin EA, D'Aversa TG, Lopez L, Calderon TM, Berman JW (2003) MCP-1 (CCL2) protects human neurons and astrocytes from NMDA or HIV-tat-induced apoptosis. J Neurochem 85:1299–1311

Eugenin EA, Osiecki K, Lopez L, Goldstein H, Calderon TM, Berman JW (2006) CCL2/monocyte chemoattractant protein-1 mediates enhanced transmigration of human immunodeficiency virus (HIV)-infected leukocytes across the blood-brain barrier: a potential mechanism of HIV-CNS invasion and NeuroAIDS. J Neurosci 26:1098–1106

Fields J, Dumaop W, Eleuteri S, Campos S, Serger E, Trejo M, Kosberg K, Adame A, Spencer B, Rockenstein E, He JJ, Masliah E (2015) HIV-1 Tat alters neuronal autophagy by modulating autophagosome fusion to the lysosome: implications for HIV-associated neurocognitive disorders. J Neurosci 35:1921–1938

Fischer-Smith T, Croul S, Sverstiuk AE, Capini C, L'Heureux D, Regulier EG, Richardson MW, Amini S, Morgello S, Khalili K, Rappaport J (2001) CNS invasion by CD14+/CD16+ peripheral blood-derived monocytes in HIV dementia: perivascular accumulation and reservoir of HIV infection. J Neuro-Oncol 7:528–541

Gongvatana A, Harezlak J, Buchthal S, Daar E, Schifitto G, Campbell T, Taylor M, Singer E, Algers J, Zhong J, Brown M, McMahon D, So YT, Mi D, Heaton R, Robertson K, Yiannoutsos C, Cohen RA, Navia B, Consortium HIVN (2013) Progressive cerebral injury in the setting of chronic HIV infection and antiretroviral therapy. J Neuro-Oncol 19:209–218

Gott C, Gates T, Dermody N, Brew BJ, Cysique LA (2017) Cognitive change trajectories in virally suppressed HIV-infected individuals indicate high prevalence of disease activity. PLoS One 12:e0171887

Harezlak J, Buchthal S, Taylor M, Schifitto G, Zhong J, Daar E, Alger J, Singer E, Campbell T, Yiannoutsos C, Cohen R, Navia B, Consortium HIVN (2011) Persistence of HIV-associated cognitive impairment, inflammation, and neuronal injury in era of highly active antiretroviral treatment. AIDS 25:625–633

Harezlak J, Cohen R, Gongvatana A, Taylor M, Buchthal S, Schifitto G, Zhong J, Daar ES, Alger JR, Brown M, Singer EJ, Campbell TB, McMahon D, So YT, Yiannoutsos CT, Navia BA, Consortium HIVN (2014) Predictors of CNS injury as measured by proton magnetic resonance spectroscopy in the setting of chronic HIV infection and CART. J Neuro-Oncol 20:294–303

Heaton RK et al (2010) HIV-associated neurocognitive disorders persist in the era of potent antiretroviral therapy: CHARTER Study. Neurology 75:2087–2096

Kamat A, Lyons JL, Misra V, Uno H, Morgello S, Singer EJ, Gabuzda D (2012) Monocyte activation markers in cerebrospinal fluid associated with impaired neurocognitive testing in advanced HIV infection. J Acquir Immune Defic Syndr 60:234–243

Kaul M, Garden GA, Lipton SA (2001) Pathways to neuronal injury and apoptosis in HIV-associated dementia. Nature 410:988–994

Kusao I, Shiramizu B, Liang CY, Grove J, Agsalda M, Troelstrup D, Velasco VN, Marshall A, Whitenack N, Shikuma C, Valcour V (2012) Cognitive performance related to HIV-1-infected monocytes. J Neuropsychiatr Clin Neurosci 24:71–80

Lentz MR, Kim WK, Kim H, Soulas C, Lee V, Venna N, Halpern EF, Rosenberg ES, Williams K, Gonzalez RG (2011) Alterations in brain metabolism during the first year of HIV infection. J Neuro-Oncol 17:220–229

McArthur J, Smith B (2013) Neurologic Complications and Considerations in HIV-Infected Persons. Curr Infect Dis Rep 15:61–66

Mind Exchange Working G (2013) Assessment, diagnosis, and treatment of HIV-associated neurocognitive disorder: a consensus report of the mind exchange program. Clin Infect Dis 56:1004–1017

Mohamed MA, Barker PB, Skolasky RL, Selnes OA, Moxley RT, Pomper MG, Sacktor NC (2010) Brain metabolism and cognitive impairment in HIV infection: a 3-T magnetic resonance spectroscopy study. Magn Reson Imaging 28:1251–1257

Norman JP, Perry SW, Reynolds HM, Kiebala M, De Mesy Bentley KL, Trejo M, Volsky DJ, Maggirwar SB, Dewhurst S, Masliah E, Gelbard HA (2008) HIV-1 Tat activates neuronal ryanodine receptors with rapid induction of the unfolded protein response and mitochondrial hyperpolarization. PLoS One 3:e3731

Provencher SW (2001) Automatic quantitation of localized in vivo 1H spectra with LCModel. NMR Biomed 14:260–264

Pulliam L, Gascon R, Stubblebine M, McGuire D, McGrath MS (1997) Unique monocyte subset in patients with AIDS dementia. Lancet 349:692–695

Robbins RN, Brown H, Ehlers A, Joska JA, Thomas KG, Burgess R, Byrd D, Morgello S (2014) A Smartphone App to Screen for HIV-Related Neurocognitive Impairment. J Mob Technol Med 3:23–26

Saylor D, Dickens AM, Sacktor N, Haughey N, Slusher B, Pletnikov M, Mankowski JL, Brown A, Volsky DJ, McArthur JC (2016) HIV-associated neurocognitive disorder - pathogenesis and prospects for treatment. Nat Rev Neurol 12:234–248

Shiramizu B, Gartner S, Williams A, Shikuma C, Ratto-Kim S, Watters M, Aguon J, Valcour V (2005) Circulating proviral HIV DNA and HIV-associated dementia. AIDS 19:45–52

Strain MC, Lada SM, Luong T, Rought SE, Gianella S, Terry VH, Spina CA, Woelk CH, Richman DD (2013) Highly precise measurement of HIV DNA by droplet digital PCR. PLoS One 8:e55943

Tedaldi EM, Minniti NL, Fischer T (2015) HIV-associated neurocognitive disorders: the relationship of HIV infection with physical and social comorbidities. Biomed Res Int 2015:641913

Valcour VG, Shiramizu BT, Shikuma CM (2010) HIV DNA in circulating monocytes as a mechanism to dementia and other HIV complications. J Leukoc Biol 87:621–626

Valcour V, Chalermchai T, Sailasuta N, Marovich M, Lerdlum S, Suttichom D, Suwanwela NC, Jagodzinski L, Michael N, Spudich S, van Griensven F, de Souza M, Kim J, Ananworanich J, Group RSS (2012) Central nervous system viral invasion and inflammation during acute HIV infection. J Infect Dis 206:275–282

Veenstra M, Leon-Rivera R, Li M, Gama L, Clements JE, Berman JW (2017) Mechanisms of CNS Viral Seeding by HIV(+) CD14(+) CD16(+) Monocytes: Establishment and Reseeding of Viral Reservoirs Contributing to HIV-Associated Neurocognitive Disorders. MBio 8:e01280–e01217

Weiss JM, Nath A, Major EO, Berman JW (1999) HIV-1 Tat induces monocyte chemoattractant protein-1-mediated monocyte transmigration across a model of the human blood-brain barrier and up-regulates CCR5 expression on human monocytes. J Immunol 163:2953–2959

Williams DW, Eugenin EA, Calderon TM, Berman JW (2012) Monocyte maturation, HIV susceptibility, and transmigration across the blood brain barrier are critical in HIV neuropathogenesis. J Leukoc Biol 91:401–415

Williams DW, Calderon TM, Lopez L, Carvallo-Torres L, Gaskill PJ, Eugenin EA, Morgello S, Berman JW (2013) Mechanisms of HIV entry into the CNS: increased sensitivity of HIV infected CD14+CD16+ monocytes to CCL2 and key roles of CCR2, JAM-A, and ALCAM in diapedesis. PLoS One 8:e69270

Williams DW, Byrd D, Rubin LH, Anastos K, Morgello S, Berman JW (2014) CCR2 on CD14(+)CD16(+) monocytes is a biomarker of HIV-associated neurocognitive disorders. Neurol Neuroimmunol Neuroinflamm 1:e36

Witwer KW, Gama L, Li M, Bartizal CM, Queen SE, Varrone JJ, Brice AK, Graham DR, Tarwater PM, Mankowski JL, Zink MC, Clements JE (2009) Coordinated regulation of SIV replication and immune responses in the CNS. PLoS One 4:e8129

Woods SP, Rippeth JD, Frol AB, Levy JK, Ryan E, Soukup VM, Hinkin CH, Lazzaretto D, Cherner M, Marcotte TD, Gelman BB, Morgello S, Singer EJ, Grant I, Heaton RK (2004) Interrater reliability of clinical ratings and neurocognitive diagnoses in HIV. J Clin Exp Neuropsychol 26:759–778

Zahr NM, Mayer D, Rohlfing T, Sullivan EV, Pfefferbaum A (2014) Imaging neuroinflammation? A perspective from MR spectroscopy. Brain Pathol 24:654–664
Acknowledgements
The authors thank MHBB staff and patients who generously contributed their time to the study. This study was funded by National Institutes of Health U24MH100931 (MHBB) (S.M.), R01MH075679 (J.W.B.), R21MH102113-01A1 (J.W.B), R01MH090958 (J.W.B.), R01MH112391 (T.M.C., J.W.B.), R01NS077869 (J.E.C), R01AI127142 (J.E.C.), P30AI124414 (ERC CFAR) (M.V., R.L-R., T.M.C., J.W.B.), Mount Sinai Institute for NeuroAIDS Disparities (R25 MH080663) (R.L-R.), MSTP Training Grant at Albert Einstein College of Medicine (5T32GM007288) (R.L-R.), TL1TR001072 (Einstein-Montefiore CTSA) (M.V.), pilot research grant Icahn School of Medicine Brain Imaging Center (S.M.), National MS Society RG 5120A3/1 (M.I.), and eCLIPSE fellowship (M.V.), Burroughs Wellcome Foundation Grant program "Unifying Population and Laboratory Science".
Ethics declarations
Conflict of Interest
The authors declare that they have no conflict of interest.
About this article
Cite this article
Veenstra, M., Byrd, D.A., Inglese, M. et al. CCR2 on Peripheral Blood CD14+CD16+ Monocytes Correlates with Neuronal Damage, HIV-Associated Neurocognitive Disorders, and Peripheral HIV DNA: reseeding of CNS reservoirs?. J Neuroimmune Pharmacol 14, 120–133 (2019). https://doi.org/10.1007/s11481-018-9792-7
Received:

Accepted:

Published:

Issue Date:
Keywords
HAND

CD14+CD16+ Monocytes

CCR2

MRI/MRS

HIV

ddPCR