Abstract
This study explored the effect of online motivation and maladaptive cognition on adolescent Internet addiction and examined whether this process was moderated by effortful control. Cluster sampling was used to recruit 1221 middle school students as subjects (mean age = 13.45 years; 49.5% girls). The subjects completed an Internet addiction questionnaire, a maladaptive cognition questionnaire, an online motivation questionnaire, and an effortful control questionnaire anonymously. Results indicated that (1) maladaptive cognition exerted an indirect effect on Internet addiction via the complete mediating effect of online motivation, with sex, grade, and socioeconomic status controlled for; (2) this indirect effect was moderated mildly by effortful control and was stronger in students with lower levels of effortful control relative to that observed in students with higher levels of effortful control. Therefore, the results showed both mediating and moderating effects on the relationship between adaptive cognition and Internet addiction.
This is a preview of subscription content, log in to check access.
Access options
Buy single article
Instant access to the full article PDF.
US$ 39.95
Price includes VAT for USA
Subscribe to journal
Immediate online access to all issues from 2019. Subscription will auto renew annually.
US$ 99
This is the net price. Taxes to be calculated in checkout.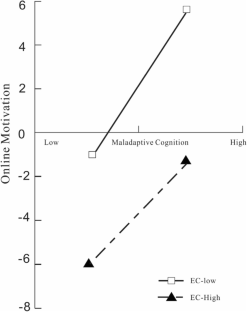 Notes
1.

There are some online motivation measurements for different areas of Internet usage such as online learning motivation (Chen and Jang 2010), online consumption motivation (Seo and Green 2008), and online community motivation (Wang and Fesenmaier 2003). However, no specific questionnaire for OM has been developed, especially for negative motivation.
References
Ajzen, I. (1991). The theory of planned behavior. Organizational Behavior & Human Decision Processes, 50(2), 179–211.

Armitage, C. J., & Conner, M. (2001). Efficacy of the theory of planned behaviour: a meta-analytic review. Health Psychology Official Journal of the Division of Health Psychology American Psychological Association, 40(4), 471.

Boyce, W., Torsheim, T., Currie, C., & Zambon, A. (2006). The family affluence scale as a measure of national wealth: validation of an adolescent self-report measure. Social Indicators Research, 78(3), 473–487.

Brandstätter, V., Lengfelder, A., & Gollwitzer, P. M. (2001). Implementation intentions and efficient action initiation. Journal of Personality & Social Psychology, 81(5), 946–960.

Cao, H., Sun, Y., Wan, Y., Hao, J., & Tao, F. (2011). Problematic Internet use in Chinese adolescents and its relation to psychosomatic symptoms and life satisfaction. BMC Public Health, 11(1), 802.

Chen, K. C., & Jang, S. J. (2010). Motivation in online learning: testing a model of self-determination theory. Computers in Human Behavior, 26(4), 741–752.

Chen, W., Li, D., Bao, Z., & Zhou, Z. (2015). The impact of parent-child attachment on adolescent problematic Internet use: a moderated mediation model. Acta Psychologica Sinica, 47(5), 611–623.

China Internet Network Information Center. (2017). The 39th statistical report on Internet development in China. Retrieved from https://cnnic.com.cn/IDR/ReportDownloads/201706/P020170608523740585924.pdf

Cooper, M. L. (1994). Motivations for alcohol use among adolescents: development and validation of a four-factor model. Psychological Assessment, 6(2), 117–128.

Currie, C., Molcho, M., Boyce, W., Holstein, B., Torsheim, T., & Richter, M. (2008). Researching health inequalities in adolescents: the development of the Health Behaviour in School-Aged Children (HBSC) family affluence scale. Social Science & Medicine, 66(6), 1429–1436.

Dau, W., Hoffmann, J. D. G., & Banger, M. (2017). Therapeutic interventions for treatment of adolescent internet addiction—experiences from Germany. Basel: Springer International Publishing.

David, K. M., & Murphy, B. C. (2007). Interparental conflict and preschoolers' peer relations: the moderating roles of temperament and gender. Review of Social Development, 16(1), 1–23.

Davis, R. A., Flett, G. L., & Besser, A. (2002). Validation of a new scale for measuring problematic Internet use: implications for pre-employment screening. Cyberpsychology & Behavior, 5(4), 331–345.

Dearing, E., & Hamilton, L. C. (2006). V. Contemporary advances and classic advice for analyzing mediating and moderating variables. Monographs of the Society for Research in Child Development, 71(3), 88–104.

Doremus-Fitzwater, T. L., Varlinskaya, E. I., & Spear, L. P. (2010). Motivational systems in adolescence: possible implications for age differences in substance abuse and other risk-taking behaviors. Brain and Cognition, 72(1), 114–123.

Eisenberg, N., Zhou, Q., Spinrad, T. L., Valiente, C., Fabes, R. A., & Liew, J. (2005). Relations among positive parenting, children's effortful control, and externalizing problems: a three-wave longitudinal study. Child Development, 76(5), 1055–1071.

Ellis, L. K., & Rothbart, M. K. (2001). Revision of the early adolescent temperament questionnaire. Poster presented at the biennial meeting of the Society for Research in Child Development, Minneapolis, MN.

Engels, R. C., Wiers, R., Lemmers, L., & Overbeek, G. J. (2005). Drinking motives, alcohol expectancies, self-efficacy, and drinking patterns. Journal of Drug Education, 35(2), 147–166.

Fang, X. Y., Liu, L., Deng, L. Y., Liu, Q. X., Su, W. L., & Lan, J. (2015). The prevention and intervention on adolescent Internet addiction. Psychological Development and Education, 31(1), 100–107.

Finkenauer, C., Engels, R., & Baumeister, R. (2005). Parenting behaviour and adolescent behavioural and emotional problems: the role of self-control. International Journal of Behavioral Development, 29(1), 58–69.

Gollwitzer, P. M. (1999). Implementation intentions: strong effects of simple plans. American Psychologist, 54(7), 493–503.

Gunthert, K. C., Cohen, L. H., & Armeli, S. (1999). The role of neuroticism in daily stress and coping. Journal of Personality and Social Psychology, 77(5), 1087–1100.

Harman, H. (1967). Modern factor analysis. Chicago: University of Chicago Press.

Jennrich, R. I., & Sampson, P. F. (1966). Rotation for simple loadings. Psychometrika, 31(3), 313–323.

Kazdin, A. E., Siegel, T. C., & Bass, D. (1992). Cognitive problem-solving skills training and parent management training in the treatment of antisocial behavior in children. Journal of Consulting and Clinical Psychology, 60(5), 733–747.

Ko, C.-H., Yen, J. Y., Chen, C. C., Chen, S. H., & Yen, C. F. (2005). Gender differences and related factors affecting online gaming addiction among Taiwanese adolescents. The Journal of Nervous and Mental Disease, 193(4), 273–277.

Kuntsche, E., Knibbe, R., Gmel, G., & Engels, R. (2005). Why do young people drink? A review of drinking motives. Clinical Psychology Review, 25(7), 841–861.

Lengua, L. J., Bush, N. R., & Long, A. C. (2007). Effortful control as a moderator of the relation between contextual risk factors and growth in adjustment problems. Development and Psychopathology, 20(2), 509–528.

Li, L. (2010). Exploration of adolescents' Internet addiction. Psychological Development and Education, 5, 554–560.

Li, Y., Zhang, X., Lu, F., Zhang, Q., & Wang, Y. (2014). Internet addiction among elementary and middle school students in China: a nationally representative sample study. Cyberpsychology Behavior & Social Networking, 17(2), 111–116.

Lin, S. S., & Tsai, C.-C. (2002). Sensation seeking and internet dependence of Taiwanese high school adolescents. Computers in Human Behavior, 18(4), 411–426.

Liu, Y., Wang, M., Villberg, J., Torsheim, T., Tynjälä, J., Yan, L., & Kannaset, L. (2012). Reliability and validity of Family Affluence Scale (FAS II) among adolescents in Beijing, China. Child Indicators Research, 5(2), 235–251.

Maslow, A. H., & Lowry, R. (1968). Toward a psychology of being (2nd ed.). New York, NY: Van Nostrand.

Muller, D., Judd, C. M., & Yzerbyt, V. Y. (2005). When moderation is mediated and mediation is moderated. Journal of Personality & Social Psychology, 89(6), 852–863.

Muris, P., Meesters, C., & Blijlevens, P. (2007). Self-reported reactive and regulative temperament in early adolescence: relations to internalizing and externalizing problem behavior and "Big Three" personality factors. Journal of Adolescence, 30(6), 1035–1049.

Podsakoff, P. M., MacKenzie, S. B., Lee, J. Y., & Podsakoff, N. P. (2003). Common method biases in behavioral research: a critical review of the literature and recommended remedies. Journal of Applied Psychology., 88(5), 879–903.

Rise, J., Thompson, M., & Verplanken, B. (2003). Measuring implementation intentions in the context of the theory of planned behavior. Scandinavian Journal of Psychology, 44(2), 87–95.

Rothbart, M. K., & Bates, J. E. (2006). Temperament. In I. W. Damon & R. M. Lerner (Eds.), Handbook of child psychology (pp. 99–166). New York, NY: Wiley.

Seo, W. J., & Green, B. C. (2008). Development of the motivation scale for sport online consumption. Journal of Sport Management, 22(1), 82–109.

Stavropoulos, V., Gomez, R., Steen, E., Beard, C., Liew, L., & Griffiths, M. D. (2017). The longitudinal association between anxiety and Internet addiction in adolescence: the moderating effect of classroom extraversion. Journal of Behavioral Addictions, 6(2), 237–247.

Stewart, S. H., & Devine, H. (2000). Relations between personality and drinking motives in young adults. Personality and Individual Differences, 29(3), 495–511.

Valiente, C., Lemery-Chalfant, K., Swanson, J., & Reiser, M. (2008). Prediction of children's academic competence from their effortful control, relationships, and classroom participation. Journal of Educational Psychology, 100(1), 67–77.

Verplanken, B., & Faes, S. (1999). Good intentions, bad habits, and effects of forming implementation intentions on healthy eating. European Journal of Social Psychology, 29(5–6), 591–604.

Wan, C.-S., & Chiou, W.-B. (2006). Psychological motives and online games addiction: a test of flow theory and humanistic needs theory for Taiwanese adolescents. Cyberpsychology & Behavior, 9(3), 317–324.

Wang, Y., & Fesenmaier, D. R. (2003). Assessing motivation of contribution in online communities: an empirical investigation of an online travel community. Electronic markets, 13(1), 33–45.

Weiner, B. (1985). An attributional theory of achievement motivation and emotion. Psychological Review, 92(4), 548–573.

Yen, J. Y., Yen, C. F., Chen, C. S., Tang, T. C., & Ko, C. H. (2009). The association between adult ADHD symptoms and Internet addiction among college students: the gender difference. Cyberpsychology & Behavior, 12(2), 187–191.

Young, K. S. (1998). Internet addiction: the emergence of a new clinical disorder. Cyberpsychology & Behavior, 1(3), 237–244.

Zhang, Y., Mei, S., Li, L., Chai, J., Li, J., & Du, H. (2015). The relationship between impulsivity and internet addiction in Chinese college students: a moderated mediation analysis of meaning in life and self-esteem. PLoS One, 10(7), e0131597.

Zhang, Q., Lei, Y., Luo, Y., & Wang, Y. (2017). Gender difference in the indirect model: maladaptive cognition and internet addiction among adolescent. Chinese Journal of Clinical Psychology, 25(05), 882–887.

Zhou, Q., Main, A., & Wang, Y. (2010). The relations of temperamental effortful control and anger/frustration to Chinese children's academic achievement and social adjustment: a longitudinal study. Journal of Educational Psychology, 102(1), 180–196.
Funding
The work was supported by a Grant from National Social Science Foundation of China (Grant Number: 16CSH050) and a Grant from the Fundamental Research Funds for the Central Universities (Grant No.: ZYGX2015J167).
Ethics declarations
Conflict of Interest
The authors declare that they have no conflicts of interest.
Informed Consent
All participants gave written informed consent, and were ensured complete anonymity. Participation was voluntary, and students were given information about adolescent mental health resources upon completing the study.
Human Subjects Approval Statement
This study was a cross-sectional survey, and data collection occurred within the context of a general course on mental health. The research was approved by the Institutional Review Board (IRB), State Key Laboratory of Cognitive Neuroscience and Learning, Beijing Normal University, China.
About this article
Cite this article
Zhang, Q., Wang, Y., Luo, Y. et al. Relationship Between Maladaptive Cognition and Internet Addiction in Chinese Adolescents: Moderated Mediation Analysis of Online Motivation and Effortful Control. Int J Ment Health Addiction 18, 149–159 (2020). https://doi.org/10.1007/s11469-018-9965-x
Keywords
Maladaptive cognition

Internet addiction

Online motivation

Effortful control

Moderated mediation