Abstract
Acer is an important genus in temperate forests in Northeast China. Individual Acer trees can re-sprout from the root collar and can occur in clonal units, either as a single-stemmed or multi-stemmed tree. However, the factors that induce multiple-stems in Acer remain only partly understood. In this study, we determined the relative importance of abiotic and biotic variables in driving the production of multiple-stems in this genus, within a 25-hm2 experimental forest dynamics plot in Changbaishan (CBS) temperate forest. We used generalized linear mixed models to perform analyses at two levels (community- and species-level). We found seven Acer species in total within the plot, where they form a key part of the forest community. Our results show that abiotic factors play a more important role in producing multi-stemmed trees at the community level in CBS. At the species level, the relative importance of different factors varied among species. Shrub species tended to have a higher frequency of multi-stemmed trees under stressful conditions, whereas tree species tended to have more multi-stemmed trees in more suitable habitat. Our results indicate that the relative importance of different factors influencing the frequency of multi-stemmed individuals in Acer differs at the community and species level in the temperate forest.
This is a preview of subscription content, log in to check access.
Access options
Buy single article
Instant access to the full article PDF.
US$ 39.95
Price includes VAT for USA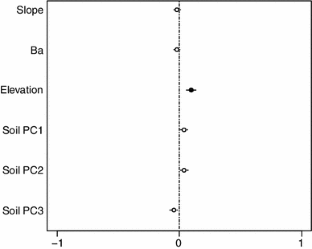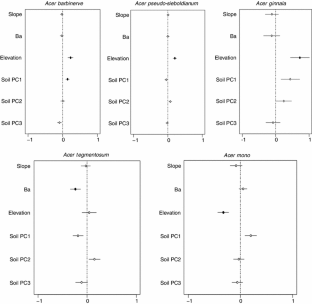 References
1.

Del Tredici P (2001) Sprouting in temperate trees: a morphological and ecological review. Bot Rev 67:121–140

2.

Bellingham PJ, Sparrow AD (2009) Multi-stemmed trees in montane rain forests: their frequency and demography in relation to elevation, soil nutrients and disturbance. J Ecol 97:472–483

3.

Bond WJ, Midgley JJ (2001) Ecology of sprouting in woody plants: the persistence niche. Trends Ecol Evol 16:45–51

4.

Kruger LM, Midgley JJ, Cowling RM (1997) Resprouters vs reseeders in South African forest trees: a model based on forest canopy height. Funct Ecol 11:101–105

5.

Seiwa K (1998) Advantages of early germination for growth and survival of seedlings of Acer mono under different overstorey phenologies in deciduous broad-leaved forests. J Ecol 86:219–228

6.

Nzunda EF, Griffiths ME, Lawes MJ (2007) Multi-stemmed trees in subtropical coastal dune forest: survival strategy in response to chronic disturbance. J Veget Sci 18:693–700

7.

Nzunda EF, Griffiths ME, Lawes MJ (2007) Resprouting versus turning up of leaning trees in a subtropical coastal dune forest in South Africa. J Trop Ecol 23:289

8.

Woolley LP, Henkel TW, Sillett SC (2008) Reiteration in the monodominant tropical tree Dicymbe corymbosa (Caesalpiniaceae) and its potential adaptive significance. Biotropica 40:32–43

9.

Fujiki D, Kikuzawa K (2006) Stem turnover strategy of multiple-stemmed woody plants. Ecol Res 21:380–386

10.

Clarke PJ, Knox KJ, Wills KE et al (2005) Landscape patterns of woody plant response to crown fire: disturbance and productivity influence sprouting ability. J Ecol 93:544–555

11.

Pausas JG, Bradstock RA (2007) Fire persistence traits of plants along a productivity and disturbance gradient in mediterranean shrublands of south-east Australia. Glob Ecol Biogeogr 16:330–340

12.

Lutz JA, Halpern CB (2006) Tree mortality during early forest development: a long-term study of rates, causes, and consequences. Ecol Monogr 76:257–275

13.

Cornelissen J, Lavorel S, Garnier E et al (2003) A handbook of protocols for standardised and easy measurement of plant functional traits worldwide. Aust J Bot 51:335–380

14.

Van Gelderen DM, de Jong PC, Oterdoom HJ (1994) Maples of the world. Timber Press, Portland, p 458

15.

Xu TZ (1996) Phytogeorgraphy of the family Aceraceae. Acta Bot Yunnan 18:43–50

16.

Barnes BV, Saeki I, Kitazawa A (2004) Occurrence and landscape ecology of a rare disjunct maple species, Acer pycnanthum, and comparison with Acer rubrum. Environ Rev 12:163–196

17.

Stalter AM, Krasny ME, Fahey TJ (1997) Sprouting and layering of Acer pensylvanicum L. in hardwood forests of central. J Torrey Bot Soc 124(3):246–253

18.

Yang H, Li D, Wang B (1985) Distribution patterns of dominant tree species on northern slope of Changbai mountain. Res For Ecosyst 5:1–14

19.

Condit R (1998) Tropical forest census plots: methods and results from Barro Colorado Island, Panama and a comparison with other plots. Springer, Heidelberg

20.

Hao Z, Zhang J, Song B et al (2007) Vertical structure and spatial associations of dominant tree species in an old-growth temperate forest. For Ecol Manag 252:1–11

21.

Yuan Z, Gazol A, Wang X et al (2011) Scale specific determinants of tree diversity in an old growth temperate forest in China. Basic Appl Ecol 12:488–495

22.

Zuur A, Ieno EN, Walker N et al (2009) Mixed effects models and extensions in ecology with R. Springer, Heidelberg, p 596

23.

Burnham KP, Anderson DR (2002) Model selection and multi-model inference: a practical information-theoretic approach. Springer, Heidelberg

24.

Hosmer DW, Lemeshow S (2000) Applied logistic regression, 2nd edn. Wiley, New York

25.

Tuszynski J (2008) caTools: moving window statistics, GIF, Base64, ROC AUC, etc

26.

Bates D, Maechler M, Bolker B (2011) Lme4: linear mixed-effects models using S4 classes

27.

Kubo M, Sakio H, Shimano K et al (2005) Age structure and dynamics of Cercidiphyllum japonicum sprouts based on growth ring analysis. For Ecol Manag 213:253–260

28.

Miura M, Yamamoto SI (2003) Structure and dynamics of a Castanopsis cuspidata var. sieboldii population in an old-growth, evergreen, broad-leaved forest: the importance of sprout regeneration. Ecol Res 18:115–129

29.

Körner C (1999) Alpine plant life: functional plant ecology of high mountain ecosystems. Springer, Berlin

30.

Tang CQ, Ohsawa M (2002) Tertiary relic deciduous forests on a humid subtropical mountain, Mt. Emei, Sichuan, China. Folia Geobot 37:93–106

31.

Moser G, Hertel D, Leuschner C (2007) Altitudinal change in LAI and stand leaf biomass in tropical montane forests: a transect study in Ecuador and a pan-tropical meta-analysis. Ecosystems 10:924–935

32.

Rydberg D (2000) Initial sprouting, growth and mortality of European aspen and birch after selective coppicing in central Sweden. For Ecol Manag 130:27–35

33.

Luoga EJ, Witkowski ET, Balkwill K (2004) Regeneration by coppicing (resprouting) of miombo (African savanna) trees in relation to land use. For Ecol Manag 189:23–35
Acknowledgments
This work was supported by the National Nature Science Foundation of China (31100447) and the Forestry Public Welfare Project (201204309-1). The authors thank two anonymous reviewers for their thoughtful reviews and helpful suggestions. We would also like to thank Emily Drummond at the University of British Columbia for her assistance with English language and grammatical editing of the manuscript.
Electronic supplementary material
Below is the link to the electronic supplementary material.
About this article
Cite this article
Ye, J., Hao, Z., Wang, X. et al. Local-scale drivers of multi-stemmed tree formation in Acer, in a temperate forest of Northeast China. Chin. Sci. Bull. 59, 320–325 (2014). https://doi.org/10.1007/s11434-013-0013-8
Received:

Accepted:

Published:

Issue Date:
Keywords
Abiotic and biotic neighborhoods

Acer

Changbaishan

Multi-stemmed trees

Temperate forest