Abstract
Researchers and practitioners have suggested that the use of social networking sites in formal education may be a worthwhile endeavor. Toward this goal, emerging learning platforms have included social networking features. Nevertheless, empirical literature examining user experiences, and more specifically instructor experiences, with these tools is limited. In this qualitative study, we address this gap in the literature by reporting the experiences of five instructors who used a social networking platform in their courses. We find that instructors (a) had expectations of Elgg that stemmed from numerous sources, (b) used Elgg in heterogeneous ways and for varied purposes, (c) compartmentalized Elgg and used it in familiar ways, and (d) faced frustrations stemming from numerous sources. We note that the ways Elgg came to be used "on the ground" is contested and contrasts starkly with the narrative of how social software might contribute benefits to educational practice. In addition, we note that learning management systems may frame the ways through which other tools, such as social media and Elgg, are understood, used, and experienced.
This is a preview of subscription content, log in to check access.
Access options
Buy single article
Instant access to the full article PDF.
US$ 39.95
Price includes VAT for USA
Subscribe to journal
Immediate online access to all issues from 2019. Subscription will auto renew annually.
US$ 99
This is the net price. Taxes to be calculated in checkout.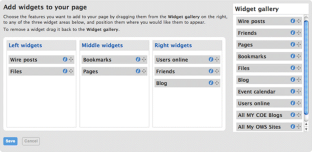 Notes
1.

It is important to note that this particular pedagogical perspective permeates the culture of the teacher education program in which this study occurred, and as such was not surprising that all participants shared this perspective.
References
Aijan, H., & Hartshorne, R. (2008). Investigating faculty decisions to adopt Web 2.0 technologies: Theory and empirical tests. The Internet and Higher Education, 11(2), 71–80.

Arnold, N., & Paulus, T. (2010). Using a social networking site for experiential learning: Appropriating, lurking, modeling and community building. The Internet and Higher Education, 13(4), 188–196.

Birch, D., & Burnett, B. (2009). Bringing academics on board: Encouraging institution-wide diffusion of e-learning environments institutional context for the research. Australasian Journal of Educational Technology, 25(1), 117–134.

Boyd, D., & Ellison, N. (2007). Social network sites: Definition, history, and scholarship. Journal of Computer-Mediated Communication, 13(1), 210–230.

Brady, K., Holcomb, L., & Smith, B. (2010). The use of alternative social networking sites in higher educational settings: A case study of the e-learning benefits of Ning in education. Journal of Interactive Online Learning, 9(2), 151–170.

Charmaz, K. (2011). Grounded theory methods in social justice research. In N. K. Denzin & Y. S. Lincoln (Eds.), The SAGE handbook of qualitative research (pp. 359–380). Thousand Oaks: Sage.

Clark, R. (1994). Media will never influence learning. Educational Technology Research and Development, 42(2), 21–29.

Couros, A. (2009). Open, connected, social: Implications for educational design. Campus-Wide Information Systems, 26(3), 232–239.

Dalsgaard, C. (2006). Social software: E-learning beyond learning management systems. European Journal of Open, Distance and E-Learning, 9(2). Retrieved on July 15, 2012, from http://www.eurodl.org/materials/contrib/2006/Christian_Dalsgaard.htm.

Dede, C. (1996). Emerging technologies and distributed learning. American Journal of Distance Education, 10(2), 4–36.

Dron, J., & Anderson, T. (2007). Collectives, networks and groups in social software for E-learning. In T. Bastiaens & S. Carliner (Eds.), Proceedings of world conference on E-learning in corporate, government, healthcare, and higher education (pp. 2460–2467). Chesapeake: AACE.

Dron, J., & Anderson, T. (2009). Lost in social space: Information retrieval issues in Web 1.5. Journal of Digital Information, 10(2), 1–12.

Ellison, N., Steinfield, C., & Lampe, C. (2007). The benefits of facebook friends: Social capital and college students' use of online social network sites. Journal of Computer-Mediated Communication, 12(4), 1143–1168.

Gallon, R. (2010). Media behaviour: towards the transformation society. Technoetic Arts, 8(1), 115–122.

Galusha, J. M. (1997). Barriers to learning in distance education. Interpersonal Computing and Technology: An Electronic Journal for the 21st Century, 5(3/4), 6–14.

Ge, X., Lubin, I. A., & Zhang, K. (2010). An investigation of faculty's perceptions and experiences when transitioning to a new learning management system. Knowledge Management & E-learning: An International Journal, 2(4), 433–447.

Glaser, B., & Strauss, A. (1967). The discovery of grounded theory: Strategies for qualitative research. Chicago: Aldine.

Greenhow, C., & Robelia, B. (2009). Informal learning and identity formation in online social networks. Learning, Media & Technology, 34(2), 119–140.

Kirschner, P., & Karpinski, A. (2010). Facebook and academic performance. Computers in Human Behavior, 26(6), 1237–1245.

Kozma, R. (1994). Will media influence learning? Reframing the debate. Educational Technology Research and Development, 42(2), 7–19.

Lane, L. (2009) Insidious pedagogy: How course management systems affect teaching. First Monday, 14(10). Retrieved on July 3, 2012 from http://www.uic.edu/htbin/cgiwrap/bin/ojs/index.php/fm/article/view/2530/2303.

Lenhart, A., Kahne, J., Middaugh, E., Macgill, A., Evans, C., & Vitak, J. (2008). Teens, video games, and civics: Teens' gaming experiences are diverse and include significant social interaction and civic engagement. Retrieved October 29, 2011, from Pew Internet & American Life Project: http://www.pewinternet.org/PPF/r/263/report_display.asp.

Levickaitė, R. (2010). Generations X, Y, Z: How social networks form the concept of the world without borders (the case of Lithuania). Limes, 3(2), 170–183.

Lonn, S., & Teasley, S. D. (2009). Saving time or innovating practice: Investigating perceptions and uses of learning management systems. Computers & Education, 53(3), 686–694.

Madge, C., Meek, J., Wellens, J., & Hooley, T. (2009). Facebook, social integration and informal learning at university: It is more for socialising and talking to friends about work than for actually doing work. Learning, Media and Technology, 34(2), 141–155.

Marwick, A., & Boyd, D. (2010). I tweet honestly, I tweet passionately: Twitter users, context collapse, and the imagined audience. New Media & Society, 13, 114–133.

McLuhan, M. (1994). Understanding media: The extensions of man. Cambridge: MIT Press.

Merriam, S. (1995). What can you tell from an N of 1?: Issues of validity and reliability in qualitative research. PAACE Journal of Lifelong Learning, 4, 51–60.

Minocha, S. (2009). Role of social software tools in education: a literature review. Education + Training, 51(5/6), 353–369.

Minocha, S., Schroeder, A., & Schneider, C. (2011). Role of the educator in social software initiatives in further and higher education: A conceptualisation and research agenda. British Journal of Educational Technology, 42(6), 889–903.

Morrison, G., & Anglin, G. (2006). An instructional design approach for effective shovelware: Modifying materials for distance education. Quarterly Review of Distance Education, 7(1), 63–74.

Mott, J. (2010). Envisioning the post-LMS Era: The open learning network. Educause Quarterly, 33(1), 1–9.

Naveh, G., Tubin, D., & Pliskin, N. (2010). Student LMS use and satisfaction in academic institutions: The organizational perspective. The Internet and Higher Education, 13(3), 127–133.

Paulsen, M. (2003). Experiences with learning management systems in 113 European institutions. Educational Technology & Society, 6(4), 134–148.

Roblyer, M., McDaniel, M., Webb, M., Herman, J., & Witty, J. (2010). Findings on facebook in higher education: A comparison of college faculty and student uses and perceptions of social networking sites. The Internet and Higher Education, 13(3), 134–140.

Sclater, N. (2008). Web 2.0, personal learning environments, and the future of learning management systems. ECAR Research Bulletin, No. 13. Retrieved on Jan 30, 2012 from http://www.educause.edu/ECAR/Web20PersonalLearningEnvironme/163047.

Selwyn, N. (2009). Faceworking: exploring students' education-related use of facebook. Learning, Media and Technology, 34(2), 157–174.

Selwyn, N., & Grant, L. (2009). Researching the realities of social software use: An introduction. Learning, Media and Technology, 34(2), 79–86.

Statistics. (2011). Facebook. Retrieved December 5, 2011, from http://www.facebook.com/press/info.php?statistics.

Stutzman, F. (2006). An evaluation of identity-sharing behavior in social network communities. Paper presented at the iDMAa and IMS code conference. Oxford: Miami University.

Towner, T., & Munoz, C. (2011). Facebook and education: A classroom connection? In C. Wankel (Ed.), Educating educators with social media (pp. 33–57). Bingley: Emerald Publishing.

Veletsianos, G. (2010). A definition of emerging technologies for education. In G. Veletsianos (Ed.), Emerging technologies in distance education (pp. 3–22). Edmonton: Athabasca University Press.

Veletsianos, G. (2012). Higher education scholars' participation and practices on twitter. Journal of Computer Assisted Learning, 28(4), 336–349.

Veletsianos, G., & Kimmons, R. (2013). Scholars and faculty members lived experiences in online social networks. The Internet and Higher Education, 16(1), 43–50.

Veletsianos, G., & Navarrete, C. (2012). Online social networks as formal learning environments: Learner experiences and activities. The International Review of Research in Open and Distance Learning, 13(1), 144–166.

Wang, Q., Woo, H., Quek, C., Yang, Y., & Liu, M. (2011). Using the Facebook group as a learning management system: An exploratory study. British Journal of Educational Technology, 43(3), 428–438.

West, R. E., Waddoups, G., & Graham, C. R. (2006). Understanding the experiences of instructors as they adopt a course management system. Educational Technology Research and Development, 55(1), 1–26.

Wilson, B., Parrish, P., & Veletsianos, G. (2008). Raising the bar for instructional outcomes: Towards transformative learning experiences. Educational Technology, 48(3), 39–44.
Appendices
Appendix 1: Interview protocol
Tell me about your experience in the Elgg course environment.

How do you use Elgg?

What worked well with using Elgg as a tool to deliver the course?

What has not worked well?

What does Elgg add to your teaching, if anything?

What does Elgg add to student learning, if anything?

How do you feel Elgg could be used to improve learning in your content area?

How has the [faculty technology support office] worked with you in using and implementing Elgg in your course?

How has the process of implementing Elgg in your course been?

Has Elgg allowed you to do anything new in your course?

What was your perception of the students' professional identities as seen in their Elgg profiling?

How did you address the students personal profile design?

What would you do differently in helping student develop social presence or personal profile on the Elgg platform?

Is there anything else about your experience with Elgg that you would like to share?
Appendix 2: Preliminary concepts describing instructor experiences
1.

Instructors seem to have different perceptions of what Elgg is, what it does, and how is should be used.

2.

Instructor experiences seem to be related to the way instructors view education.

3.

Instructors have different experiences, different expectations, and face different outcomes. One size does not fit all.

4.

Lack of community development. Potential reasons: did not use Elgg enough, learn how to use it well enough, or did not use the social networking features.

5.

Concept #4 appears to stem from a variety of reasons like beliefs about learning and education, time, familiarity, etc.

6.

Insufficient time to explore social capabilities.

7.

Elgg changed the social role of the instructor and his/her relationship to students.

8.

Elgg problematized previous modes of teaching (e.g., student-instructor relationship).

9.

Egg did not problematize previous modes of teaching (e.g., being used in a manner similar to other tools).

10.

Pedagogical needs appear to lead to rejection or underuse of technology/Elgg.

11.

Frustrating experience.

12.

Instructors have expectations of Elgg.

13.

Instructors perceptions of the tool appear to have been formed outside of the institutional setting → Elgg is not a neutral space.

14.

Instructors have perceptions of what their role is or should be and how that is or is not compatible with Elgg.

15.

How does the introduction of these tools (from an office like the technology support office) impact the experience?

16.

Elgg (a learning technology) is compared to Facebook (a non-learning technology).

17.

Elgg has limitations, leading instructors to become frustrated and question the applicability of the tool for education.

18.

The use of Elgg is more similar to an LMS than to an online social network.
About this article
Cite this article
Veletsianos, G., Kimmons, R. & French, K.D. Instructor experiences with a social networking site in a higher education setting: expectations, frustrations, appropriation, and compartmentalization. Education Tech Research Dev 61, 255–278 (2013). https://doi.org/10.1007/s11423-012-9284-z
Keywords
Online social network

Learning management system

Elgg

Instructor experiences

Technology integration

Higher education

Social networking sites