Magnetic Resonance Imaging Diagnosis and Computed Tomography-Guided Radiofrequency Ablation of Osteoid Osteoma
Radiology and Imaging Corner
A 26-year-old male presented for magnetic resonance (MR) examination of the ankle for chronic ankle pain.
MR images of the ankle revealed marked intraosseous bone marrow hyperintensity involving the talus on the fast inversion recovery sequence (Fig.
1
). In addition, at the anteromedial margin of the posterior facet of the talus, a round, sclerotic lesion was present with an associated mild to moderate reactive synovitis in the subtalar joint (Fig.
1
). Findings were consistent with an osteoid osteoma.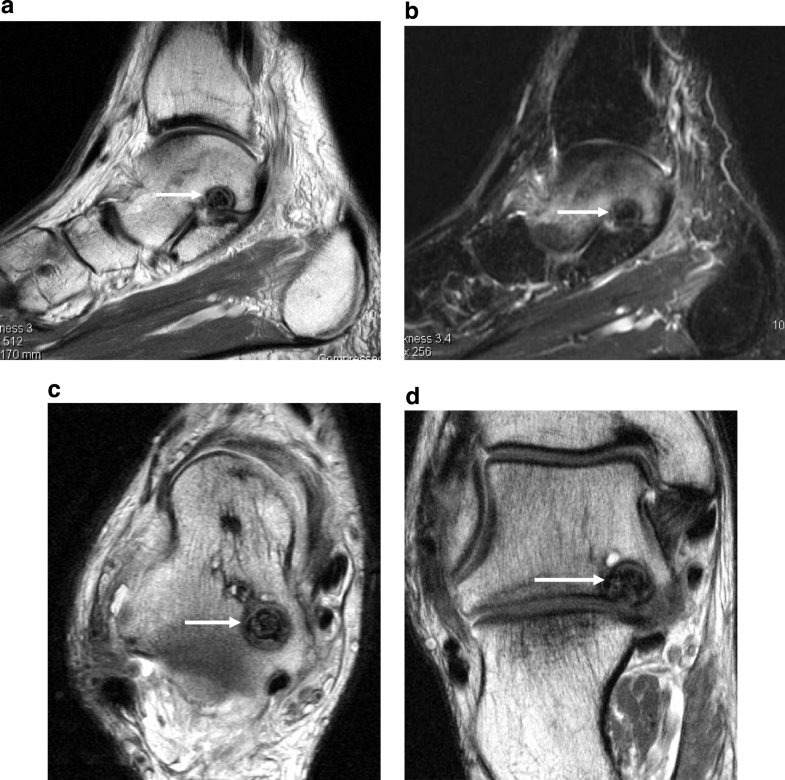 Keywords
Osteoid Osteoma 
Compute Tomography Guidance 
Magnetic Resonance Image Diagnosis 
Bone Marrow Edema Pattern 
High Clinical Success Rate 
These keywords were added by machine and not by the authors. This process is experimental and the keywords may be updated as the learning algorithm improves.
Copyright information
© Hospital for Special Surgery 2006