Abstract
Two new xanthones namely cratochinone A (1) and cratochinone B (2), along with 16 known xanthones, were isolated from the roots of Cratoxylum cochinchinense. Their structures were characterized by spectroscopic methods, especially 1D and 2D NMR as well as comparison with those reported in the literature for known xanthones. All isolated compounds were evaluated for their cytotoxicity against five human cancer cell lines (KB, HeLa S-3, HT-29, MCF-7 and Hep G2 cell lines). Compounds 2, 5, and 7 showed significant cytotoxic effects against all cell lines with IC50 values in the range of 0.91–9.93 μM, while 10 exhibited cytotoxicity against the KB, HeLa S-3, and HT-29 cells with IC50 values of 7.39, 6.07, and 8.11 μM, respectively. Compound 12 exhibited cytotoxicity against both KB and HeLa S-3 cells with IC50 values of 7.28 and 9.84 μM.
This is a preview of subscription content, log in to check access.
Access options
Buy single article
Instant access to the full article PDF.
US$ 39.95
Price includes VAT for USA
Subscribe to journal
Immediate online access to all issues from 2019. Subscription will auto renew annually.
US$ 99
This is the net price. Taxes to be calculated in checkout.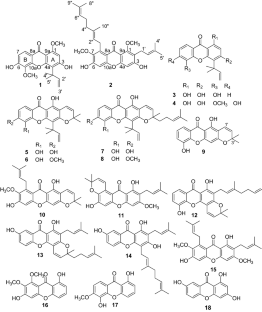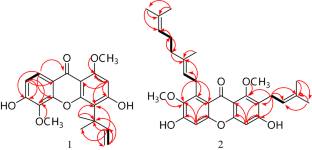 References
1.

Laphookhieo S, Maneerat W, Buatip T, Keith JK (2008) New xanthones from C. cochinchinense. Can J Chem 86:757–760

2.

Laphookhieo S, Maneerat W, Koysomboon S (2009) Antimalarial and cytotoxic phenolic compounds from Cratoxylum maingayi and Cratoxylum cochinchinense. Molecules 14:1389–1395

3.

Phuwapraisirisan P, Udomchotphruet S, Surapinit S, Tip-Pyang S (2006) Antioxidant xanthones from Cratoxylum cochinchinense. Nat Prod Res 20:1332–1337

4.

Duan YH, Dai Y, Wang GH, Chen LY, Chen HF, Zeng DQ, Li YL, Yao XS (2015) Bioactive prenylated xanthones from the stems of Cratoxylum cochinchinense. J Asian Nat Prod Res 17:519–531

5.

Udomchotphruet S, Phuwapraisirisan P, Sichaem J, Tip-pyang S (2012) Xanthones from the stems of Cratoxylum cochinchinense. Phytochemistry 17:148–151

6.

Bennett GJ, Harrison LJ, Sia GL, Sim KY (1993) Xanthones from guttiferae. Phytochemistry 23:1245–1251

7.

Nguyen LHD, Harrison LJ (1998) Triterpenoid and xanthone constituents of Cratoxylum cochinchinense. Phytochemistry 50:471–476

8.

Rukachaisirikul V, Phainuphong P, Sukpondma Y, Phongpaichit S, Taylor WC (2005) Cytotoxic and Anti-HIV-1 Caged xanthones from the resin and fruits of Garcinia hanburyi. Planta Med 71:165–170

9.

Laphookhieo S, Syers JK, Kiattansakul R, Chantrapromma K (2006) Cytotoxic and antimalarial prenylated xanthones from Cratoxylum cochinchinense. Chem Pharm Bull 54:745–747

10.

Reutrakul V, Anantachoke N, Pohmakotr M, Jaipetch T, Sophasan S, Yoosook C, Kasisit J, Napaswat C, Santisuk T, Tuchinda P (2007) Antibacterial caged-tetraprenylated xanthones from the stem bark of Garcinia scortechinii. Planta Med 73:33–40

11.

Sukandar ER, Kaennakam S, Rassamee K, Ersam T, Siripong P, Tip-pyang S (2019) Tetrandraxanthones A−I, Prenylated and geranylated xanthones from the stem bark of Garcinia tetrandra. J Nat Prod 82:1312–1318

12.

Li ZP, Lee HH, Uddin Z, Song YH, Park KH (2018) Caged xanthones displaying protein tyrosine phosphatase 1B (PTP1B) inhibition from Cratoxylum cochinchinense. Bioorg Chem 78:39–45

13.

Li ZP, Song YH, Uddin Z, Wang Y, Park KH (2018) Inhibition of protein tyrosine phosphatase 1B (PTP1B) and α-glucosidase by xanthones from Cratoxylum cochinchinense, and their kinetic characterization. Bioorg Med Chem 26:737–746

14.

Chihiro I, Yoshiaki M, Sundar K, Hiroshi F (1996) A Novel dibenzofuran and two new Xanthones form Calophyllum panciflorum. Chem Pharm Bull 44:441–443

15.

Nuangnaowarat W, Isaka M, Phupong W (2010) New xanthones from the barks of Cratoxylum sumatranum ssp. neriifolium. Heterocycles 81:2335–2341

16.

Iinuma M, Tosa H, Tanaka T, Yonemori S (1993) Two xanthones from root bark of Calophyllum inophyllum. Phytochemistry 35:527–532

17.

Gunasekera SP, Selliah S, Sultanbawa MUS (1975) Chemical investigation of ceylonese plants. Part XV. Extractives of Kayea stylosa Thw. (Guttiferae). J Chem Soc Perkin Trans 1(16):1539–1544

18.

Boonnak N, Karalai C, Chantrapromma S, Ponglimanont C, Fun HK, Kanjana-Opas A, Laphookhieo S (2006) Bioactive prenylated xanthones and anthraquinones from Cratoxylum formosum ssp. pruniflorum. Tetrahedron 62:8850–8859

19.

Kawamura F, Muhamud A, Hashim R, Sulaiman O, Ohara S (2012) Two Antifungal xanthones from the heartwood of Calophyllum symingtonianum. Jpn Agric Res Q 46:181–185

20.

Sen AK, Sarkar KK, Mazumder PC, Banerji N, Uusvuori R, Hase TA (1980) A xanthone from Garcinia mangostana. Phytochemistry 19:2223–2225

21.

Boonsri S, Karalai C, Ponglimanont C, Kanjana-Opas A, Chantrapromma K (2006) Antibacterial and cytotoxic xanthones from the roots of Cratoxylum formosum. Phytochemistry 67:723–727

22.

Boonnak N, Karalai C, Chantrapromma S, Ponglimanont C, Fun HK, Kanjana-Opas A, Chantrapromma K, Kato S (2009) Anti-Pseudomonas aeruginosa xanthones from the resin and green fruits of Cratoxylum cochinchinense. Tetrahedron 65:3003–3013

23.

Mahabusarakam W, Nuangnaowarat W, Taylor WC (2006) Xanthone derivatives from Cratoxylum cochinchinense roots. Phytochemistry 67:470–474

24.

Sim WC, Lain GC, Aspollah SM (2011) Alpha-mangostin and beta-mangostin from Cratoxylum laucum. Res J Chem Environ 15(2):62–66

25.

Marston A, Hamburger M, Sordat-Diserens I, Msonthia DJ, Hostettmann K (1993) Xanthones from Polygala nyikensis. Phytochemistry 33:809–812

26.

Dharmaratne HRW, Napagoda MT, Tennakoon SB (2005) Xanthones from roots of Calophyllum thwaitesii and their bioactivity. Nat Prod Res 23:539–545

27.

Chan WL, Leung C, Yeung H, Xiao H, Xiao P (1998) Xanthones and flavonoids of Polygala caudata. Pharm Pharmacol Commun 4:415–417

28.

Hay AE, Aumond MC, Mallet S, Dumontet V, Litaudon M, Rondeau D, Richomme P (2004) Antioxidant Xanthones from Garcinia vieillardii. J Nat Prod 67:707–709

29.

Pattalung PN, Thongtheeraparp W, Wiriyachitra P, Taylor WC (1994) Xanthones of Garcinia cowa. Planta Med 60:365–368

30.

Pattanaprateeb P, Ruangrungsi N, Cordell GA (2005) Cytotoxic constituents from Cratoxylum arborescens. Planta Med 71:181–183

31.

Ren Y, Matthew S, Lantvit DD, Ninh TN, Chai H, Fuchs JR, Soejarto DD, Carcache de Blanco EJ, Swanson SM, Kinghorn AD (2011) Cytotoxic and NF-κB inhibitory constituents of the stems of Cratoxylum cochinchinense and their semisynthetic analogues. J Nat Prod 74:1117–1125

32.

Seo EK, Kim NC, Wani MC, Wall ME, Navarro HA, Burgess JP, Kawanishi K, Kardono LBS, Riswan S, Rose WC, Fairchild CR, Farnsworth NR, Kinghorn AD (2002) Cytotoxic Prenylated Xanthones and the Unusual Compounds Anthraquinobenzophenones from Cratoxylum sumatranum. J Nat Prod 65:299–305

33.

Kaennakam S, Siripong P, Tip-Pyang S (2015) Kaennacowanols A-C, three new xanthones and their cytotoxicity from the roots of Garcinia cowa. Fitoterapia 102:171–176

34.

Kaennakam S, Mudsing K, Rassamee K, Siripong P, Tip-Pyang S (2019) Two new xanthones and cytotoxicity from the bark of Garcinia schomburgkiana. J Nat Med 73:257–261

35.

Kongkathip N, Kongkathip B, Siripong P, Sangma C, Luangkamin S, Niyomdecha M, Pattanapa S, Piyaviriyagul S, Kongsaeree P (2003) Potent antitumor activity of synthetic 1,2-Naphthoquinones and 1,4-Naphthoquinones. Bioorg Med Chem 11:3179–3191
Acknowledgements
The authors are grateful to the 90th anniversary of Chulalongkorn University Fund (Rat-chadaphisek-somphot Endowment Fund) for financial support. We also thank Dr. Suttira Sedlak, Walai Rukhavej Botanical Research Institute, Mahasarakham University, Mahasarakham 44000, Thailand for identification and deposition of the plant material.
Additional information
Publisher's Note
Springer Nature remains neutral with regard to jurisdictional claims in published maps and institutional affiliations.
The original version of this article was revised. Figure 1 was published incorrectly and corrected in this version.
Electronic supplementary material
Below is the link to the electronic supplementary material.
About this article
Cite this article
Natrsanga, P., Jongaramruong, J., Rassamee, K. et al. Two new xanthones from the roots of Cratoxylum cochinchinense and their cytotoxicity. J Nat Med (2019). https://doi.org/10.1007/s11418-019-01376-7
Received:

Accepted:

Published:
Keywords
Cratoxylum cochinchinense

Hypericaceae

Xanthone

Cytotoxicity