This is a preview of subscription content, log in to check access.
Access options
Buy single article
Instant access to the full article PDF.
US$ 39.95
Price includes VAT for USA
Subscribe to journal
Immediate online access to all issues from 2019. Subscription will auto renew annually.
US$ 99
This is the net price. Taxes to be calculated in checkout.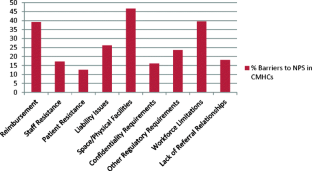 References
1.

Jones DR, Macias C, Barreira PJ, et al. Prevalence, severity, and co-occurrence of chronic physical health problems of persons with serious mental illness. Psychiatric Services 2004; 55(11): 1250-1257

2.

Colton CW, Manderscheid RW. Congruencies in increased mortality rates, years of potential life lost, and causes of death among public mental health clients in eight states. Preventing Chronic Disease. 2006; 3(2): A42-A42

3.

Parks J, Svendsen D, Singer P, et al. Morbidity and Mortality in People with Serious Mental Illness. National Association of State Mental Health Program Directors (NASMHPD) Medical Directors Council Alexandria, VA; 2006

4.

Druss BG, Marcus SC, Campbell J, et al. Medical services for clients in community mental health centers: results from a national survey. Psychiatric Services. 2008; 59(8): 917-920

5.

Scharf DM, Eberhart NK, Schmidt N, et al. Integrating primary care into community behavioral health settings: programs and early implementation experiences. Psychiatric Services. 2013; 64(7): 660-665

6.

SAMHSA-HRSA Center for Integrated Health Solutions. SAMHSA PBHCI Program. Making Integrated Care Work. 2014. Available online at: http://www.integration.samhsa.gov/about-us/pbhci. Accessed August 29, 2014

7.

Mechanic D. Seizing opportunities under the Affordable Care Act for transforming the mental and behavioral health system. Health Affairs. 2012; 31(2): 376-382

8.

Centers for Medicare and Medicaid Services. State Health Home CMS Proposal Status. 2014. Available online at: http://www.medicaid.gov/State-Resource-Center/Medicaid-State-Technical-Assistance/Health-Homes-Technical-Assistance/Downloads/HH-MAP_v34.pdf. Accessed August 29, 2014

9.

Allison DB, Newcomer JW, Dunn AL, et al. Obesity Among Those with Mental Disorders. American Journal of Preventive Medicine. 2009; 36(4): 341-350

10.

Horvitz-Lennon M, Kilbourne AM, Pincus HA. From silos to bridges: meeting the general health care needs of adults with severe mental illnesses. Health Affairs. 2006; 25(3): 659-669

11.

Katon WJ, Lin EHB, Von Korff M, et al. Collaborative care for patients with depression and chronic illnesses. New England Journal of Medicine. 2010; 363(27): 2611-2620

12.

Druss BG, von Esenwein SA, Compton MT, et al. A randomized trial of medical care management for community mental health settings: the Primary Care Access, Referral, and Evaluation (PCARE) study. American Journal of Psychiatry. 2010; 167(2): 151-159

13.

Shim RS, Lally C, Farley R, et al. Datapoints:Psychiatrists' Perceptions of Insurance-Related Medication Access Barriers. Psychiatric Services. 2014; 65(11): 1296.

14.

Bishop TF, Press MJ, Keyhani S, et al. Acceptance of insurance by psychiatrists and the implications for access to mental health care. Journal of the American Medical Association - Psychiatry. 2014; 71(2): 176-181

15.

Thomas KC, Ellis AR, Konrad TR, et al. County-level estimates of mental health professional shortage in the United States. Psychiatric Services. 2009; 60(10): 1323-1328
Conflict of Interest
The survey and data analysis was jointly funded by Sunovion, Takeda Pharmaceuticals, USA, Inc., and Lundbeck LLC, in partnership with the National Council for Behavioral Health and NAMI.
Credits and Disclaimers
No credits or disclaimers to report.
About this article
Cite this article
Shim, R.S., Lally, C., Farley, R. et al. Medical Care Services in Community Mental Health Centers: a National Survey of Psychiatrists. J Behav Health Serv Res 42, 395–400 (2015). https://doi.org/10.1007/s11414-014-9453-4
Keywords
Behavioral Health

Public Mental Health

Behavioral Health Service

Poor Physical Health

Physical Health Care