Abstract
Using Vygotsky's notion of double stimulation as an analytical tool, we discuss the complex relationship between tasks, tools, and agency in CSCL environments. Empirically we examine how learners in a Norwegian senior high school class learning English as a foreign language approach and respond to an open-ended and collectively oriented task using a wiki. Our findings show that collectively oriented knowledge and language production takes place locally in small groups as well as in the larger collective of the class, and that learners find it difficult to maintain awareness of both levels of activity. However, when facing a breakdown in the wiki application, learners sustained strategies that carried many of the characteristics of collective production. We argue that there is a need to further theorize the task-tool relationship in activities involving collective knowledge production and that we need to align pedagogical as well as technological designs in order to give support for such efforts.
This is a preview of subscription content, log in to check access.
Access options
Buy single article
Instant access to the full article PDF.
US$ 39.95
Price includes VAT for USA
Subscribe to journal
Immediate online access to all issues from 2019. Subscription will auto renew annually.
US$ 99
This is the net price. Taxes to be calculated in checkout.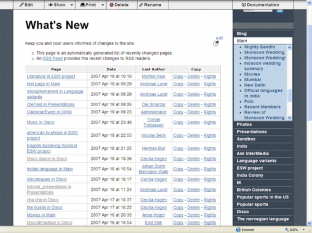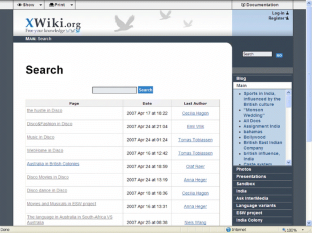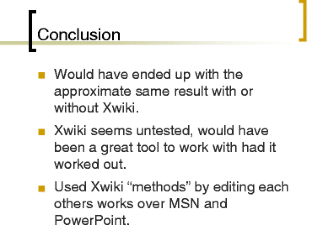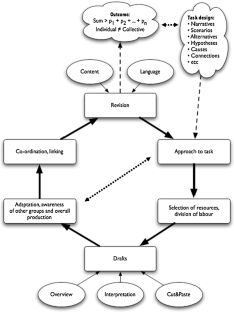 References
Andriessen, J., Baker, M., Suthers, D. D. (Eds.). (2003). Arguing to learn: Confronting cognitions in computer-supported collaborative learning environments. Dordrecht, The Netherlands: Kluwer.

Arnseth, H. C., & Ludvigsen, S. (2006). Approaching institutional contexts: Systemic versus dialogic research in CSCL. International Journal of Computer-Supported Collaborative Learning (ijCSCL), 1(2), 167–185.

Aronson, E., Blaney, N., Stephan, C., Sikes, J., & Snapp, M. (1978). The jigsaw classroom. Beverly Hills, CA: SAGE.

Arvaja, M. (2007). Contextual perspective in analysing collaborative knowledge construction of two small groups in web-based discussion. International Journal of Computer-Supported Collaborative Learning (ijCSCL), 2(2–3), 133–158.

Augar, N., Raitman, R., & Zhou, W. (2004). Teaching and learning online with wikis. Paper presented at the Beyond the Comfort Zone, ASCILITE Conference, Perth, Australia.

Bakhtin, M. M. (1979/2000). The dialogic imagination. Four essays by M.M. Bakhtin. Austin, TX: University of Texas Press.

Bereiter, C. (2002). Education and mind in the knowledge age. Mahwah, NJ: Lawrence Erlbaum Associates.

Bergquist, K. (1990). Doing schoolwork. Task premises and joint activity in the comprehensive classroom. Linköping: Linköping University, Department of Communication Studies.

Cole, M. (1996). Cultural psychology. A once and future discipline. Cambridge, MA: The Belknap.

Coughlan, P., & Duff, P. A. (1994). Same task, different activities: Analysis of SLA task from an activity theory perspective. In J. P. Lantolf, & G. Appel (Eds.), Vygotskian approaches to second language research (pp. 173–193). Norwood, NJ: Ablex Publishing Corporation.

Daniels, H. (2001). Vygotsky and pedagogy. New York: RoutledgeFalmer.

de Jong, T., & Jules, P. (2005). The design of powerful learning environments. In P. A. Alexander, & A. P. H. Winne (Eds.), Handbook of educational psychology (2nd ed.). London: LEA.

Désilets, A., Paquet, S., & Vinson, N. G. (2005). Are wikis usable? Paper presented at the WikiSym'05, San Diego, CA, October 16–18.

Dillenbourg, P. (2002). Overscripting CSCL: The risks of blending collaborative learning with instructional design. In P. A. Kirschner (Ed.), Three worlds of CSCL. Can we support CSCL? (pp. 61–91). Heerlen: Open University, The Netherlands.

Engeström, Y. (1999). Learning, working, and imagining. Twelve studies in activity theory. Helsinki: Orienta-Konsultit Oy.

Engeström, Y. (2007). Putting Vygotsky to work: The change laboratory as an application of double stimulation. In H. Daniels, M. Cole, & J. Wertsch (Eds.), The Cambridge companion to Vygotsky (pp. 363–382). Cambridge, UK: Cambridge University Press.

Forte, A., & Bruckman, A. (2006). From wikipedia to the classroom: Exploring online publication and learning. Paper presented at the International Conference of the Learning Sciences, Bloomington, IN.

Gallego, M. A., & Cole, M. (2001). Classroom culture and culture in classroom. In V. Richardson (Ed.), Fourth Edition of the handbook of research on teaching. Washington, DC: American Educational Research Association.

Garza, S. L., & Hern, T. (2006). Using wikis as collaborative writing tools: Something wiki this way comes—or not! Retrieved August 8, 2006, from http://critical.tamucc.edu/wiki/WikiArticle/Home.

Grant, L. (2006). Using wikis in schools: A case study. Retrieved June 5, 2006, from http://www.futurelab.org.uk/research/discuss/05discuss01.htm.

Hampel, R. (2006). Rethinking task design for the digital age: a framework for language teaching and learning in a synchronous online environment. ReCALL, 18(1), 105–121.

Lankshear, C., Snyder, I., & Green, B. (2000). Teachers and technoliteracy: Managing literacy, technology and learning in schools. St Leonards, New South Wales: Allen & Unwin.

Lemke, J. L. (2000). Across the scales of time: artifacts, activities, and meanings in ecosocial systems. Mind, Culture and Activity, 7(4), 273–290.

Leuf, B., & Cunningham, W. (2001). The wiki way: Quick collaboration on the web. Boston, MA: Addison-Wesley Longman Publishing.

Linell, P. (1998). Approaching dialogue. Talk, interaction and contexts in dialogical perspectives. Amsterdam: John Benjamins Publishing.

Ludvigsen, S. (2008). What counts as knowledge: Learning to use categories in computer environments. In R. Säljö (Ed.), ICT and transformation of learning practices. Oxford: Pergamon (in press).

Lund, A. (2004). The teacher as interface. Teachers of EFL in ICT-rich environments: Beliefs, practices, appropriation. Doctoral dissertation, University of Oslo.

Lund, A. (2006). WIKI i klasserommet: Individuelle og kollektive praksiser [WIKI in the classroom: Individual and collective practices]. Norsk pedagogisk tidsskrift, 90(4), 274–288.

Lund, A. (2008). Wikis: a collective approach to language production. ReCALL, 20(1), 35–54.

Lund, A., & Smørdal, O. (2006). Is there a space for the teacher in a wiki? In Proceedings of the 2006 International Symposium on Wikis (WikiSym '06) (pp. 37–46). Odense, Denmark: ACM Press.

Mercer, N. (2000). Words and minds: How we use language to think together. London: Routledge.

Mercer, N. (2004). Sociocultural discourse analysis: analysing classroom talk as a social mode of thinking. Journal of Applied Linguistics, 1(2), 137–168.

Ministry of Education and Research. (2006). Knowledge promotion. Retrieved June 02, 2007, from http://www.regjeringen.no/en/dep/kd/Selected-topics/andre/Knowledge-Promotion.html?id=1411.

Muukkonen, H., Hakkarainen, K., & Lakkala, M. (1999). Collaborative technology for facilitating progressive inquiry: Future learning environment tools. In C. Hoadley, & J. Roschelle (Eds.), Computer support for collaborative learning: Designing new media for a new millennium. Proceedings of CSCL 1999. CA, USA: Palo Alto.

Nespor, J. (1987). Academic tasks in a high school English class. Curriculum Inquiry, 17, 203–228.

Newman, D., Griffin, P., & Cole, M. (1984). Social constrains in laboratory and classroom tasks. In B. Rogoff, & J. Lave (Eds.), Everyday cognition. Development in social context (pp. 172–193). Cambridge: Harvard University Press.

Nunan, D. (1989). Designing tasks for the communicative classroom. Cambridge, UK: Cambridge University Press.

Nystrand, M., & Gamoran, A. (1997). The big picture: Language and learning in hundreds of English lessons. In M. Nystrand (Ed.), Opening dialogue. Understanding the dynamics of language and learning in the English classroom (pp. 30–74). New York: Teachers College Press.

O'Neil, H. F., Chuang, S.-H., & Chung, G. K. W. K. (2003). Issues in the computer-based assessment of collaborative problem solving. Assessment in Education, 10(3), 361–373.

Pew Internet and American Life Project. (2002). The digital disconnect: The widening gap between Internet-savvy students and their schools. Retrieved September 14, 2005, from http://www.pewinternet.org/pdfs/PIP_Schools_Internet_Report.pdf.

Portes, P. R., Smith, T. L., Zady, M. F., & Del Castillo, K. (1997). Extending the double stimulation method in cultural-historical research: Parent–child interaction and cognitive change. Mind, Culture and Activity, 4(2), 108–123.

Rasmussen, I. (2005). Project work and ICT: Studying learning as participation trajectories. Doctoral dissertation, University of Oslo, Oslo.

Rasmussen, I., Krange, I., & Ludvigsen, S. R. (2003). The process of understanding the task: How is agency distributed between students, teachers and representations in technology-rich learning environments? International Journal of Educational Research, 39, 839–849.

Säljö, R. (1999). Learning as the use of tools. A sociocultural perspective on the human-technology link. In K. Littleton, & P. Light (Eds.), Learning with computers. Analysing productive interaction (pp. 144–161). New York, NY: Routledge.

Säljö, R. (2000). Lärandet i praktiken. Ett sociokulturellt perspektiv [Learning in Practice: A sociocultural perspective]. Stockholm, SE: Prisma.

Sawyer, R. K., & Berson, S. (2004). Study group discourse: how external representations affect collaborative conversation. Linguistics and Education, 15, 387–412.

Saxe, G. B. (2006). Methods and techniques for studying the travel of ideas in classroom communities. Retrieved September 17, 2007, from http://escalate.org.il/construction_knowledge/papers/saxe.pdf.

Scaletta, K. (2006, July 28, 2006). Teaching with Wikis. Retrieved August 9, 2006, from https://wiki.umn.edu/twiki/bin/view/TeachingWithWikis/WebHome.

Scardamalia, M., & Bereiter, C. (1996). Computer support for knowledge-building communities. In T. Koschmann (Ed.), CSCL: Theory and practice of an emerging paradigm. Mahwah, NJ: LEA.

Skehan, P. (2003). Task-based instruction. Language Teaching, 36, 1–14.

Stahl, G. (2006). Group cognition: Computer support for building collaborative knowledge. Cambridge, MA: MIT Press.

Strijbos, J. W., Kirschner, P. A., & Martens, R. L. (2004). What We Know About CSCL...and what we do not (but need to) know about CSCL. In J.-W. Strijbos, P. Kirschner, & R. Martens (Eds.), What we know about CSCL: And implementing it in higher education (pp. 245–259). Dordrecht, The Netherlands: Kluwer.

Suthers, D. (2006). Technology affordances for intersubjective meaning-making: a research agenda for CSCL. International Journal of Computer-Supported Collaborative Learning (ijCSCL), 1(3), 315–337.

Tabak, I. (2004). Reconstructing context: negotiating the tension between exogenous and endogenous educational design. Educational Psychologist, 39(4), 225–233.

Valsiner, J., & van der Veer, R. (2000). The social mind: Construction of the idea. Cambridge, UK: Cambridge University Press.

van Dijk, T. A. (1997). The study of discourse. In T. Van Dijk (Ed.), Discourse as structure and process (vol. 1, pp. 1–34). London, UK: Sage.

Vygotsky, L. S. (1978). Mind in society: The development of higher psychological processes. Cambridge, MA: Harvard University Press.

Vygotsky, L. S. (1986). Thought and language (A. Kozulin, Trans.). Cambridge, MA: MIT Press.

Wang, H.-C., Lu, C.-H., Yang, J.-Y., Hu, H.-W., Chiou, G.-F., Chiang, Y.-T., et al. (2005). An empirical exploration of using wiki in an English as a second language course. Paper presented at the 5th IEEE International Conference on Advanced Learning Technologies (ICALT), Kaohsiung, Taiwan, July.

Wasson, B., & Ludvigsen, S. (2003). Designing for knowledge building (no. 19). Oslo, NO: Forsknings–og kompetansesenteret for IT i utdanning, University of Oslo.

Wertsch, J. V. (1998). Mind as action. Oxford, UK: Oxford University Press.
Acknowledgement
The writing of this article is supported by the strategic research effort Competence and Media Convergence (CMC) and the "TWEAK" (Tweaking Wikis for Education and Knowledge Advancement) project at the University of Oslo. We thank the learners and teacher at the Secondary School we report from, Ole Smørdal and Thomas Drevon for their design work and productive discussions, Sten Ludvigsen, Svein Olav Norenes, colleagues at InterMedia, and David Middleton for reading and commenting on earlier versions of this paper. Also, we would like to extend our thanks to the reviewers and the editors for the very constructive comments.
About this article
Cite this article
Lund, A., Rasmussen, I. The right tool for the wrong task? Match and mismatch between first and second stimulus in double stimulation. Computer Supported Learning 3, 387 (2008). https://doi.org/10.1007/s11412-008-9050-8
Received:

Accepted:

Published:
Keywords
Double stimulation

Wiki

Tasks

Collaborative knowledge construction