Abstract
This paper argues that the strong member states of the European Currency Union are hostages of a financially distressed member state so that they are compelled to provide financial support. Moreover, due to the dynamics of the interaction game, a debt relief is a free lunch for the distressed country. This fosters moral hazard of distressed countries. In the absence of capital market control, European politics do not effectively monitor fiscal politics of member states. The lack of a long-term strategy of the European Currency Union to deal with distressed states has undermined the credibility of politics. This lack is also explained by a lack of a European Insolvency Charter. A viable Union requires such a charter with rules for handling distress. Moreover, politics should determine a mechanism to coordinate politics and capital markets in their monitoring of fiscal and economic policy of member states.
This is a preview of subscription content, log in to check access.
Access options
Buy single article
Instant access to the full article PDF.
US$ 39.95
Price includes VAT for USA
Subscribe to journal
Immediate online access to all issues from 2019. Subscription will auto renew annually.
US$ 99
This is the net price. Taxes to be calculated in checkout.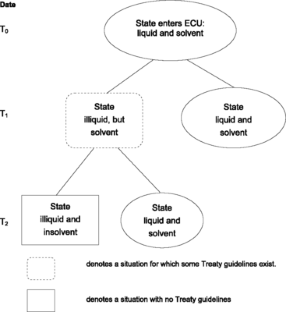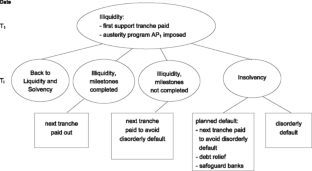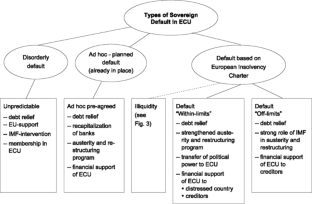 Notes
1.

The European Central Bank may finance current account deficits through the Target 2 system. But it is not allowed to provide money to a government or other public authorities to fund budget deficits (see Sect. 2).

2.

This may also explain why some East-European member states of the EU which, however, do not belong to the ECU, and many developing countries have rather low public debt.

3.

Art. 143 also allows the EU to support member states in case of current account imbalances and associated foreign exchange reserve problems. But this applies to member states which are not members of the ECU.

4.

The ECU raised the EFSF-volume to 440 bio and added 60 bio € from the European Financial Stabilization Mechanism while the IMF promised to back a 250 bio € loan. In order to financially support distressed member states, the EFSF can also provide partial guarantees for newly issued bonds of the member states. This leveraging allows the EFSF to support bonds with a par value of more than 1 bio €.

5.

This led to the strange implication that credit default swaps on Greece did not pay any damage claims even though bondholders suffered substantial losses.

6.

The ECU insisted on an austerity program of Italy. The Italian government sent a letter to the ECU in which it promised certain steps together with a time schedule for implementation. Moreover, Italy had to accept official monitoring by the IMF, in addition to that of the ECU.

7.

However, a random exchange rate also offers real options to exporters and importers which may encourage international trade (Franke 1991).

8.

Sometimes it is argued that a penalty for Greece would be to establish an external austerity commissioner with strong power in the Greek administration. The troika has already a similar role. It is questionable whether the chances to implement an austerity program are better if an external commissioner takes responsibility instead of the Greek government/parliament.
References
Bindseil, U., Modery, W.: Ansteckungsgefahren im Eurogebiet und die Rettungsmaßnahmen des Frühling 2010. Perspekt. Wirtsch. 12, 2115–2241 (2011)

Bolton, P.: Toward a statutory approach to sovereign debt restructuring: Lessons from corporate bankruptcy practice around the world. IMF Staff Papers, vol. 50, Special Issue (2003)

Di Fabio, U.: Welche Legitimationsgrundlagen erfordert eine europäische Stabilitätskultur. In: Schuldenkrise und Governance der Europäischen Union, vol. 51, pp. 47–55. Walter-Raymond-Stiftung, Berlin (2011)

European Commission: The economic adjustment programme for Greece. European Economy. Occasional Papers 61. Brussels. Internet only (2010)

Franke, G.: Exchange rate volatility and international trading strategy. J. Int. Money Financ. 10, 292–307 (1991)

Fuest, C., Franz, W., Hellwig, M., Sinn, H.: Zehn Regeln zur Rettung des Euro. Frankfurter Allgemeine Zeitung, Nr. 138, 18. Juni 2010, p. 10 (2010)

Ghosal, S., Miller, M.: Co-ordination failure, moral hazard and sovereign bankruptcy procedures. Econ. J. 113, 276–304 (2003)

Gilboa, I., Schmeidler, D.: Maxmin expected utility with non-unique prior. J. Math. Econ. 18, 141–153 (1989)

Herman, B.: How to resolve sovereign debt crises in the twenty-first century. Initiative for Policy Dialogue Working Paper Series, June 2011

International Monetary Fund: The Joint World Bank—IMF debt sustainability framework for low-income countries. Factsheet August (2011)

Krueger, A.: A New Approach to Sovereign Debt Restructuring. International Monetary Fund, Washington (2002)

Mundell, R.A.: A theory of optimum currency areas. Am. Econ. Rev. 51, 657–665 (1961)

Reinhart, C., Rogoff, K.: From financial crash to debt crisis. Am. Econ. Rev. 101, 1676–1706 (2011)

Sinn, H., Carstensen, K.: Ein Krisenmechanismus für die Eurozone. Ifo-Schnelldienst, Sonderausgabe November (2010)

Williamson, O.E.: Markets and Hierarchies: Analysis and Antitrust Implications. Free Press, New York; Collier Macmillan, London (1975)

Williamson, O.E.: The Economic Institutions of Capitalism. Free Press, New York (1985)

Wissenschaftlicher Beirat des Bundesministeriums für Wirtschaft und Technologie: Überschuldung und Staatsinsolvenz in der Europäischen Union. Gutachten 01/11 (2011)
Acknowledgements
I am indebted to Manuel Ammann, the editor, Matthias Draheim, Angela Franke, Moritz Heimes and Steffen Seemann for very helpful comments.
About this article
Cite this article
Franke, G. Hostages, free lunches and institutional gaps: the case of the European Currency Union. Financ Mark Portf Manag 26, 61–85 (2012). https://doi.org/10.1007/s11408-011-0176-8
Keywords
European Currency Union

European Insolvency Charter

Hostages

Free lunch

Externalization hypothesis
JEL Classification