Abstract
This paper presents an agent-based artificial cryptocurrency market in which heterogeneous agents buy or sell cryptocurrencies, in particular Bitcoins. In this market, there are two typologies of agents, Random Traders and Chartists, which interact with each other by trading Bitcoins. Each agent is initially endowed with a finite amount of crypto and/or fiat cash and issues buy and sell orders, according to her strategy and resources. The number of Bitcoins increases over time with a rate proportional to the real one, even if the mining process is not explicitly modelled. The model proposed is able to reproduce some of the real statistical properties of the price returns observed in the Bitcoin real market. In particular, it is able to reproduce the unit root property, the fat tail phenomenon and the volatility clustering. The simulator has been implemented using object-oriented technology, and could be considered a valid starting point to study and analyse the cryptocurrency market and its future evolutions.
This is a preview of subscription content, log in to check access.
Access options
Buy single article
Instant access to the full article PDF.
US$ 39.95
Price includes VAT for USA
Subscribe to journal
Immediate online access to all issues from 2019. Subscription will auto renew annually.
US$ 99
This is the net price. Taxes to be calculated in checkout.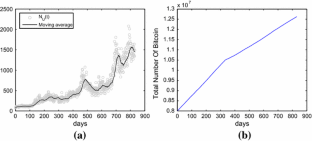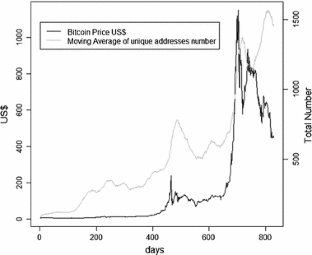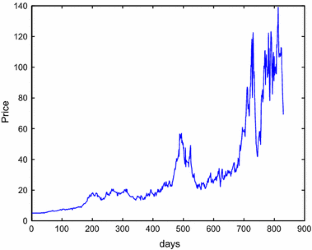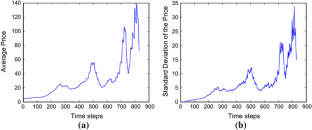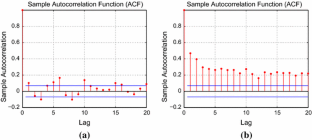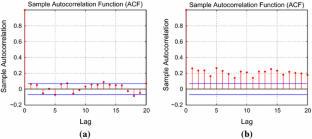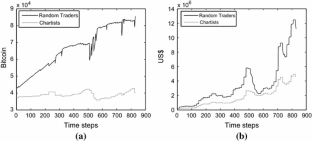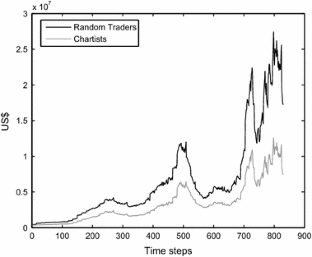 Notes
1.

BlockChain is a web site which displays detailed information about all transactions and Bitcoin blocks, providing graphs and statistics on different data, (https://blockchain.info/). We used this web site for extracting the empirical data (such as daily data about price, unique address number and Bitcoin number, in the period between January 1, 2012 and April 10, 2014) used in this work.

2.

This refers to the article entitled "The Evolution of the Bitcoin Clearing House" published on February 14, 2014 on the website www.coindesk.com.
References
Androulaki E, Karame G, Roeschlin M, Scherer T, Capkun S (2013) Evaluating user privacy in Bitcoin. In: Proceedings of the financial cryptography and data security conference (FC)

Bae KH, Jang H, Park KS (2003) Traders choice between limit and market orders: evidence from NYSE stocks. J Financ Mark 6:517–538

Bergstra JA, Leeuw DK (2013) Questions related to Bitcoin and other informational money. CoRR 1305:5956

Bornholdt S, Sneppen K (2014) Do Bitcoins make the world go round? On the dynamics of competing crypto-currencies. CoRR.arXiv:1403.6378

Brezo F, Bringas PG (2012) Issues and risks associated with cryptocurrencies such as Bitcoin. The second international conference on social eco-informatics

Chakraborti A, Toke IM, Patriarca M, Abergel F (2011) Econophysics review: II. Agent-based models. Quant Finance 11(7):1013–1041

Cincotti S, Focardi S, Marchesi M, Raberto M (2003) Who wins? Study of long-run trader survival in an artificial stock market. Phys A 324(1):227–233

Eyal I, Sirer E (2013) Majority is not enough: Bitcoin mining is vulnerable. CoRR 1311:0243

Hanley BP (2013) The False premises and promises of Bitcoin. CoRR.arXiv:1312.2048

Hommes CH (2006) Heterogeneous agent models in economics and finance. In: Handbook of computational economics, Agent-based computational economics, vol 2. Elsevier, pp 1109–1186

Hout MCV, Bingham T (2014) Responsible vendors, intelligent consumers: Silk Road, the online revolution in drug trading. Int J Drug Policy 25:183–189

LeBaron B (2006) Agent-based computational finance. In: Handbook of computational economics, Agent-based computational economics, vol 2. Elsevier, pp 1187–1233

Levy M, Solomon S (1997) New evidence in the power-law distribution of wealth. Phys A 242(12):9094

Liua X, Gregorc S, Yang J (2008) The effects of behavioral and structural assumptions in artificial stock market. Phys A 387:25352546

Luthe W (2013) Cryptocurrencies, network effects, and switching costs. Mercatus Center working paper no. 13-17

Lux T, Marchesi M (2000) Volatility clustering in financial markets: a microsimulation of interacting agents. Int J Theor Appl Finance 3(4):675–702

Mike S, Farmer JD (2008) An empirical behavioral model of liquidity and volatility. J Econ Dyn Control 32:200234

Moore T (2013) The promise and perils of digital currencies. Int J Crit Infrastruct Protect Agent-Based Comput Econ 6(3–4):147–149

Nakamoto S (2009) Bitcoin: a peer-to-peer electronic cash system. www.Bitcoin.org

Newman MEJ (2005) Power laws. Pareto distributions and Zipf's law. Contemp Phys 46(5):323–351

Pagan A (1996) The econometrics of financial markets. J Empirical Finance 3:15–102

Ponta L, Scalas E, Raberto M, Cincotti S (2012) Statistical analysis and agent-based microstructure modeling of high-frequency financial trading. IEEE J Select Topics Signal Process 6(4):381–387

Raberto M, Cincotti S, Focardi S, Marchesi M (2001) Agent-based simulation of a financial market. Phys A 299(1):319–327

Raberto M, Cincotti S, Dose C, Focardi S, Marchesi M (2005) Price formation in an artificial market: limit order book versus matching of supply and demand. Nonlinear dynamics and heterogenous interacting agents. Springer, Berlin

Singh P, Chandavarkar BR, Arora S, Agrawal N (2013) Performance comparison of executing fast transactions in bitcoin network using verifiable code execution. Second international conference on advanced computing, networking and security

Takayasu H (1990) Fractals in the physical sciences. Wiley, New York
Acknowledgments
One of the authors, Giulio Concas, made a significant contribution to this work before he suddenly passed away on 15 October 2014. Giulio was a special colleague and friend, and this paper is dedicated to his memory.
About this article
Cite this article
Cocco, L., Concas, G. & Marchesi, M. Using an artificial financial market for studying a cryptocurrency market. J Econ Interact Coord 12, 345–365 (2017). https://doi.org/10.1007/s11403-015-0168-2
Received:

Accepted:

Published:

Issue Date:
Keywords
Artificial financial market

Cryptocurrency

Bitcoin

Heterogeneous agents

Market simulation