Zusammenfassung
Multiple Schädigungsreize im Rahmen der nichtalkoholischen Fettlebererkrankungen (NAFLD) und daraus resultierende Veränderungen in der Leber, wie z. B. Lipideinlagerungen in den Hepatozyten, Akkumulation toxischer Metaboliten, oxidativer Stress oder Apoptose und Nekrose der Hepatozyten, bewirken eine Aktivierung des Immunsystems. Dies wiederum führt zu einer inflammatorischen Reaktion, die das Fortschreiten von der prognostisch günstigeren nichtalkoholischen Fettleber (NAFL) zur progressiven Verlaufsform der nichtalkoholischen Steatohepatitis (NASH) begünstigt. Die chronische Inflammation führt zur Fibrose, die der wesentliche Risikofaktor für die leberbezogene sowie die Gesamtmorbidität und Mortalität bei NAFLD ist. Aktuell gibt es keine zugelassenen medikamentösen Therapieoptionen, allerdings befinden sich zahlreiche Substanzen in der klinischen Prüfung. Das bessere Verständnis der Entzündungsprozesse in der Leber liefert neue innovative Ansatzpunkte für die Therapie der NAFLD und ihrer Komplikationen. Die immunologischen Mechanismen sowie daraus resultierende therapeutische Ansatzpunkte werden in dieser Übersicht dargestellt.
Abstract
Multiple injurious stimuli in the course of nonalcoholic fatty liver diseases (NAFLD) and the resulting changes in the liver such as hepatic lipid deposits, accumulation of toxic metabolites, oxidative stress or apoptosis and necrosis of hepatocytes lead to an activation of the immune system. This in turn leads to an inflammatory reaction that favors the progression from the prognostically more favorable nonalcoholic fatty liver (NAFL) to the progressive phenotype of nonalcoholic steatohepatitis (NASH). Chronic inflammation leads to fibrosis, which is the major risk factor for overall and liver-related morbidity and mortality in NAFLD. There are currently no approved drug treatments, but numerous substances are in clinical trials. A better understanding of the inflammatory processes in the liver provides new innovative therapeutic targets for the treatment of NAFLD and its complications. The immunological mechanisms and the resulting therapeutic approaches are presented in this review.
This is a preview of subscription content, log in to check access.
Access options
Buy single article
Instant access to the full article PDF.
US$ 39.95
Price includes VAT for USA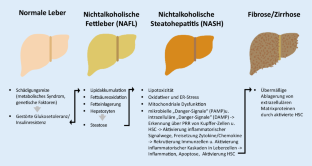 Literatur
1.

Tacke F, Weiskirchen R (2018) An update on the recent advances in antifibrotic therapy. Expert Rev Gastroenterol Hepatol 12:1143–1152. https://doi.org/10.1080/17474124.2018.1530110

2.

Dulai PS, Singh S, Patel J et al (2017) Increased risk of mortality by fibrosis stage in nonalcoholic fatty liver disease: systematic review and meta-analysis. Hepatology 65:1557–1565. https://doi.org/10.1002/hep.29085

3.

Weiskirchen R, Weiskirchen S, Tacke F (2019) Organ and tissue fibrosis: molecular signals, cellular mechanisms and translational implications. Mol Aspects Med 65:2–15. https://doi.org/10.1016/j.mam.2018.06.003

4.

Heymann F, Tacke F (2016) Immunology in the liver—from homeostasis to disease. Nat Rev Gastroenterol Hepatol 13:88–110. https://doi.org/10.1038/nrgastro.2015.200

5.

Schuster S, Cabrera D, Arrese M et al (2018) Triggering and resolution of inflammation in NASH. Nat Rev Gastroenterol Hepatol 15:349–364. https://doi.org/10.1038/s41575-018-0009-6

6.

Hundertmark J, Krenkel O, Tacke F (2018) Adapted immune responses of myeloid-derived cells in fatty liver disease. Front Immunol 9:2418. https://doi.org/10.3389/fimmu.2018.02418

7.

Stienstra R, Saudale F, Duval C et al (2010) Kupffer cells promote hepatic steatosis via interleukin-1beta-dependent suppression of peroxisome proliferator-activated receptor alpha activity. Hepatology 51:511–522. https://doi.org/10.1002/hep.23337

8.

Krenkel O, Tacke F (2017) Liver macrophages in tissue homeostasis and disease. Nat Rev Immunol 17:306–321. https://doi.org/10.1038/nri.2017.11

9.

Miura K, Yang L, van Rooijen N et al (2012) Hepatic recruitment of macrophages promotes nonalcoholic steatohepatitis through CCR2. Am J Physiol Gastrointest Liver Physiol 302:G1310–1321. https://doi.org/10.1152/ajpgi.00365.2011

10.

Baeck C, Wehr A, Karlmark KR et al (2012) Pharmacological inhibition of the chemokine CCL2 (MCP-1) diminishes liver macrophage infiltration and steatohepatitis in chronic hepatic injury. Gut 61:416–426. https://doi.org/10.1136/gutjnl-2011-300304

11.

Krenkel O, Puengel T, Govaere O et al (2018) Therapeutic inhibition of inflammatory monocyte recruitment reduces steatohepatitis and liver fibrosis. Hepatology 67:1270–1283. https://doi.org/10.1002/hep.29544

12.

Yeh MM, Brunt EM (2014) Pathological features of fatty liver disease. Gastroenterology 147:754–764. https://doi.org/10.1053/j.gastro.2014.07.056

13.

Gadd VL, Skoien R, Powell EE et al (2014) The portal inflammatory infiltrate and ductular reaction in human nonalcoholic fatty liver disease. Hepatology 59:1393–1405. https://doi.org/10.1002/hep.26937

14.

Sutti S, Jindal A, Locatelli I et al (2014) Adaptive immune responses triggered by oxidative stress contribute to hepatic inflammation in NASH. Hepatology 59:886–897. https://doi.org/10.1002/hep.26749

15.

Wolf MJ, Adili A, Piotrowitz K et al (2014) Metabolic activation of intrahepatic CD8+ T cells and NKT cells causes nonalcoholic steatohepatitis and liver cancer via cross-talk with hepatocytes. Cancer Cell 26:549–564. https://doi.org/10.1016/j.ccell.2014.09.003

16.

Tsuchida T, Friedman SL (2017) Mechanisms of hepatic stellate cell activation. Nat Rev Gastroenterol Hepatol 14:397–411. https://doi.org/10.1038/nrgastro.2017.38

17.

Tacke F, Trautwein C (2015) Mechanisms of liver fibrosis resolution. J Hepatol 63:1038–1039. https://doi.org/10.1016/j.jhep.2015.03.039

18.

Tacke F (2017) Targeting hepatic macrophages to treat liver diseases. J Hepatol 66:1300–1312. https://doi.org/10.1016/j.jhep.2017.02.026

19.

Parker R, Weston CJ, Miao Z et al (2018) CC chemokine receptor 2 promotes recruitment of myeloid cells associated with insulin resistance in nonalcoholic fatty liver disease. Am J Physiol Gastrointest Liver Physiol 314:G483–G493. https://doi.org/10.1152/ajpgi.00213.2017

20.

Seki E, De Minicis S, Gwak GY et al (2009) CCR1 and CCR5 promote hepatic fibrosis in mice. J Clin Invest 119:1858–1870. https://doi.org/10.1172/jci37444

21.

Friedman SL, Ratziu V, Harrison SA et al (2018) A randomized, placebo-controlled trial of cenicriviroc for treatment of nonalcoholic steatohepatitis with fibrosis. Hepatology 67:1754–1767. https://doi.org/10.1002/hep.29477

22.

Bohinc BN, Michelotti G, Xie G et al (2014) Repair-related activation of hedgehog signaling in stromal cells promotes intrahepatic hypothyroidism. Endocrinology 155:4591–4601. https://doi.org/10.1210/en.2014–1302

23.

Harrison S, Moussa S, Bashir M, Alkhouri N, Frias J, Baum S, Tetri B, Bansal M, Taub R (2018) MGL-3196, a selective thyroid hormone receptor-beta agonist significantly decreases hepatic fat in NASH patients at 12 weeks, the primary endpoint in a 36 week serial liver biopsy study. J Hepatol 68:S38

24.

Harrison SA, Guy CD, Bashir M, Frias JP, Alkhouri N, Baum S, Taub R, Moylan CA, Bansal MB, Neuschwander-Tetri BA, Moussa S (2018) In a placebo controlled 36 week phase 2 trial, treatment with MGL-3196 compared to placebo results in significant reductions in hepatic fat (MRI-PDFF), liver enzymes, fibrosis biomarkers, atherogenic lipids, and improvement in NASH on serial liver biopsy. Hepatology 68:14

25.

Syn WK, Choi SS, Diehl AM (2009) Apoptosis and cytokines in non-alcoholic steatohepatitis. Clin Liver Dis 13:565–580. https://doi.org/10.1016/j.cld.2009.07.003

26.

Budas G, Karnik S, Jonnson T et al (2016) Reduction of liver steatosis and fibrosis with an ask1 inhibitor in a murine model of Nash is accompanied by improvements in cholesterol, bile acid and lipid metabolism. J Hepatol 64:S170. https://doi.org/10.1016/S0168-8278(16)01686-X

27.

Ergen C, Niemietz PM, Heymann F et al (2019) Liver fibrosis affects the targeting properties of drug delivery systems to macrophage subsets in vivo. Biomaterials 206:49–60. https://doi.org/10.1016/j.biomaterials.2019.03.025

28.

Traber PG, Zomer E (2013) Therapy of experimental NASH and fibrosis with galectin inhibitors. PLoS One 8:e83481. https://doi.org/10.1371/journal.pone.0083481

29.

Chalasani N, Garcia-Tsao G, Goodman Z et al (2018) A multicenter, randomized, double-blind, PLB-controlled trial of Galectin‑3 inhibitor (GR-MD-02) in patients with NASH cirrhosis and portal hypertension. J Hepatol 68:S100–S101. https://doi.org/10.1016/S0168-8278(18)30420-3

30.

Lee YA, Wallace MC, Friedman SL (2015) Pathobiology of liver fibrosis: a translational success story. Gut 64:830–841. https://doi.org/10.1136/gutjnl-2014-306842
Ethics declarations
Interessenkonflikt
M. Demir gibt an, dass kein Interessenkonflikt besteht und F. Tacke gibt an, dass seine Arbeitsgruppe Forschungsförderung der Firmen Allergan, Bristol Myers Squibb, Galapagos und Inventiva erhalten hat.
Für diesen Beitrag wurden von den Autoren keine Studien an Menschen oder Tieren durchgeführt. Für die aufgeführten Studien gelten die jeweils dort angegebenen ethischen Richtlinien.
Additional information
Redaktion
C. Trautwein, Aachen
S. Zeuzem, Frankfurt am Main
About this article
Cite this article
Demir, M., Tacke, F. Entzündungsmechanismen im Rahmen der Progression der Fettleber als innovative molekulare Targets. Gastroenterologe (2020). https://doi.org/10.1007/s11377-020-00418-x
Schlüsselwörter
Nichtalkoholische Fettlebererkrankung

Medikamentöse Therapie

Immunsystem

Inflammation

Klinische Studie
Keywords
Nonalcoholic fatty liver disease

Drug therapy

Immune system

Inflammation

Clinical trial