Zusammenfassung
Die Therapie mit sog. Immuncheckpointinhibitoren (Anti-CTLA4- und Anti-PD1- bzw. Anti-PD-L1-Antikörper) ist mittlerweile fester Bestandteil der Behandlung vieler Tumorerkrankungen (Melanom, nichtkleinzelliges Bronchialkarzinom, Nierenzellkarzinom, Hodgkin-Lymphom, Oropharynxkarzinom, Urothelkarzinom und Merkel-Zell-Karzinom). Im Vergleich zu klassischen Chemotherapeutika werden Immuncheckpointinhibitoren sehr gut vertragen, es können jedoch durch eine überschießende Aktivierung der Immunantwort immunvermittelte Nebenwirkungen auftreten. Diese können sich u. a. als Dermatitis, Enterokolitis, Pneumonitis, Hepatitis, Hypophysitis oder Thyreoiditis manifestieren. Die allermeisten immunvermittelten Nebenwirkungen sind unter einer systemischen Steroidbehandlung reversibel. Selten auftretende, langanhaltende bzw. refraktäre immunvermittelte Nebenwirkungen bedürfen einer zusätzlichen Therapie mit nichtsteroidalen Immunsuppressiva. Immunvermittelte Nebenwirkungen treten häufiger unter einer bisher nur beim Melanom zugelassenen Kombinationstherapie mit einem Anti-CTLA4- und einem Anti-PD1-Antikörper auf als unter einer Monotherapie mit einem Anti-PD1- bzw. Anti-PD-L1-Antikörper. Unter einer Kombinationstherapie treten die Nebenwirkungen früher auf und sind häufig auch schwerwiegender. Entscheidend ist daher die rasche Diagnose der potenziell auftretenden immunvermittelten Nebenwirkungen und ihre adäquate Behandlung.
Abstract
Immune checkpoint inhibitors, namely anti-CTLA4 antibodies, anti-PD1 antibodies, and anti-PD-L1 antibodies, have become essential constituents for cancer treatment for many diseases including melanoma, non-small cell lung cancer (NSCLC), kidney cancer, Hodgkin lymphoma, oropharyngeal cancer, urothelial bladder carcinoma, and Merkel cell carcinoma. In contrast to established chemotherapeutic regimens, immune checkpoint inhibitors are generally well tolerated. However, in some patients with fulminant activation of the immune system, immune-related side effects can occur, including dermatitis, enterocolitis, pneumonitis, hepatitis, hypophysitis, and thyreoiditis. Most of the immune-mediated adverse reactions are reversible after systemic administration of corticosteroids. Rarely, sustained or steroid-refractory immune-mediated toxicities need to be treated with nonsteroid immunosuppressive agents. Immune-related side effects are much more frequent in patients receiving anti-CTLA4 and anti-PD1 antibody combination therapies compared to patients receiving monotherapies with anti-PD1 or anti-PD-L1 antibodies. Furthermore, in patients receiving combination therapies, side effects occur earlier after treatment initiation and in such patients the course of disease is more severe. Therefore, awareness for potential side effects, early diagnosis, and immediate and appropriate treatment of the indicated side effects are essential.
This is a preview of subscription content, log in to check access.
Access options
Buy single article
Instant access to the full article PDF.
US$ 39.95
Price includes VAT for USA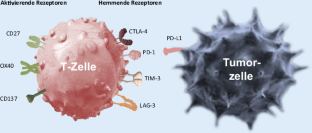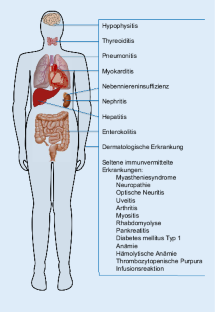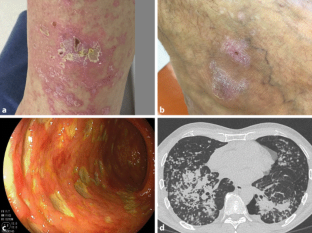 Literatur
1.

Fridman WH, Pagès F, Sautès-Fridman C, Galon J (2012) The immune contexture in human tumours: Impact on clinical outcome. Nat Rev Cancer 12:298–306

2.

Leach DR, Krummel MF, Allison JP (1996) Enhancement of antitumor immunity by CTLA-4 blockade. Science 271:1734–1736

3.

Robert C, Long GV, Brady B et al (2015) Nivolumab in previously untreated melanoma without BRAF mutation. N Engl J Med 372:320–330

4.

Larkin J, Chiarion-Sileni V, Gonzalez R et al (2015) Combined nivolumab and ipilimumab or monotherapy in untreated melanoma. N Engl J Med 373:23–34

5.

Kaufman HL, Russell J, Hamid O et al (2016) Avelumab in patients with chemotherapy-refractory metastatic Merkel cell carcinoma: A multicentre, single-group, open-label, phase 2 trial. Lancet Oncol 17:1374–1385

6.

El-Khoueiry AB, Sangro B, Yau T et al (2017) Nivolumab in patients with advanced hepatocellular carcinoma (CheckMate 040): An open-label, non-comparative, phase 1/2 dose escalation and expansion trial. Lancet 389:2492–2502

7.

Overman MJ, McDermott R, Leach JL et al (2017) Nivolumab in patients with metastatic DNA mismatch repair-deficient or microsatellite instability-high colorectal cancer (CheckMate 142): an open-label, multicentre, phase 2 study. Lancet Oncol pii: S1470-2045(17)30422-9. https://doi.org/10.1016/S1470-2045(17)30422-9

8.

Eigentler TK, Hassel JC, Berking C et al (2016) Diagnosis, monitoring and management of immune-related adverse drug reactions of anti-PD-1 antibody therapy. Cancer Treat Rev 45:7–18

9.

Hassel JC, Heinzerling L, Aberle J et al (2017) Combined immune checkpoint blockade (anti-PD-1/anti-CTLA-4): Evaluation and management of adverse drug reactions. Cancer Treat Rev 57:36–49

10.

Spain L, Diem S, Larkin J (2016) Management of toxicities of immune checkpoint inhibitors. Cancer Treat Rev 44:51–60

11.

Hodi FS, O'Day SJ, McDermott DF et al (2010) Improved survival with ipilimumab in patients with metastatic melanoma. N Engl J Med 363:711–723

12.

Reck M, Rodríguez-Abreu D, Robinson AG et al (2016) Pembrolizumab versus chemotherapy for PD-L1-positive non-small-cell lung cancer. N Engl J Med 375:1823–1833

13.

Garon EB, Rizvi NA, Hui R et al (2015) Pembrolizumab for the treatment of non-small-cell lung cancer. N Engl J Med 372:2018–2028

14.

Johnson DB, Balko JM, Compton ML et al (2016) Fulminant myocarditis with combination immune checkpoint blockade. N Engl J Med 375:1749–1755
Ethics declarations
Interessenkonflikt
O. Waidmann ist als Referent für Bristol-Myers Squibb tätig und hat Beraterhonorare von Bristol-Myers Squibb und Merck Serono erhalten. J. Trojan ist als Referent für Bristol-Myers Squibb und MSD tätig und erhält Beraterhonorare von Bristol-Myers Squibb, Merck Serono und MSD.
Dieser Beitrag beinhaltet keine von den Autoren durchgeführten Studien an Menschen oder Tieren.
Additional information
Redaktion
G. Gerken, Essen
S. Zeuzem, Frankfurt am Main
About this article
Cite this article
Waidmann, O., Trojan, J. Immunvermittelte Nebenwirkungen unter Checkpointinhibitoren. Gastroenterologe 12, 490–495 (2017). https://doi.org/10.1007/s11377-017-0205-x
Schlüsselwörter
Neoplasien

Immuntherapie

Nebenwirkungen

Humanes CTLA4-Protein

Humanes PD1-Protein
Keywords
Neoplasms

Immunotherapy

Side efects

CTLA4 protein, human

PD-1 protein, human