Zusammenfassung
Das metabolische Syndrom beschreibt ein Cluster verschiedener Symptome und Erkrankungen, die mit einer erhöhten kardiovaskulären Morbidität assoziiert sind. Ursprünglich zählten dazu Adipositas, Dyslipidämie, Diabetes mellitus Typ 2, Gicht und arterielle Hypertonie. Diesen Merkmalen des metabolischen Syndroms liegt offenbar eine gemeinsame Pathophysiologie zugrunde, wobei die alimentäre Adipositas in Verbindung mit einer genetischen Prädisposition meist den Ausgangspunkt darstellt. In der Progression der metabolischen und vaskulären Störungen spielen Insulinresistenz und subklinische Inflammation eine entscheidende Rolle. Aufgrund der zumeist parallelen Entwicklung von metabolischen und vaskulären Schäden bietet das metabolische Syndrom gegenüber den klassischen Risikoscores keine zusätzlichen Informationen, es dient eher als Ansatz für die integrierte Diagnose und Therapie häufig gemeinsam auftretender Erkrankungen.
Abstract
The metabolic syndrome describes a common cluster of five metabolic vascular risk factors or diseases associated with increased vascular morbidity and fatty liver disease. Originally, these included obesity, dyslipidemia, type 2 diabetes, gout and arterial hypertension. A common hypothesis describes a sedentary lifestyle in combination with a metabolic susceptibility as central factors for the development of the metabolic syndrome. This results in acquisition of dysmetabolic adipose tissue which contributes to subclinical inflammation and insulin resistance as major factors for disease progression. Today the metabolic syndrome is accepted as a practical guide for an integrated approach of diagnosis and treatment of signs and symptoms that occur together and contribute to cardiovascular morbidity rather than a classical cardiovascular risk score.
This is a preview of subscription content, log in to check access.
Access options
Buy single article
Instant access to the full article PDF.
US$ 39.95
Price includes VAT for USA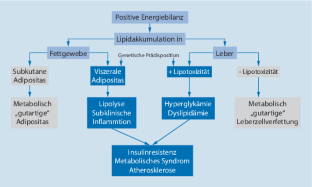 Literatur
1.

Maranon G (1922) Über Hypertonie und Zuckerkrankheit. Z Inn Med 43:169–176

2.

Hanefeld M, Leonhardt W (1981) Das Metabolische Syndrom. Dtsch Gesundh Wesen 36:545–552

3.

Himmsworth HP (1949) The syndrome of diabetes mellitus and its causes. Lancet 1:465–473

4.

Defronzo RA, Tobin JD, Andres R (1979) Glucose clamp technique: a method for quantifying insulin secretion and resistance. Am J Physiol 237:E214–E223

5.

Reaven GM (1988) Banting lecture 1988. Role of insulin resistance in human disease. Diabetes 37:1595–1607

6.

Hanefeld M, Pistrosch F, Bornstein SR, Birkenfeld AL (2016) The metabolic vascular syndrome – guide to an individualized treatment. Rev Endocr Metab Disord 17:5–17

7.

Reaven GM (1993) Role of insulin resistance in human disease (syndrome X): an expanded definition. Annu Rev Med 44:121–131

8.

Hotamisligil GS (2006) Inflammation and metabolic disorders. Nature 444:860–867

9.

Seijkens T, Kusters P, Chatzigeorgiou A, Chavakis T, Lutgens E (2014) Immune cell crosstalk in obesity: a key role for costimulation? Diabetes 63:3982–3991

10.

Van Gaal LF, Mertens IL, De Block CE (2006) Mechanisms linking obesity with cardiovascular disease. Nature 444:875–880

11.

Meijer RI, Bakker W, Alta CL et al (2013) Perivascular adipose tissue control of insulin-induced vasoreactivity in muscle is impaired in db/db mice. Diabetes 62:590–598

12.

Dastani Z, Hivert MF, Timpson N et al (2012) Novel loci for adiponectin levels and their influence on type 2 diabetes and metabolic traits: a multi-ethnic meta-analysis of 45,891 individuals. PLOS Genet 8:e1002607

13.

Stefan N, Haring HU (2013) The role of hepatokines in metabolism. Nat Rev Endocrinol 9:144–152

14.

Sookoian S, Pirola CJ (2011) Metabolic syndrome: from the genetics to the pathophysiology. Curr Hypertens Rep 13:149–157

15.

Fraga MF, Ballestar E, Paz MF et al (2005) Epigenetic differences arise during the lifetime of monozygotic twins. Proc Natl Acad Sci USA 102:10604–10609

16.

Luyckx VA, Bertram JF, Brenner BM et al (2013) Effect of fetal and child health on kidney development and long-term risk of hypertension and kidney disease. Lancet 382:273–283

17.

Le Chatelier E, Nielsen T, Qin J et al (2013) Richness of human gut microbiome correlates with metabolic markers. Nature 500:541–546

18.

Clemente JC, Pehrsson EC, Blaser MJ et al (2015) The microbiome of uncontacted Amerindians. Sci Adv 1. doi:10.1126/sciadv.1500183

19.

Vrieze A, Van Nood E, Holleman F et al (2012) Transfer of intestinal microbiota from lean donors increases insulin sensitivity in individuals with metabolic syndrome. Gastroenterology 143:913–916

20.

Tuomilehto J, Lindstrom J, Eriksson JG et al (2001) Prevention of type 2 diabetes mellitus by changes in lifestyle among subjects with impaired glucose tolerance. N Engl J Med 344:1343–1350

21.

Schauer PR, Bhatt DL, Kirwan JP et al (2014) Bariatric surgery versus intensive medical therapy for diabetes–3-year outcomes. N Engl J Med 370:2002–2013

22.

Sjostrom L, Lindroos AK, Peltonen M et al (2004) Lifestyle, diabetes, and cardiovascular risk factors 10 years after bariatric surgery. N Engl J Med 351:2683–2693

23.

Batsis JA, Romero-Corral A, Collazo-Clavell ML, Sarr MG, Somers VK, Lopez-Jimenez F (2008) Effect of bariatric surgery on the metabolic syndrome: a population-based, long-term controlled study. Mayo Clin Proc 83:897–907
Ethics declarations
Interessenkonflikt
M. Hanefeld und F. Pistrosch geben an, dass kein Interessenkonflikt besteht.
Dieser Beitrag beinhaltet keine von den Autoren durchgeführten Studien an Menschen oder Tieren.
Additional information
Redaktion
J.F. Riemann, Ludwigshafen
P.-M. Schumm-Dräger, München
About this article
Cite this article
Hanefeld, M., Pistrosch, F. Metabolisches Syndrom und Insulinresistenz. Gastroenterologe 12, 300–304 (2017). https://doi.org/10.1007/s11377-017-0176-y
Schlüsselwörter
Dyslipidämie

Glukose

Inflammation

Diabetes mellitus

Adipositas
Keywords
Dyslipidemia

Glucose

Inflammation

Diabetes mellitus

Obesity