Zusammenfassung
Hintergrund
Die Hepatitis-C-Virus(HCV)-Infektion führt zu einem deutlich gesteigerten Risiko für klinische Komplikationen, wie Leberzirrhose und hepatozelluläre Karzinome, sowie zu einer erhöhten Mortalität.
Fragestellung
Welche Maßnahmen sollten zur Senkung der hohen HCV-assoziierten Morbiditäts- und Mortalitätsraten ergriffen werden?
Ergebnisse
Neue Modellrechnungen zeigen, dass beim Einsatz effektiverer Therapien und bei gesteigerten Behandlungsraten klinische Komplikationen einer HCV-Infektion verhindert werden können, die auch bei bereits vorliegender Leberzirrhose zu einer Reduktion der leberassoziierten Mortalität und Gesamtsterblichkeit führen. Gleichzeitig ist aber eine Intensivierung von HCV-Screeningprogrammen notwendig.
Schlussfolgerung
Bei einem konsequenten Einsatz neuer Behandlungsmethoden gegen HCV kann die HCV-assoziierte Krankheitslast in Deutschland in den nächsten 15 Jahren deutlich reduziert werden.
Abstract
Background
Hepatitis C virus (HCV) infection leads to a significantly increased risk for clinical complications (e.g., liver cirrhosis and hepatocellular carcinoma) and increased mortality.
Objective
What measures should be taken to reduce the high HCV-associated morbidity and mortality rates?
Results
New model calculations show that clinical complications of HCV infection can be prevented by using more effective therapies and increased rates of treatment, which can reduce liver-related mortality and all-cause mortality even with pre-existing cirrhosis. At the same time, an intensification of HCV screening programs is necessary.
Conclusions
With a consistent use of new methods of treating HCV, the HCV-associated disease burden in Germany can be significantly reduced in the next 15 years.
This is a preview of subscription content, log in to check access.
Access options
Buy single article
Instant access to the full article PDF.
US$ 39.95
Price includes VAT for USA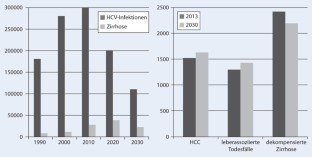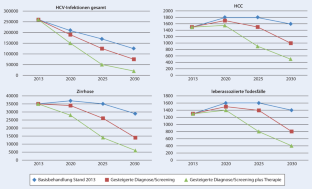 Literatur
1.

Mohd Hanafiah K, Groeger J, Flaxman AD, Wiersma ST (2013) Global epidemiology of hepatitis C virus infection: new estimates of age-specific antibody to HCV seroprevalence. Hepatology 57:1333–1342

2.

Saraswat V, Norris S, Knegt RJ de et al (2015) Historical epidemiology of hepatitis C virus (HCV) in select countries – volume 2. J Viral Hepat 22:6–25

3.

Poethko-Muller C, Zimmermann R, Hamouda O et al (2013) Epidemiology of hepatitis A, B, and C among adults in Germany. Results of the German Health Interview and Examination Survey for Adults (DEGS1). Bundesgesundheitsblatt Gesundheitsforschung Gesundheitsschutz 56:707–715

4.

Schlosser B, Domke D, Mockel M et al (2009) A prospective survey including 17,184 patients from a german metropolitan area reveals a high prevalence of chronic hepatitis C virus infection. Hepatology 50:670a–670a

5.

Schlosser B, Domke D, Mockel M et al (2009) High prevalence of chronic Hepatitis C Virus (Hcv) infection in a German metropolitan area: a prospective screening analysing 7683 patients. J Hepatol 50:S156–S157

6.

Vermehren J, Schlosser B, Domke D et al (2012) High prevalence of anti-HCV antibodies in two metropolitan emergency departments in Germany: a prospective screening analysis of 28,809 patients. PLoS One 7

7.

Heidrich B, Cetindere A, Beyaz M et al (2014) High prevalence of hepatitis markers in immigrant populations: a prospective screening approach in a real-world setting. Eur J Gastroenterol Hepatol 26:1090–1097

8.

Wolffram I, Petroff D, Batz O et al (2015) Prevalence of elevated ALT values, HBsAg, and anti-HCV in the primary care setting and evaluation of guideline defined hepatitis risk scenarios. J Hepatol

9.

Razavi H, Waked I, Sarrazin C et al (2014) The present and future disease burden of hepatitis C virus (HCV) infection with today's treatment paradigm. J Viral Hepat 21(Suppl 1):34–59

10.

Westbrook RH, Dusheiko G (2014) Natural history of hepatitis C. J Hepatol 61:S58–S68

11.

El-Kamary SS, Jhaveri R, Shardell MD (2011) All-cause, liver-, and non-liver, related mortality among hepatitis C infected individuals in the general us population. Am J Epidemiol 173:S234–S234

12.

Omland LH, Christensen PB, Krarup H et al (2011) Mortality among patients with cleared hepatitis C virus infection compared to the general population: a Danish nationwide cohort study. PLoS One 6:e22476

13.

Omland LH, Krarup H, Jepsen P et al (2010) Mortality in patients with chronic and cleared hepatitis C viral infection: a nationwide cohort study. J Hepatol 53:36–42

14.

Lee MH, Yang HI, Lu SN et al (2012) Chronic hepatitis C virus infection increases mortality from hepatic and extrahepatic diseases: a community-based long-term prospective study. J Infect Dis 206:469–477

15.

Maasoumy B, Wedemeyer H (2012) Natural history of acute and chronic hepatitis C. Best Pract Res Clin Gastroenterol 26:401–412

16.

Goossens N, Negro F (2014) Is Genotype 3 of the hepatitis C virus the new villain? Hepatology 59:2403–2412

17.

Meer AJ van der (2015) Association between antiviral treatment and extrahepatic outcomes in patients with hepatitis C virus infection. Gut 64:364–366

18.

Deuffic-Burban S, Deltenre P, Buti M et al (2012) Predicted effects of treatment for HCV infection vary among European countries. Gastroenterology 143:974−+

19.

Razavi H, ElKhoury AC, Elbasha E et al (2013) Chronic hepatitis C virus (HCV) disease burden and cost in the United States. Hepatology 57:2164–2170

20.

D'Ambrosio R, Aghemo A, Rumi MG et al (2012) A morphometric and immunohistochemical study to assess the benefit of a sustained virological response in hepatitis C virus patients with cirrhosis. Hepatology 56:532–543

21.

Marcellin P, Gane E, Buti M et al (2013) Regression of cirrhosis during treatment with tenofovir disoproxil fumarate for chronic hepatitis B: a 5-year open-label follow-up study. Lancet 381:468–475

22.

Veldt BJ, Heathcote EJ, Wedemeyer H et al (2007) Sustained virologic response and clinical outcomes in patients with chronic hepatitis C and advanced fibrosis. Ann Intern Med 147:677–684

23.

Meer AJ van der, Veldt BJ, Feld JJ et al (2012) Association between sustained virological response and all-cause mortality among patients with chronic hepatitis C and advanced hepatic fibrosis. JAMA 308:2584–2593

24.

Meer AJ van der, Wedemeyer H, Feld JJ et al (2014) Life expectancy in patients with chronic HCV infection and cirrhosis compared with a general population. JAMA 312:1927–1928

25.

Hill AM, Saleem J, Heath KA, Simmons B (2014) Effects of Sustained Virological Response (SVR) on the risk of liver transplant, hepatocellular carcinoma, death and re-infection: meta-analysis of 129 studies in 23,309 patients with Hepatitis C infection. Hepatology 60:218a–219a

26.

Wedemeyer H (2015) Towards interferon-free treatment for all HCV genotypes. Lancet

27.

Wedemeyer H, Duberg AS, Buti M et al (2014) Strategies to manage hepatitis C virus (HCV) disease burden. J Viral Hepat 21(Suppl 1):60–89

28.

Flamm SL, Bacon BR, Dieterich D et al (2014) Evaluation of efficacy of sofosbuvir and simeprevir-based regimens in a real-life population of 345 HCV patients with cirrhosis; data from the TRIO network. Hepatology 60:677a–677a

29.

Smith BD, Morgan RL, Beckett GA et al (2012) Hepatitis C virus testing of persons born during 1945–1965: recommendations from the centers for disease control and prevention. Ann Intern Med 157:817−+

30.

Rein DB, Smith BD, Wittenborn JS et al (2012) The cost-effectiveness of birth-cohort screening for hepatitis C antibody in US primary care settings. Ann Intern Med156:263–270
Einhaltung ethischer Richtlinien
Interessenkonflikt. S. Hardtke und H. Wedemeyer geben an, dass kein Interessenkonflikt besteht.
Dieser Beitrag beinhaltet keine Studien an Menschen oder Tieren.
About this article
Cite this article
Hardtke, S., Wedemeyer, H. Eradikation des Hepatitis-C-Virus und Verhinderung klinischer Endpunkte. Gastroenterologe 10, 305–309 (2015). https://doi.org/10.1007/s11377-015-0995-7
Schlüsselwörter
Diagnose

Screening

Leberzirrhose

Hepatozelluäres Karzinom

Behandlung
Keywords
Diagnosis

Screening

Liver cirrhosis

Carcinoma, hepatocellular

Treatment