Zusammenfassung
Hintergrund
Gastroenteropankreatische neuroendokrine Neoplasien (GEP-NEN) stellen eine heterogene Tumorgruppe dar, welche sich hinsichtlich ihrer Prognose und Therapie von gewöhnlichen Adenokarzinomen des Gastrointestinaltrakts unterscheidet. Neben der chirurgischen Therapie stehen Biotherapie, Chemotherapie, Radiopeptidtherapie oder lokal ablative Verfahren zur Verfügung.
Ziel der Arbeit
Die Übersichtsarbeit soll aktuelle chirurgische Behandlungsstrategien von GEP-NEN darstellen.
Material und Methoden
Es wurden Publikationen und geltende Leitlinien zur Behandlung neuroendokriner Neoplasien ausgewertet.
Ergebnisse
GEP-NEN stellen aufgrund ihres variablen biologischen Verhaltens, der ggf. bestehenden hormonellen Aktivität und nicht selten assoziierter genetischer Prädispositionen komplexe Erkrankungen dar. Die vollständige Erfassung der klinischen Erscheinungsbilder ist Voraussetzung für ein differenziertes therapeutisches Vorgehen. Das therapeutische Spektrum umfasst neben der chirurgischen Resektion Biotherapie, Chemotherapie, Radiopeptidtherapie und lokal ablative Verfahren. Die chirurgische Therapie ist für die Behandlung neuroendokriner Neoplasien von zentraler Bedeutung. Aufgrund bisher unzureichender Evidenz zu Indikation, Zeitpunkt und notwendigem Resektionsausmaß chirurgischer Therapiestrategien fehlen jedoch in vielen Bereichen detaillierte Angaben in den geltenden Leitlinien.
Diskussion
Das chirurgische Vorgehen wird weiterhin in hohem Maße von zentrumsspezifischen Erfahrungen bestimmt. Die Beurteilung der präoperativen Befunde und die Festlegung des Vorgehens sollten in einem spezialisierten interdisziplinären Tumorboard erfolgen.
Abstract
Background
Gastroenteropancreatic neuroendocrine neoplasms (GEP-NENs) constitute a heterogeneous group of tumors. Prognosis and therapy differ significantly from adenocarcinomas of the gastrointestinal tract. Apart from surgery biotherapy, chemotherapy, radiopeptide therapy, and local ablation are available treatment options.
Objectives
The review describes the current surgical treatment strategies for GEP-NENs.
Materials and methods
Publications and established guidelines for the treatment of neuroendocrine neoplasms were evaluated.
Results
Because of the variable biological behavior, the possible hormone activity, and the frequently associated genetic predisposition, GEP-NENs present complex clinical pictures. The differentiated therapy is based on the comprehensive evaluation of the clinical situation. Apart from surgical resection the therapeutic spectrum encompasses biotherapy, chemotherapy, peptide receptor radionuclide therapy (PRRT), and local ablative methods. Surgical treatment is the only curative option and therefore of central importance. However, owing to the limited evidence referring to indication, optimal time, and the necessary extent of resection, detailed information is not outlined in many areas in the current guidelines.
Conclusions
The surgical strategy is still predominantly guided by center-specific experience. The assessment of preoperative findings and the determination of the optimal strategy should be discussed on specialized interdisciplinary boards.
This is a preview of subscription content, log in to check access.
Access options
Buy single article
Instant access to the full article PDF.
US$ 39.95
Price includes VAT for USA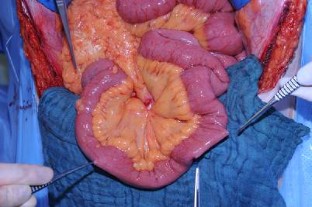 Literatur
1.

Salazar R, Wiedenmann B, Rindi G, Ruszniewski PENETS (2011) Consensus Guidelines for the Management of Patients with Digestive Neuroendocrine Tumors: an update. Neuroendocrinology 95(2):71–73

2.

Ramage JK, Ahmed A, Ardill J, Bax N, Breen DJ, Caplin ME et al (2012) Guidelines for the management of gastroenteropancreatic neuroendocrine (including carcinoid) tumours (NETs). Gut 61(1):6–32

3.

Pavel M, Baudin E, Couvelard A, Krenning E, Oberg K, Steinmuller T et al (2012) ENETS consensus guidelines for the management of patients with liver and other distant metastases from neuroendocrine neoplasms of foregut, midgut, hindgut, and unknown primary. Neuroendocrinology 95(2):157–176

4.

Pape UF, Perren A, Niederle B, Gross D, Gress T, Costa F et al (2012) ENETS Consensus Guidelines for the management of patients with neuroendocrine neoplasms from the jejuno-ileum and the appendix including goblet cell carcinomas. Neuroendocrinology 95(2):135–156

5.

Jensen RT, Cadiot G, Brandi ML, de Herder WW, Kaltsas G, Komminoth P et al (2012) ENETS Consensus Guidelines for the management of patients with digestive neuroendocrine neoplasms: functional pancreatic endocrine tumor syndromes. Neuroendocrinology 95(2):98–119

6.

Falconi M, Bartsch DK, Eriksson B, Kloppel G, Lopes JM, O'Connor JM et al (2012) ENETS Consensus Guidelines for the management of patients with digestive neuroendocrine neoplasms of the digestive system: well-differentiated pancreatic non-functioning tumors. Neuroendocrinology 95(2):120–134

7.

Delle Fave G, Kwekkeboom DJ, Van Cutsem E, Rindi G, Kos-Kudla B, Knigge U et al (2012) ENETS consensus guidelines for the management of patients with gastroduodenal neoplasms. Neuroendocrinology 95(2):74–87

8.

Caplin M, Sundin A, Nillson O, Baum RP, Klose KJ, Kelestimur F et al (2012) ENETS Consensus Guidelines for the management of patients with digestive neuroendocrine neoplasms: colorectal neuroendocrine neoplasms. Neuroendocrinology 95(2):96–97

9.

Strosberg JR, Coppola D, Klimstra DS, Phan AT, Kulke MH, Wiseman GA et al (2010) The NANETS consensus guidelines for the diagnosis and management of poorly differentiated (high-grade) extrapulmonary neuroendocrine carcinomas. Pancreas 39(6):799–800

10.

Phan AT, Oberg K, Choi J, Jr Harrison LH, Hassan MM, Strosberg JR et al (2010) NANETS consensus guideline for the diagnosis and management of neuroendocrine tumors: well-differentiated neuroendocrine tumors of the thorax (includes lung and thymus). Pancreas 39(6):784–798

11.

Kulke MH, Anthony LB, Bushnell DL, de Herder WW, Goldsmith SJ, Klimstra DS et al (2010) NANETS treatment guidelines: well-differentiated neuroendocrine tumors of the stomach and pancreas. Pancreas 39(6):735–752

12.

Anthony LB, Strosberg JR, Klimstra DS, Maples WJ, O'Dorisio TM, Warner RR et al (2010) The NANETS consensus guidelines for the diagnosis and management of gastrointestinal neuroendocrine tumors (nets): well-differentiated nets of the distal colon and rectum. Pancreas 39(6):767–774

13.

Oberg K, Knigge U, Kwekkeboom D, Perren A, Group EGW (2012) Neuroendocrine gastro-entero-pancreatic tumors: ESMO clinical practice guidelines for diagnosis, treatment and follow-up. Ann Oncol 23(Suppl 7):vii124–vii130

14.

Janson ET, Sorbye H, Welin S, Federspiel B, Gronbaek H, Hellman P et al (2014) Nordic guidelines 2014 for diagnosis and treatment of gastroenteropancreatic neuroendocrine neoplasms. Acta Oncol 53(10):1284–1297

15.

Kharazmi E, Pukkala E, Sundquist K, Hemminki K (2013) Familial risk of small intestinal carcinoid and adenocarcinoma. Clin Gastroenterol Hepatol 11(8):944–949

16.

Marini F, Giusti F, Brandi ML (2015) Genetic test in multiple endocrine neoplasia type 1 syndrome: An evolving story. World J Exp Med 5(2):124–129

17.

Cunningham JL, Diaz de Stahl T, Sjoblom T, Westin G, Dumanski JP, Janson ET (2011) Common pathogenetic mechanism involving human chromosome 18 in familial and sporadic ileal carcinoid tumors. Genes Chromosom Cancer 50(2):82–94

18.

Ichikawa J, Tanabe S, Koizumi W, Kida Y, Imaizumi H, Kida M et al (2003) Endoscopic mucosal resection in the management of gastric carcinoid tumors. Endoscopy 35(3):203–206

19.

Rappel S, Altendorf-Hofmann A, Stolte M (1995) Prognosis of gastric carcinoid tumours. Digestion 56(6):455–462

20.

Kloppel G, Scherubl H (2010) Neuroendocrine tumors of the stomach. Risk stratification and therapy. Pathologe 31(3):182–187

21.

Campana D, Ravizza D, Ferolla P, Faggiano A, Grimaldi F, Albertelli M et al (2015) Clinical management of patients with gastric neuroendocrine neoplasms associated with chronic atrophic gastritis: a retrospective, multicentre study. Endocrine. DOI 10.1007/s12020-015-0584-z

22.

Delle Fave G, Capurso G, Annibale B, Panzuto F (2004) Gastric neuroendocrine tumors. Neuroendocrinology 80(Suppl 1):16–19

23.

Akerstrom G, Hellman P (2007) Surgery on neuroendocrine tumours. Best practice research. Clin Endocrinol Metab 21(1):87–109

24.

Rindi G, Bordi C, Rappel S, La Rosa S, Stolte M, Solcia E (1996) Gastric carcinoids and neuroendocrine carcinomas: pathogenesis, pathology, and behavior. World J Surg 20(2):168–172

25.

Makridis C, Rastad J, Oberg K, Akerstrom G (1996) Progression of metastases and symptom improvement from laparotomy in midgut carcinoid tumors. World J Surg 20(7):900–906 (discussion 7)

26.

Paul TV, Jacob JJ, Vasan SK, Thomas N, Rajarathnam S, Selvan B et al (2008) Management of insulinomas: analysis from a tertiary care referral center in India. World J Surg 32(4):576–582

27.

Goretzki P, Starke A, Lammers B, Schwarz K, Roher HD (2010) Pancreatic hyperinsulinism-changes of the clinical picture and importance of differences in sporadic disease course (experience with 144 patients operated in the period 1986–2009. Zentralbl Chir 135(3):218–225

28.

Anlauf M, Bauersfeld J, Raffel A, Koch CA, Henopp T, Alkatout I et al (2009) Insulinomatosis: a multicentric insulinoma disease that frequently causes early recurrent hyperinsulinemic hypoglycemia. Am J Surg Pathol 33(3):339–346

29.

Mignon M, Ruszniewski P, Podevin P, Sabbagh L, Cadiot G, Rigaud D et al (1993) Current approach to the management of gastrinoma and insulinoma in adults with multiple endocrine neoplasia type I. World J Surg 17(4):489–497

30.

Deutsch GB, Lee JH, Bilchik AJ (2015) Long-term survival with long-acting Somatostatin analogues plus aggressive Cytoreductive surgery in patients with metastatic Neuroendocrine carcinoma. J Am Coll Surg 221(1):26–36

31.

Brunner SM, Weber F, Werner JM, Agha A, Farkas SA, Schlitt HJ et al (2015) Neuroendocrine tumors of the pancreas: a retrospective single-center analysis using the ENETS TNM-classification and immunohistochemical markers for risk stratification. Bmc Surg 15:49

32.

Watzka FM, Fottner C, Miederer M, Schad A, Weber MM, Otto G et al (2015) Surgical therapy of neuroendocrine neoplasm with hepatic metastasis: patient selection and prognosis. Langenbeck's Arch Surg 400(3):349–358

33.

Franko J, Feng W, Yip L, Genovese E, Moser AJ (2010) Non-functional neuroendocrine carcinoma of the pancreas: incidence, tumor biology, and outcomes in 2,158 patients. J Gastrointest Surg 14(3):541–548

34.

Furukori M, Imai K, Karasaki H, Watanabe K, Oikawa K, Miyokawa N et al (2014) Clinicopathological features of small nonfunctioning pancreatic neuroendocrine tumors. World J Gastroenterol Wjg 20(47):17949–17954

35.

Hashim YM, Trinkaus KM, Linehan DC, Strasberg SS, Fields RC, Cao D et al (2014) Regional lymphadenectomy is indicated in the surgical treatment of pancreatic neuroendocrine tumors (PNETs). Ann Surgery 259(2):197–203

36.

Rindi G, Kloppel G, Alhman H, Caplin M, Couvelard A, de Herder WW et al (2006) TNM staging of foregut (neuro)endocrine tumors: a consensus proposal including a grading system. Virchows Arch Int J Pathol 449(4):395–401

37.

Fendrich V, Bartsch DK (2011) Surgical treatment of gastrointestinal neuroendocrine tumors. Langenbeck's Arch Surg 396(3):299–311

38.

Musholt TJ (2011) Extent of resection for neuroendocrine tumors of the small intestine. Chirurg 82(7):591–597

39.

Öhrvall U, Eriksson B, Juhlin C, Karacagil S, Rastad J, Hellman P et al (2000) Method for dissection of mesenteric metastases in mid-gut carcinoid tumors. World J Surgery 24(11):1402–1408

40.

Norlen O, Stalberg P, Oberg K, Eriksson J, Hedberg J, Hessman O et al (2012) Long-term results of surgery for small intestinal neuroendocrine tumors at a tertiary referral center. World J Surg 36(6):1419–1431

41.

Bertani E, Falconi M, Grana C, Botteri E, Chiappa A, Misitano P et al (2015) Small intestinal neuroendocrine tumors with liver metastases and resection of the primary: Prognostic factors for decision making. Int J Surg 20:58–64

42.

Henderson L, Fehily C, Folaranmi S, Kelsey A, McPartland J, Jawaid WB et al (2014) Management and outcome of neuroendocrine tumours of the appendix-a two centre UK experience. J Pediatr Surgery 49(10):1513–1517

43.

Dralle H (2011) Surgical strategies for accidental detection of appendix carcinoids. Chirurg 82(7):598–606

44.

Musholt TJ (2010) Therapiehandbuch. Urban & Fischer, München

45.

Ahmed A, Turner G, King B, Jones L, Culliford D, McCance D et al (2009) Midgut neuroendocrine tumours with liver metastases: results of the UKINETS study. Endocrine-related Cancer 16(3):885–894

46.

Miller HC, Drymousis P, Flora R, Goldin R, Spalding D, Frilling A (2014) Role of Ki-67 proliferation index in the assessment of patients with neuroendocrine neoplasias regarding the stage of disease. World J Surg 38(6):135
Ethics declarations
Interessenkonflikt
T. J. Musholt und F. M. Watzka geben an, dass kein Interessenkonflikt besteht.
Dieser Beitrag beinhaltet keine Studien an Menschen oder Tieren.
Additional information
Redaktion:
R. Schmid, München
B. Wiedenmann, Berlin
About this article
Cite this article
Musholt, T.J., Watzka, F.M. Neuroendokrine Neoplasien des gastroenteropankreatischen Systems. Gastroenterologe 10, 410–417 (2015). https://doi.org/10.1007/s11377-015-0003-2
Schlüsselwörter
Neoplasie

Neuroendokriner Tumor

Gastrointestinaltrakt

Adenokarzinom

Therapie
Keywords
Neoplasms

Neuroendocrine tumor

Gastrointestinal tract

Adenocarcinoma

Therapy