Zusammenfassung
Hintergrund
Veränderungen des Darmmikrobioms werden inzwischen im Kontext mit der Entstehung einer Vielzahl von Krankheiten diskutiert. Hierbei sind in den letzten Jahren neben entzündlichen Darmerkrankungen auch Adipositas und damit assoziierte metabolische Erkrankungen sowie Krebserkrankungen, v. a. im Bereich des Gastrointestinaltrakts, in das Zentrum des wissenschaftlichen Interesses gerückt.
Aktuelle Befunde und Therapieimplikation
Im vorliegenden Übersichtsartikel werden neuere Befunde zur Rolle des intestinalen Mikrobioms bei der Entstehung von Adipositas und assoziierten metabolischen Veränderungen sowie in der Pathogenese von Krebserkrankungen mit einem speziellen Fokus auf den Dickdarm zusammengefasst. Des Weiteren wird der Einfluss der Supplementation von Pre-, Pro- und Synbiotika im Zusammenhang mit der Therapie dieser Erkrankungen beleuchtet.
Abstract
Background
Alterations of the intestinal microbiome are discussed in context with the development of many diseases. During the last few years, not only inflammatory bowel disease but also obesity and associated metabolic diseases as well as cancer especially within the gastrointestinal tract have moved to the center of scientific interest in this context.
Current knowledge and therapeutic implications
The present review summarizes new findings regarding the role of intestinal microbiome in the development of obesity and associated metabolic diseases as well as in the pathogenesis of cancer with specific focus on cancers in the large intestine. Furthermore, the effect of supplementation of pre-, pro- and synbiotics in relation to therapies of these diseases is reviewed.
This is a preview of subscription content, log in to check access.
Access options
Buy single article
Instant access to the full article PDF.
US$ 39.95
Price includes VAT for USA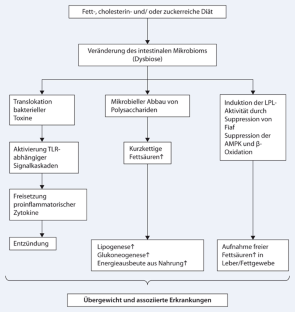 Literatur
1.

Festi D, Schiumerini R, Eusebi LH et al (2014) Gut microbiota and metabolic syndrome. World J Gastroenterol 20(43):16079–16094

2.

Backhed F, Ley RE, Sonnenburg JL et al (2005) Host-bacterial mutualism in the human intestine. Science 307(5717):1915–1920

3.

Turnbaugh PJ, Ley RE, Mahowald MA et al (2006) An obesity-associated gut microbiome with increased capacity for energy harvest. Nature 444(7122):1027–1031

4.

Ley RE, Backhed F, Turnbaugh P et al (2005) Obesity alters gut microbial ecology. Proc Natl Acad Sci U S A 102(31):11070–11075

5.

Turnbaugh PJ, Hamady M, Yatsunenko T et al (2009) A core gut microbiome in obese and lean twins. Nature 457(7228):480–484

6.

Wu GD, Compher C, Chen EZ et al (2014) Comparative metabolomics in vegans and omnivores reveal constraints on diet-dependent gut microbiota metabolite production. Gut doi: 10.1136/gutjnl-2014-308209. (Epub ahead of print)

7.

Ley RE, Turnbaugh PJ, Klein S, Gordon JI (2006) Microbial ecology: human gut microbes associated with obesity. Nature 444(7122):1022–1023

8.

Chen Z, Guo L, Zhang Y et al (2014) Incorporation of therapeutically modified bacteria into gut microbiota inhibits obesity. J Clin Invest 124(8):3391–3406

9.

Silva ST da, Santos CA dos, Bressan J (2013) Intestinal microbiota; relevance to obesity and modulation by prebiotics and probiotics. Nutr Hosp 28(4):1039–1048

10.

Beserra BT, Fernandes R, Rosario VA do et al (2014) A systematic review and meta-analysis of the prebiotics and synbiotics effects on glycaemia, insulin concentrations and lipid parameters in adult patients with overweight or obesity. Clin Nutr (in press)

11.

Liber A, Szajewska H (2013) Effects of inulin-type fructans on appetite, energy intake, and body weight in children and adults: systematic review of randomized controlled trials. Ann Nutr Metab 63(1–2):42–54

12.

Scanlan PD, Shanahan F, Clune Y et al (2008) Culture-independent analysis of the gut microbiota in colorectal cancer and polyposis. Environ Microbiol 10(3):789–798

13.

Wang T, Cai G, Qiu Y et al (2012) Structural segregation of gut microbiota between colorectal cancer patients and healthy volunteers. ISME J 6(2):320–329

14.

Scharlau D, Borowicki A, Habermann N et al (2009) Mechanisms of primary cancer prevention by butyrate and other products formed during gut flora-mediated fermentation of dietary fibre. Mutat Res 682(1):39–53

15.

Sheflin AM, Whitney AK, Weir TL (2014) Cancer-promoting effects of microbial dysbiosis. Curr Oncol Rep 16(10):406

16.

World Cancer Research Fund/American Institute for Cancer Research (2007) Food, nutrition, physical activity, and the prevention of cancer: a global perspective. http://www.dietandcancerreport.org/cancer_resource_center/downloads/Second_Expert_Report_full.pdf, Zugegriffen: 23. Januar 2015

17.

Serban DE (2014) Gastrointestinal cancers: influence of gut microbiota, probiotics and prebiotics. Cancer Lett 345(2):258–270

18.

Pala V, Sieri S, Berrino F et al (2011) Yogurt consumption and risk of colorectal cancer in the Italian European prospective investigation into cancer and nutrition cohort. Int J Cancer 129(11):2712–2719

19.

Abdelali H, Cassand P, Soussotte V et al (1995) Antimutagenicity of components of dairy products. Mutat Res 331(1):133–141

20.

Kassayova M, Bobrov N, Strojny L et al (2014) Preventive effects of probiotic bacteria Lactobacillus plantarum and dietary fiber in chemically-induced mammary carcinogenesis. Anticancer Res 34(9):4969–4975

21.

Ishikawa H, Akedo I, Otani T et al (2005) Randomized trial of dietary fiber and Lactobacillus casei administration for prevention of colorectal tumors. Int J Cancer 116(5):762–767

22.

Ohashi Y, Nakai S, Tsukamoto T et al (2002) Habitual intake of lactic acid bacteria and risk reduction of bladder cancer. Urol Int 68(4):273–280

23.

Glei M, Habermann N, Osswald K et al (2005) Assessment of DNA damage and its modulation by dietary and genetic factors in smokers using the Comet assay: a biomarker model. Biomarkers 10(2–3):203–217

24.

Molan AL, Liu Z, Plimmer G (2014) Evaluation of the effect of blackcurrant products on gut microbiota and on markers of risk for colon cancer in humans. Phytother Res 28(3):416–422

25.

Rafter J, Bennett M, Caderni G et al (2007) Dietary synbiotics reduce cancer risk factors in polypectomized and colon cancer patients. Am J Clin Nutr 85(2):488–496

26.

Tanaka K, Yano M, Motoori M et al (2012) Impact of perioperative administration of synbiotics in patients with esophageal cancer undergoing esophagectomy: a prospective randomized controlled trial. Surgery 152(5):832–842
Einhaltung ethischer Richtlinien
Interessenkonflikt. I. Bergheim und M. Glei geben an, dass kein Interessenkonflikt besteht.
Dieser Beitrag beinhaltet keine Studien an Menschen oder Tieren.
About this article
Cite this article
Bergheim, I., Glei, M. Darmmikrobiom und Ernährung. Gastroenterologe 10, 116–121 (2015). https://doi.org/10.1007/s11377-014-0966-4
Schlüsselwörter
Stoffwechsel

Adipositas

Krebs

Darm

Prävention
Keywords
Metabolism

Adiposity

Cancer

Intestines

Prevention