Zusammenfassung
Hintergrund
Leckagen können bei allen Formen der gastrointestinalen Anastomose auftreten. Die Behandlungsstrategien haben sich in den letzten Jahren deutlich gewandelt. Die endoskopische Therapie hat eine zunehmende Bedeutung gewonnen und in einigen Bereichen die chirurgische Revisionsoperation fast völlig verdrängen können. Es bleiben aber ganz klar auch Indikationen für die chirurgische Revision. Dies ist u. a. abhängig von der Lokalisation der Leckage im Gastrointestinaltrakt.
Ziel der Arbeit
In dieser Arbeit möchten wir uns vom Ösophagus bis zum Rektum den verschiedenen Anastomosen und deren Behandlungsarten zuwenden. Wir gehen sowohl auf die Diagnostik als auch die unterschiedliche Therapie ein. Es sollen die relevanten endoskopischen Therapieverfahren und ihr Einsatzbereich, aber auch ihre Grenzen dargestellt werden.
Ergebnisse und Diskussion
In diesem Beitrag wird deutlich, dass nur durch eine gemeinsame, interdisziplinäre Betreuung eine optimale Behandlung dieser gefürchteten Komplikation zu erreichen ist. Das Wissen der Möglichkeiten und Grenzen der jeweils anderen Fachdisziplin ist hierfür von großer Bedeutung. Der Artikel soll diese gemeinschaftliche Sichtweise der Dinge unterstützen.
Abstract
Background
Leaks can occur at any type of gastrointestinal anastomosis. Treatment strategies have changed over the last years. Endoscopic therapy has increasingly gained acceptance and has replaced surgical revision in various indications. However, there are still many indications for a surgical approach. The type and location of the anastomosis are important in this context.
Objectives
In this review article we report on the various types of anastomotic leaks from the esophagus to the rectum. We report the diagnostics and therapeutic approach depending on the location. The capabilities of the relevant endoscopic methods as well as their limitations will be discussed.
Results and conclusions
This article clearly shows that only an interdisciplinary approach can achieve an optimal medical treatment of this dangerous complication. Therefore, it is important to know the various treatment options with their specific advantages and disadvantages. This article supports the interdisciplinary approach to anastomotic leaks.
This is a preview of subscription content, log in to check access.
Access options
Buy single article
Instant access to the full article PDF.
US$ 39.95
Price includes VAT for USA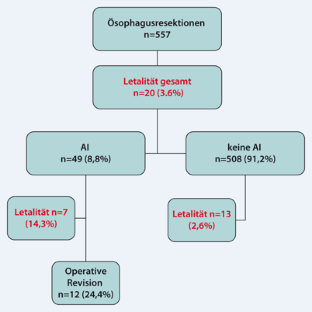 Literatur
1.

Blencowe NS, Strong S, McNair AG et al (2012) Reporting of short-term clinical outcomes after esophagectomy: a systematic review. Ann Surg 255: 658–666

2.

Hölscher AH, Fetzner UK, Bludau M, Leers J (2011) Komplikationen und Komplikationsmanagement in der Ösophaguschirurgie. Zentralbl Chir 136: 213–223

3.

Haga Y, Wada Y, Takeuchi H et al (2011) Prediction of anastomotic leak and its prognosis in digestive surgery. World J Surg 35: 716–722

4.

Page RD, Asmat A, McShane J et al (2013) Routine endoscopy to detect anastomotic leakage after esophagectomy. Ann Thorac Surg 95: 292–298

5.

Welsch T, Frankenberg M von, Schmidt J, Büchler MW (o J) Diagnostik und Definition der Nahtinsuffizienz aus chirurgischer Sicht. Chirurg 82: 48–55

6.

Schubert D et al (2011) Postoperatives Komplikationsmanagement nach Ösophaguschirurgie. Chirurg 83: 712–718

7.

Aminian A, Panahi N, Mirsharifi R et al (2011) Predictors and outcome of cervical anastomotic leakage after esophageal cancer surgery. J Cancer Res Ther 7: 448–453

8.

Lenzen H, Negm AA, Erichsen TJ et al (2013) Successful treatment of cervical esophageal leakage by endoscopic-vacuum assisted closure therapy. World J Gastrointest Endosc 16: 340–345

9.

Tuebergen D, Rijcken E, Mennigen R et al (2008) Treatment of thoracic esophageal anastomotic leaks and esophageal perforations with endoluminal stents: efficacy and current limitations. J Gastrointest Surg 12: 1168–1176

10.

Hoeppner J, Kulemann B, Seifert G et al (2014) Covered self-expanding stent treatment for anastomotic leakage: outcomes in esophagogastric and esophagojejunal anastomoses. Surg Endosc (Epub ahead of print)

11.

Gubler C Bauerfeind P (2014) Self-expandable stents for benign esophageal leakages and perforations: long-term single-center experience. Scand J Gastroenterol 49: 23–29

12.

El Hajj II, Imperiale TF, Rex DK et al (2013) Treatment of esophageal leaks, fistulae, and perforations with temporary stents: evaluation of efficacy, adverse events, and factors associated with successful outcomes.Gastrointest Endosc (Epub ahead of print)

13.

Brangewitz M, Voigtländer T, Helfritz FA et al (2013) Endoscopic closure of esophageal intrathoracic leaks: stent versus endoscopic vacuum-assisted closure, a retrospective analysis. Endoscopy 45: 433–438

14.

Schorsch T, Müller C, Loske G (2013) Endoscopic vacuum therapy of anastomotic leakage and iatrogenic perforation in the esophagus. Surg Endosc 27: 2040–2045

15.

Schniewind B, Schafmayer C, Voehrs G (2013) Endoscopic endoluminal vacuum therapy is superior to other regimens in managing anastomotic leakage after esophagectomy: a comparative retrospective study. Surg Endosc 27: 3883–3890

16.

Bludau M, Hölscher AH, Herbold T (2013) Management of upper intestinal leaks using an endoscopic vacuum-assisted closure system (E-VAC). Surg Endosc (Epub ahead of print)

17.

Holle G, Riedel K, Gregory H von et al (2007) Vacuum-assisted closure therapy: current status and basic research. Unfallchirurg 110: 490–504

18.

Weidenhagen R, Gruetzner KU, Wiecken T et al (2008) Endoscopic vacuum-assisted closure of anastomotic leakage following anterior resection of the rectum: a new method. Surg Endosc 22: 1818–1825

19.

Weiland T, Fehlker M, Gottwald T, Schurr MO (2013) Performance of the OTSC System in the endoscopic closure of iatrogenic gastrointestinal perforations: a systematic review. Surg Endosc 27: 2258–2274

20.

Pohl J, Borgulya M, Lorenz D et al (2010) Endoscopic closure of postoperative esophageal leaks with a novel over-the scope-Clip system. Endoscopy 42: 757–759

21.

Meyer L, Meyer F, Dralle H et al (2005) Insufficiency risk of esophagojejunal anastomosis after total abdominal gastrectomy for gastric carcinoma. Langenbecks Arch Surg 390: 510–516

22.

Lang H, Piso P, Stukenborg C et al (2000) Management and results of proximal anastomotic leaks in a series of 1114 total gastrectomies for gastric carcinoma. Eur J Surg Oncol 26: 168–171

23.

Bundy BD, Kauczor HU, Grenacher L (2011) Diagnostik und Definition der Anastomoseninsuffizienz aus radiologischer Sicht. Chirurg 82: 56–67

24.

Tzivanakis A, Singh JC, Guy RJ et al (2012) Influence of risk factors on the safety of ileocolic anastomosis in Crohn's disease surgery. Dis Colon Rectum 55: 558–562

25.

Resegotti A, Astegiano M, Farina EC et al (2005) Side-to-side stapled anastomosis strongly reduces anastomotic leak rates in Crohn's disease surgery. Dis Colon Rectum 48: 464–468

26.

Williams LA, Sagar PM, Finan PJ et al (2008) The outcome of loop ileostomy closure: a prospective study. Colorectal Dis 10: 460–467

27.

Lee S, Carmody B, Wolfe L (2008) Effect of location and speed of diagnosis on anastomotic leak outcomes in 3828 gastric bypass cases. J Gastrointest Surg 11: 708–713

28.

Trencheva K, Morrissey KP, Wells M et al (2013) Identifying important predictors for anastomotic leak after colon and rectal resection: prospective study on 616 patients. Ann Surg 257: 108–113

29.

Hyman N, Osler T, Burns B, Caltado P (2007) Anastomotic leaks after intestinal anastomosis – it's later than you think. Ann Surg 245: 254–258

30.

Loske G, Schorsch T, Müller C (2010) Endoscopic intracavitary vacuum sponge therapy of anastomotic leakage in the proximal colon after right-sided colectomy. Endoscopy 42: E171–E172

31.

Doeksen A (2012) J-Pouch vs. Side-to-end coloanal anastomosis after preoperative radiotherapy and total mesorectal excision for recatal cancer: a multicentre randomized trial. Colorectal Dis 14: 705–713

32.

Brown CJ, Fenech DS, McLeod RS (2008) Reconstrctive techniques after rectal resection for rectal cancer. Cochrane Database Syst Rev CD006040

33.

Rahbari NN, Weitz J, Hohenberger W et al (2010) Definition and grading of anastomotic leakage following anterior resection of the rectum: a proposal by the International Study Group of Rectal Cancer. Surgery 147: 339–351

34.

Davis B, Rivadeneira DE (2013) Complications of colorectal anastomoses: leaks, strictures, and bleeding. Surg Clin North Am 93: 61–87

35.

Low DE (2011) Diagnosis and management of anastomotic leaks after esophagectomy. J Gastrointest Surg 15: 1319–1322
Einhaltung ethischer Richtlinien
Interessenkonflikt. M. Pauthner, D. Lorenz und J. Wedemeyer geben an, dass kein Interessenkonflikt besteht. Dieser Beitrag beinhaltet keine Studien an Menschen oder Tieren.
About this article
Cite this article
Pauthner, M., Lorenz, D. & Wedemeyer, J. Postoperative Anastomoseninsuffizienz. Gastroenterologe 9, 237–243 (2014). https://doi.org/10.1007/s11377-013-0855-2
Schlüsselwörter
Anastomose

Stentanlage

Endoskopische Vakuumschwammtherapie

Over-the-scope-Clip

Chirurgische Revision
Keywords
Anastomosis

Stent

Endoscopic vacuum sponge therapy

Over the scope clip

Surgical revision