Zusammenfassung
Die physiologisch bedingten Leberwerterhöhungen in der Schwangerschaft müssen von Lebererkrankungen abgegrenzt werden. Hierbei sind schwangerschaftsassoziierte von zufällig mit einer Schwangerschaft einhergehenden Lebererkrankungen wie Gallensteine, autoimmune Hepatitis, primär biliäre Zirrhose, primär sklerosierende Cholangitis, Morbus Wilson, Hepatitis B und C sowie Leberzirrhose zu unterscheiden. Zur Gruppe der schwangerschaftsassoziierten Lebererkrankungen zählen die Hyperemesis gravidarum, die intrahepatische Schwangerschaftscholestase, die akute Schwangerschaftsfettleber, das HELLP-Syndrom (hemolysis, elevated liver tests, low platelet count) sowie die Präeklampsie/Eklampsie. Die Behandlung sollte interdisziplinär zwischen Hepatologen und Geburtshelfern erfolgen. Bei schwangerschaftsassoziierten Lebererkrankungen beinhaltet dies oft die zeitnahe Geburtseinleitung, während bei zufällig mit einer Schwangerschaft einhergehenden Lebererkrankungen die bestmögliche Einstellung der Grunderkrankung – unter Berücksichtigung des Embryos bzw. Fetus – im Vordergrund steht.
Abstract
In pregnancy physiologically induced altered levels in liver function tests have to be distinguished from liver diseases. These can be divided into clearly pregnancy-associated and liver diseases coincidentally occurring with pregnancy, such as gall-stones, autoimmune hepatitis, primary biliary cirrhosis, primary sclerosing cholangitis, Wilson's disease, hepatitis B and C infections and cirrhosis of the liver. Pregnancy-associated liver diseases include hyperemesis gravidarum, intrahepatic cholestasis of pregnancy, preeclampsia/eclampsia, the hemolysis, elevated liver tests and low platelets (HELLP) syndrome and acute fatty liver of pregnancy. A close collaboration between obstetricians and hepatologists is recommended. In terms of pregnancy-related entities this often means prompt delivery of the neonate, whereas in pregnancy-independent liver diseases best supportive care including supervision of the embryo/fetus has priority.
This is a preview of subscription content, log in to check access.
Access options
Buy single article
Instant access to the full article PDF.
US$ 39.95
Price includes VAT for USA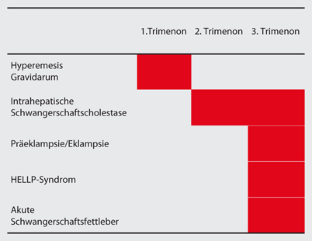 Literatur
1.

Airoldi J, Berghella V (2006) Hepatitis C and pregnancy. Obstet Gynecol Surv 61: 666–672

2.

Bacq Y (1998) Acute fatty liver of pregnancy. Semin Perinatol 22: 134–140

3.

Bani Hani MN, Bani-Hani KE, Rashdan A et al (2009) Safety of endoscopic retrograde cholangiopancreatography during pregnancy. ANZ J Surg 79: 23–26

4.

Boccia D, Guthmann JP, Klovstad H et al (2006) High mortality associated with an outbreak of hepatitis E among displaced persons in Darfur, Sudan. Clin Infect Dis 42: 1679–1684

5.

Chong VH, Jalihal A (2010) Endoscopic management of biliary disorders during pregnancy. Hepatobiliary Pancreat Dis Int 9: 180–185

6.

Conte D, Fraquelli M, Prati D et al (2000) Prevalence and clinical course of chronic hepatitis C virus (HCV) infection and rate of HCV vertical transmission in a cohort of 15,250 pregnant women. Hepatology 31: 751–755

7.

Corpechot C, Chretien Y, Chazouilleres O et al (2010) Demographic, lifestyle, medical and familial factors associated with primary biliary cirrhosis. J Hepatol 53: 162–169

8.

Dalton HR, Bendall R, Ijaz S et al (2008) Hepatitis E: an emerging infection in developed countries. Lancet Infect Dis 8: 698–709

9.

Dupont P, Irion O, Beguin F (1990) Pregnancy in a patient with treated Wilson's disease: a case report. Am J Obstet Gynecol 163: 1527–1528

10.

Glantz A, Marschall HU, Mattsson La (2004) Intrahepatic cholestasis of pregnancy: Relationships between bile acid levels and fetal complication rates. Hepatology 40: 467–474

11.

Graham G, Baxi L, Tharakan T (1998) Laparoscopic cholecystectomy during pregnancy: a case series and review of the literature. Obstet Gynecol Surv 53: 566–574

12.

Gupta I, Ratho RK (2003) Immunogenicity and safety of two schedules of Hepatitis B vaccination during pregnancy. J Obstet Gynaecol Res 29: 84–86

13.

Hay JE (2008) Liver disease in pregnancy. Hepatology 47: 1067–1076

14.

Ibdah JA, Yang Z, Bennett MJ (2000) Liver disease in pregnancy and fetal fatty acid oxidation defects. Mol Genet Metab 71: 182–189

15.

Janczewska I, Olsson R, Hultcrantz R et al (1996) Pregnancy in patients with primary sclerosing cholangitis. Liver Int 16: 326–330

16.

Jonas MM (2009) Hepatitis B and pregnancy: an underestimated issue. Liver Int 29 (Suppl 1): 133–139

17.

Joshi D, James A, Quaglia A et al (2010) Liver disease in pregnancy. Lancet 375: 594–605

18.

Lee NM, Brady CW (2009) Liver disease in pregnancy. World J Gastroenterol 15: 897–906

19.

Mackillop L, Williamson C (2010) Liver disease in pregnancy. Postgrad Med J 86: 160–164

20.

Martin JN, Blake PG, Lowry SL et al (1990) Pregnancy complicated by preeclampsia-eclampsia with the syndrome of hemolysis, elevated liver enzymes, and low platelet count: how rapid is postpartum recovery? Obstet Gynecol 76: 737–741

21.

Pischke S, Potthoff A, Hauroder B et al (1946) Hepatitis E virus infection: a paradigm shift? Dtsch Med Wochenschr 135: 1129–1133

22.

Roberts EA, Schilsky ML (2003) A practice guideline on Wilson disease. Hepatology 37: 1475–1492

23.

Schramm C, Herkel J, Beuers U et al (2006) Pregnancy in autoimmune hepatitis: outcome and risk factors. Am J Gastroenterol 101: 556–560

24.

Sullivan CA, Magann EF, Perry KG Jr et al (1994) The recurrence risk of the syndrome of hemolysis, elevated liver enzymes, and low platelets (HELLP) in subsequent gestations. Am J Obstet Gynecol 171: 940–943

25.

Theodoridis TD, Zepiridis L, Athanatos D et al (2009) Placenta abruption in a woman with Wilson's disease: a case report. Cases J 2: 8699

26.

Tran TT (2009) Management of hepatitis B in pregnancy: weighing the options. Cleve Clin J Med 76(Suppl 3): S25–S29

27.

Usta IM, Barton JR, Amon EA et al (1994) Acute fatty liver of pregnancy: an experience in the diagnosis and management of fourteen cases. Am J Obstet Gynecol 171: 1342–1347

28.

Wang J, Zhu Q, Zhang X (2002) Effect of delivery mode on maternal-infant transmission of hepatitis B virus by immunoprophylaxis. Chin Med J (Engl) 115: 1510–1512

29.

Wellge BE, Sterneck M, Teufel A et al (2011) Pregnancy in primary sclerosing cholangitis. Gut (Epub ahead of print)

30.

Xu WM, Cui YT, Wang L et al (2009) Lamivudine in late pregnancy to prevent perinatal transmission of hepatitis B virus infection: a multicentre, randomized, double-blind, placebo-controlled study. J Viral Hepat 16: 94–103
Interessenskonflikt
Die Autoren geben an, dass kein Interessenskonflikt besteht.
About this article
Cite this article
Schulze, K., Lüth, S. Lebererkrankungen in der Schwangerschaft. Gastroenterologe 6, 337–346 (2011). https://doi.org/10.1007/s11377-011-0571-8
Schlüsselwörter
Schwangerschaft

Erhöhte Leberwerte

Intrahepatische Schwangerschaftscholestase

HELLP-Syndrom

Akute Schwangerschaftsfettleber
Keywords
Pregnancy

Elevated liver function tests

Intrahepatic cholestasis of pregnancy

HELLP syndrome

Acute fatty liver of pregnancy