Zusammenfassung
Die Funktionsdiagnostik des Kolons und Anorektums umfasst Methoden zur Untersuchung der Motilität, der Sensorik sowie der Entleerungsfunktion. Die Kolonmotilität lässt sich mittels Manometriekatheter oder Barostat messen, die in der Regel nach Koloskopievorbereitung endoskopisch eingebracht werden. Die Transporteffektivität wird bestimmt über die Kolontransitzeit, die szintigraphisch oder durch Ingestion röntgendichter Partikel quantifiziert werden kann. Die anorektale Manometrie sowie eine Barostatuntersuchung des Rektums ermöglichen die Evaluation der anorektalen Motorik und Sensorik. Die Entleerungsfunktion kann visualisiert werden durch ein Röntgen- oder MRT-Defäkogramm.
Funktionsstörungen des Kolons und Anorektums manifestieren sich klinisch als Obstipation und Inkontinenz. Beide Syndrome zeichnen sich durch eine hohe Prävalenz aus und führen zu einer erheblichen Einschränkung der Lebensqualität. Sollte eine probatorische Therapie nicht zu einer zufriedenstellenden Besserung führen, ist die Durchführung einer Funktionsdiagnostik indiziert. Zur Abklärung der Obstipation sind dabei eine Kolontransitzeitmessung, eine Defäkographie sowie eine anorektale Manometrie angezeigt. Bei einer Inkontinenz sollten anorektale Manometrie, Endosonographie und ggf. Diarrhöabklärung und neurophysiologische Untersuchung erfolgen.
Abstract
For evaluation of functional disturbances of the colon and anorectum, diagnostic methods are available for measurement of motor activity, anorectal sensory function and evacuation. Measurement of motor activity can be achieved by colon (mostly after colonoscopic cleaning) and anorectal manometry or by barostat measurements. Anorectal manometry and barostat measurements also enable investigation of the colorectal sensory function. Intraluminal transit can be assessed with scintigraphy or by ingestion of radiopaque markers. Defecography either by conventional X-ray or magnetic resonance imaging (MRI) can be used to visualize defecation disorders.
From a clinical point of view, functional disturbances of the colon and anorectum manifest themselves as chronic constipation, including defecation disorders and fecal incontinence. Both syndromes are characterized by a high prevalence and a severely disturbed quality of life. Diagnostic evaluation should be initiated if a trial therapy fails. Colonic transit time measurement, defecography, and anorectal manometry are indicated for evaluation of chronic constipation, while anorectal manometry, anal endoscopic ultrasound, sphincter electromyogram (EMG), and if necessary, investigation of diarrhea are required for fecal incontinence.
This is a preview of subscription content, log in to check access.
Access options
Buy single article
Instant access to the full article PDF.
US$ 39.95
Price includes VAT for USA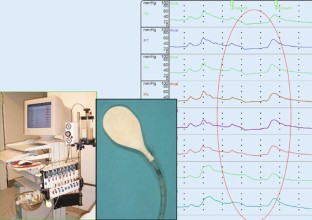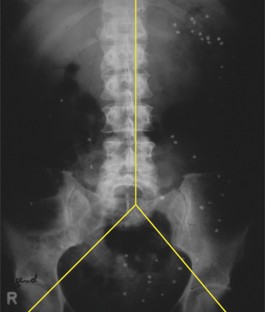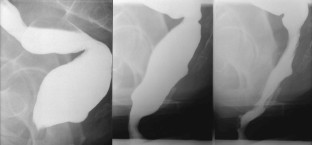 Literatur
1.

Bassotti G, Villanacci V (2006) Slow transit constipation: a functional disorder becomes an enteric neuropathy. World J Gastroenterol 12: 4609–4613

2.

Berman I, Manning D, Harris M (1990) Streamlining the management of defecation disorders. Dis Colon Rectum 33: 778–785

3.

Cook I, Talley N, Benninga M et al (2009) Chronic constipation: overview and challenges. Neurogastroenterol Motil 21 (Suppl 2): 1–8

4.

Dinning P, Smith T, Scott S (2009) Pathophysiology of colonic causes of chronic constipation. Neurogastroenterol Motil 21 (Suppl 2): 20–30

5.

Dinning P, Zarate N, Hunt L et al (2010) Pancolonic spatiotemporal mapping reveals regional deficiencies in, and disorganization of colonic propagating pressure waves in severe constipation. Neurogastroenterol Motil 22: e340–349

6.

Dinning P, Zarate N, Szczesniak M et al (2010) Bowel preparation affects the amplitude and spatiotemporal organization of colonic propagating sequences. Neurogastroenterol Motil 22: 633–e176

7.

Felt-Bersma R, Cuesta M, Koorevaar M et al (1992) Anal endosonography: relationship with anal manometry and neurophysiologic tests. Dis Colon Rectum 35: 944–949

8.

Gladman M, Lunniss P, Scott S, Swash M (2006) Rectal hyposensitivity. Am J Gastroenterol 101: 1140–1151

9.

Gosselink M, Hop W, Schouten W (2000) Rectal tone in response to bisacodyl in women with obstructed defecation. Int J Colorectal Dis 15: 297–302

10.

Keating J, Stewart P, Eyers A et al (1997) Are special investigations of value in the management of patients with fecal incontinence? Dis Colon Rectum 40: 896–901

11.

Klauser A, Voderholzer W, Heinrich C et al (1990). Behavioral modification of colonic function. Can constipation be learned? Dig Dis Sci 35: 1271–1275

12.

Nyam D, Pemberton J, Ilstrup D, Rath D (1997) Long-term results of surgery for chronic constipation. Dis Colon Rectum 40: 273–279

13.

Pehl C, Enck P, Franke A et al (2007) Anorektale Manometrie. Z Gastroenterol 45: 397–417

14.

Peppas G, Alexiou V, Mourtzoukou E, Falagas M (2008) Epidemiology of constipation in Europe and Oceania: a systematic review. BMC Gastroenterol 8: 5

15.

Rao S, Patel R (1997) How useful are manometric tests of anorectal function in the management of defecation disorders? Am J Gastroenterol 92: 469–475

16.

Rao S, Welcher K, Leistikow J (1998) Obstructive defecation: a failure of rectoanal coordination. Am J Gastroenterol 93: 1042–1050

17.

Rao S (2008) Dyssynergic defecation and biofeedback therapy. Gastroenterol Clin North Am 37: 569–586

18.

Sentovich S, Rivela L, Thorson A et al (1995) Simultaneous dynamic proctography and peritoneography for pelvic floor disorders. Dis Colon Rectum 38: 912–915

19.

Shorvon P, McHugh S, Diamant N et al (1989) Defecography in normal volunteers: results and implications. Gut 30: 1737–1749

20.

Sun W, Donnelly T, Read N (1992) Utility of a combined test of anorectal manometry, electromyography, and sensation in determining the mechanism of 'idiopathic' faecal incontinence. Gut 33: 807–813

21.

Wexner S, Jorge J (1994) Colorectal physiological tests: use or abuse of technology? Eur J Surg 160: 167–174

22.

Whitehead W, Borrud L, Goode P et al (2009) Fecal incontinence in US adults: epidemiology and risk factors. Gastroenterology 137: 512–517
Interessenkonflikt
Der Autor hat Vortragshonorare der Firmen Movetis, Falk, Merckle-Recordati und Lilly erhalten. Der Autor ist Mitglied des German Advisory Board der Firma Shire/Movetis.
About this article
Cite this article
Pehl, C. Funktionsdiagnostik des Kolons und Anorektums. Gastroenterologe 6, 218–224 (2011). https://doi.org/10.1007/s11377-010-0494-9
Schlüsselwörter
Motilität

Obstipation

Entleerungsstörungen

Stuhlinkontinenz

Anorektale Manometrie
Keywords
Motility

Constipation

Evacuation disorders

Fecal incontinence

Anorectal manometry