Zusammenfassung
Fisteln im Analbereich werden unterteilt in Pilonidalfisteln in der Rima ani und Analfisteln als Verbindung zwischen Anus und perianaler Haut. Bei der Pilonidalfistel erfolgt bei unkompliziertem Befund nach Abheilung akuter Abszesse die minimalinvasive Fistelexzision in Lokalanästhesie. Konservative Therapiekonzepte sowie die radikale Exzision mit offener Wundbehandlung haben sich nicht bewährt. Bei ausgeprägtem, großem Befund erfolgt eine weite Exzision mit plastischer Deckung mittels Limberg-Lappen. Bei der Analfistel muss unterschieden werden zwischen subkutanen und tiefen intersphinktären Fisteln ohne Sphinkterbeteiligung einerseits und hohen intersphinktären, transsphinktären, suprasphinktären und extrasphinktären Fisteln andererseits. Erstere können mit geringer Morbidität und hoher Heilungsrate fistulotomiert werden. Bei der zweiten Gruppe besteht ein erhebliches Inkontinenz- und Rezidivrisiko. Ohne Inkontinenzrisiko, bei allerdings hohem Rezidivrisiko, kann die Fistel mittels "Anal Fistula Plug" verschlossen werden. Bei Versagen dieser Therapie bietet sich eine Fistulektomie mit Verschluss der inneren Fistelöffnung durch einen anorektalen Verschiebelappen an.
Abstract
Proctologic fistulas are divided into pilonidal sinuses affecting the anal cleft and fistula in ano as tracts between the anus and perianal skin. An uncomplicated finding of a pilonidal sinus is treated by minimally invasive excision of the fistula tract using local anesthesia and acute abscesses must be drained prior to excision. Conservative approaches as well as radical excision are no longer recommended. In complicated situations a wide excision with plastic closure by a Limberg flap is the treatment of choice. Fistula in ano must be differentiated into subcutaneous and deep intersphincteral fistulas with no involvement of the anal sphincter and high intersphincteral transphincteral, suprasphincteral and extrasphincteral fistulas. Fistulas in the first group are candidates for fistulotomy with a low risk of incontinence and a high healing rate but the latter group has an increased risk of incontinence and fistula recurrence. Fistulas can be closed by an anal fistula plug without risk of incontinence but with a high risk of recurrence. In the case of recurrence a fistulectomy with closure of the internal opening and an anorectal advancement flap is performed.
This is a preview of subscription content, log in to check access.
Access options
Buy single article
Instant access to the full article PDF.
US$ 39.95
Price includes VAT for USA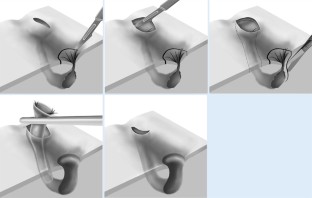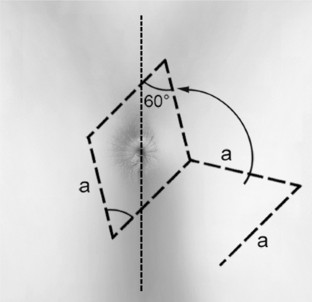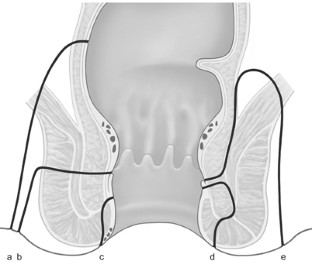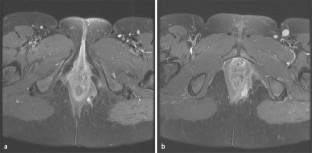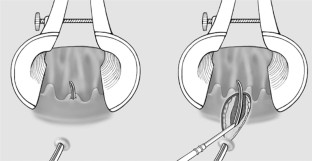 Literatur
1.

Akin M, Gokbayir H, Kilic K et al (2008) Rhomboid excision and limberg flap for managing pilonidal sinus: long-term results in 411 patients. Colorectal Dis 10: 945–948

2.

Armstrong JH, Barcia PJ (1994) Pilonidal sinus disease. The conservative approach. Arch Surg 129: 914–917 (discussion 17–19)

3.

Bascom J (1980) Pilonidal disease: origin from follicles of hairs and results of follicle removal as treatment. Surgery 87: 567–572

4.

Bascom J (1983) Pilonidal disease: long-term results of follicle removal. Dis Colon Rectum 26: 800–807

5.

Bleier JI, Moloo H, Goldberg SM (2010) Ligation of the intersphincteric fistula tract: an effective new technique for complex fistulas. Dis Colon Rectum 53: 43–46

6.

Buchanan G, Halligan S, Williams A et al (2002) Effect of MRI on clinical outcome of recurrent fistula-in-ano. Lancet 360: 1661–1662

7.

Can MF, Sevinc MM, Hancerliogullari O et al (2010) Multicenter prospective randomized trial comparing modified limberg flap transposition and karydakis flap reconstruction in patients with sacrococcygeal pilonidal disease. Am J Surg (Epub ahead of print)

8.

Chintapatla S, Safarani N, Kumar S, Haboubi N (2003) Sacrococcygeal pilonidal sinus: historical review, pathological insight and surgical options. Tech Coloproctol 7: 3–8

9.

Cihan A, Ucan BH, Comert M et al (2006) Superiority of asymmetric modified limberg flap for surgical treatment of pilonidal disease. Dis Colon Rectum 49: 244–249

10.

Cirocchi R, Farinella E, La Mura F et al (2009) Fibrin glue in the treatment of anal fistula: a systematic review. Ann Surg Innov Res 3: 12

11.

Fazio VW, Church JM, Delaney CP (2005) Current therapy in colon and rectal surgery, 2nd edn. Elsevier Mosby, Philadephia

12.

Garcia-Olmo D, Herreros D, Pascual I et al (2009) Expanded adipose-derived stem cells for the treatment of complex perianal fistula: a phase II clinical trial. Dis Colon Rectum 52: 79–86

13.

Garg P, Song J, Bhatia A et al (2009) The efficacy of anal fistula plug in fistula-in-ano: A systematic review. Colorectal Dis (Epub ahead of print)

14.

Kayaalp C, Aydin C (2009) Review of phenol treatment in sacrococcygeal pilonidal disease. Tech Coloproctol 13: 189–193

15.

Krand O, Yalt T, Berber I et al (2009) Management of pilonidal sinus disease with oblique excision and bilateral gluteus maximus fascia advancing flap: result of 278 patients. Dis Colon Rectum 52: 1172–1177

16.

Kronborg O, Christensen K, Zimmermann-Nielsen C (1985) Chronic pilonidal disease: a randomized trial with a complete 3-year follow-up. Br J Surg 72: 303–304

17.

Malik AI, Nelson RL (2008) Surgical management of anal fistulae: a systematic review. Colorectal Dis 10: 420–430

18.

Matter I, Kunin J, Schein M, Eldar S (1995) Total excision versus non-resectional methods in the treatment of acute and chronic pilonidal disease. Br J Surg 82: 752–753

19.

McCallum IJ, King PM, Bruce J (2008) Healing by primary closure versus open healing after surgery for pilonidal sinus: systematic review and meta-analysis. BMJ 336: 868–871

20.

Mentes O, Bagci M, Bilgin T et al (2008) Limberg flap procedure for pilonidal sinus disease: results of 353 patients. Langenbecks Arch Surg 393: 185–189

21.

Muller XM, Rothenbuhler JM, Frede KE (1992) Sacro-coccygeal cyst: surgical techniques and results. Helv Chir Acta 58: 889–892

22.

Ortiz H, Marzo J (2000) Endorectal flap advancement repair and fistulectomy for high trans-sphincteric and suprasphincteric fistulas. Br J Surg 87: 1680–1683

23.

Ortiz H, Marzo J, Ciga MA et al (2009) Randomized clinical trial of anal fistula plug versus endorectal advancement flap for the treatment of high cryptoglandular fistula in ano. Br J Surg 96: 608–612

24.

Petersen S, Wietelmann K, Evers T et al (2009) Long-term effects of postoperative razor epilation in pilonidal sinus disease. Dis Colon Rectum 52: 131–134

25.

Ritchie RD, Sackier JM, Hodde JP (2009) Incontinence rates after cutting seton treatment for anal fistula. Colorectal Dis 11: 564–571

26.

Rushfeldt C, Bernstein A, Norderval S, Revhaug A (2008) Introducing an asymmetric cleft lift technique as a uniform procedure for pilonidal sinus surgery. Scand J Surg 97: 77–81

27.

Soll C, Hahnloser D, Dindo D et al (2008) A novel approach for treatment of sacrococcygeal pilonidal sinus: less is more. Int J Colorectal Dis 23: 177–180

28.

Sondenaa K, Andersen E, Nesvik I, Soreide JA (1995) Patient characteristics and symptoms in chronic pilonidal sinus disease. Int J Colorectal Dis 10: 39–42

29.

Subasinghe D, Samarasekera DN (2010) Comparison of preoperative endoanal ultrasonography with intraoperative findings for fistula in ano. World J Surg 34: 1123–1127

30.

Tang CL, Chew SP, Seow-Choen F (1996) Prospective randomized trial of drainage alone vs. drainage and fistulotomy for acute perianal abscesses with proven internal opening. Dis Colon Rectum 39: 1415–1417

31.

Tepes B, Cerni I (2008) The use of different diagnostic modalities in diagnosing fistula-in-ano. Hepatogastroenterology 55: 912–915

32.

Thornton M, Solomon MJ (2005) Long-term indwelling seton for complex anal fistulas in Crohn's disease. Dis Colon Rectum 48: 459–463

33.

Toyonaga T, Matsushima M, Kiriu T et al (2007) Factors affecting continence after fistulotomy for intersphincteric fistula-in-ano. Int J Colorectal Dis 22: 1071–1075

34.

Uribe N, Millan M, Minguez M et al (2007) Clinical and manometric results of endorectal advancement flaps for complex anal fistula. Int J Colorectal Dis 22: 259–264

35.

Westerterp M, Volkers NA, Poolman RW, Tets WF van (2003) Anal fistulotomy between skylla and charybdis. Colorectal Dis 5: 549–551
Interessenkonflikt
Der korrespondierende Autor gibt an, dass kein Interessenkonflikt besteht.
About this article
Cite this article
Steinemann, D., Dindo, D., Soll, C. et al. Pilonidalsinus und Analfistel. Gastroenterologe 5, 308–317 (2010). https://doi.org/10.1007/s11377-010-0399-7
Schlüsselwörter
Pilonidalfistel

Sakraldermoid

Analfistel

Fistulotomie

Fistulektomie
Keywords
Pilonidal sinus

Sacral dermoid

Fistula in ano

Fistulotomy

Fistulectomy