Zusammenfassung
Bei etwa 4% der Patienten mit chronischer Pankreatitis besteht eine Familienanamnese. Die Mehrzahl dieser Patienten erkrankt erstmals im Kindes- und Jugendalter; bei immerhin ca. 35% liegt das Manifestationsalter jenseits des 21. Lebensjahres. Charakteristisch ist eine langsame Progression der Erkrankung im Vergleich zur chronisch-alkoholischen Pankreatitis. Nach den Literaturdaten besteht ein 40%iges Lebenszeitrisiko, an einem Pankreaskarzinom zu erkranken, obwohl die Lebenserwartung des Gesamtkollektiv nicht verminderst sein soll. Es existiert kein bildgebendes Verfahren, mit dem man das Malignom in der chronisch entzündeten Drüse zuverlässig nachweisen kann. Folglich ist der Stellenwert von invasiven Screeningverfahren (MRT, Endosonographie etc.) nicht belegt und man ist hier auf klassische klinische Kriterien angewiesen. Bei Rauchern tritt das Pankreaskarzinom deutlich häufiger bzw. früher auf, so dass den Patienten dringend zur Abstinenz geraten werden sollte.
Abstract
Familial pancreatitis is found in 4% of patients with chronic pancreatitis. In the majority, the onset is in childhood or adolescence. Approximately 35% report experiencing their first symptoms when older than 21 years. Typically, the disease progress (characterized by duct dilatation, calcification, and diabetes) is slow compared with alcoholic chronic pancreatitis. In the literature, a 40% lifetime risk for pancreatic cancer has been reported for these patients, although overall survival for this group is not different than for controls. No imaging technique reliably detects pancreatic cancer in patients with chronic pancreatitis; therefore, screening strategies may be questioned at this time. Pancreatic cancer develops earlier and more frequently in smokers than in nonsmokers, so patients with familial pancreatitis should be emphatically advised not to smoke.
This is a preview of subscription content, log in to check access.
Access options
Buy single article
Instant access to the full article PDF.
US$ 39.95
Price includes VAT for USA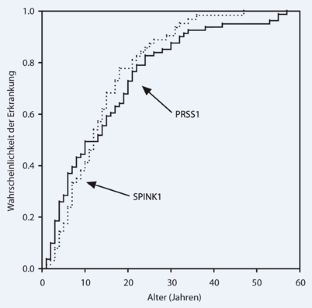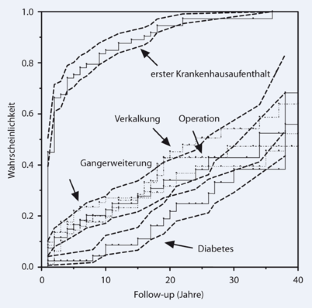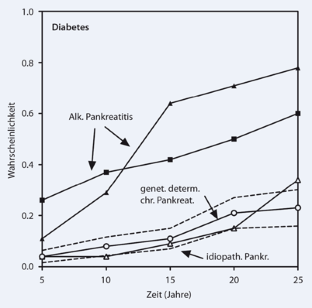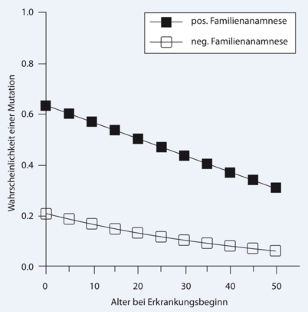 Literatur
1.

Witt H, Apte MV, Keim V, Wilson (2007) Chronic pancreatitis: challenges and advances in pathogenesis, genetics, diagnosis and therapy. Gastroenterology 132: 1557–1573

2.

Comfort MW, Steinberg AG (1952) Pedigree of a family with hereditary chronic relapsing pancreatitis. Gastroenterology 21: 54–63

3.

Treiber M, Schlag C, Schmid RM (2008) Genetics of pancreatitis: a guide for clinicians. Curr Gastroenterol Rep 10: 122–127

4.

Rosendahl J, Witt H, Szmola R et al (2008) Chymotrypsin C (CTRC) variants that diminish activity or secretion are associated with chronic pancreatitis. Nat Genet 40: 78–82

5.

Kereszturi E, Sahin-Toth M (2009) Intracellular autoactivation of human cationic trypsinogen mutants causes reduced trypsinogen secretion and acinar cell death. J Biol Chem (Epub ahead of print, doi/10.1074/jbc.M109.056812)

6.

Keim V, Witt H, Bauer N et al (2003) The course of genetically determined chronic pancreatitis. JOP 4: 146–154

7.

Sibert JR (1978) Hereditary pancreatitis in England and Wales. J Med Genet 15: 189–201

8.

Howes N, Lerch MM, Greenhalf W et al (2004) European Registry of Hereditary Pancreatitis and Pancreatic Cancer (EUROPAC). Clinical and genetic characteristics of hereditary pancreatitis in Europe. Clin Gastroenterol Hepatol 2: 252–261

9.

Rebours V, Boutron-Ruault MC, Schnee M et al (2009) The natural history of hereditary pancreatitis: a national series. Gut 58: 97–103

10.

Keim V, Hoffmeister A, Teich N et al (1999) The pancreatitis-associated protein in hereditary and chronic alcoholic pancreatitis. Pancreas 19: 248–254

11.

Layer P, Yamamoto H, Kalthoff L et al (1994) The different courses of early- and late-onset idiopathic and alcoholic chronic pancreatitis. Gastroenterology 107: 1481–1487

12.

Rebours V, Lévy P, Mosnier JF et al (2009) Pathology analysis reveals that dysplastic pancreatic ductal lesions are frequent in patients with hereditary pancreatitis. Clin Gastroenterol Hepatol (Epub ahead of print)

13.

Lowenfels AB, Maisonneuve P, DiMagno E et al (1997) Hereditary pancreatitis and the risk of pancreatic cancer. J Natl Cancer Inst 89: 442–446

14.

Rebours V, Boutron-Ruault MC, Jooste V et al (2009) Mortality rate and risk factors in patients with hereditary pancreatitis: uni- and multidimensional analyses. Am J Gastroenterol 104: 2312–2317

15.

Rubenstein JH, Scheiman JM, Anderson MA (2007) A clinical and economic evaluation of endoscopic ultrasound for patients at risk for familial pancreatic adenocarcinoma. Pancreatology 7: 514–525

16.

Habbe N, Langer P, Bartsch DK (2008) Hereditary pancreatic cancer. Chirurg 79: 1029–1037

17.

Lowenfels AB, Maisonneuve P, Whitcomb DC et al (2001) Cigarette smoking as a risk factor for pancreatic cancer in patients with hereditary pancreatitis. JAMA 286: 169–170

18.

Omenn GS (2007) Chemoprevention of lung cancers: lessons from CARET, the beta-carotene and retinol efficacy trial, and prospects for the future. Eur J Cancer Prev 16: 184–191
Interessenkonflikt
Der Autor gibt an, dass kein Interessenkonflikt besteht.
About this article
Cite this article
Keim, V. Familiäre Pankreatitis und assoziiertes Pankreaskarzinom. Gastroenterologe 5, 32–38 (2010). https://doi.org/10.1007/s11377-009-0344-9
Schlüsselwörter
Hereditäre Pankreatitis

Diabetes mellitus

Pankreaskarzinom

Prophylaxe

Rauchen
Keywords
Hereditary pancreatitis

Diabetes

Pancreatic carcinoma

Prophylaxis

Smoking