Zusammenfassung
Mastozytosen sind klonale Erkrankungen der hämopoetischen Stammzelle und müssen streng von einer reaktiven Vermehrung der Mastzellen (= Mastzellenhyperplasie) abgegrenzt werden. Zwei grundsätzliche Erscheinungsformen der Mastozytose werden unterschieden: zum einen die kutane, zum anderen die systemische Mastozytose. Bei den meisten Patienten mit Mastozytose ist die Prognose quoad vitam sehr günstig, aggressive oder leukämische Varianten der Mastozytose sind Raritäten. Die Diagnose einer systemischen Mastozytose ist nur histomorphologisch durch den Pathologen möglich und kann niemals allein klinisch gestellt werden! Im Rahmen der systemischen Mastozytose treten bei vielen Patienten abdominelle Beschwerden auf, ohne dass ein Befall der Schleimhaut des Gastrointestinaltrakts morphologisch gesichert werden kann. Im Folgenden berichten wir über den ungewöhnlichen Befund einer systemischen Mastozytose mit starkem Schleimhautbefall in Dünn- und Dickdarm als morphologischem Zufallsbefund bei einer asymptomatischen Patientin nach Vorsorgeendoskopie. Dieser Fall gibt auch Anlass, die morphologischen Kriterien einer Mastozytose mit Schleimhautbefall noch einmal klar herauszuarbeiten, speziell um die sehr viel häufigere Mastzellenhyperplasie hiervon sicher abgrenzen zu können.
Abstract
Mastocytosis is a clonal disease of haemopoietic bone marrow-derived progenitor cells with an extremely broad spectrum of clinical and histomorphological features. Principally, two major subvariants are distinguished: cutaneous and systemic mastocytosis. Most patients with mastocytosis have a normal life expectancy. Aggressive or leukaemic variants of systemic mastocytosis are very rare. The diagnosis of mastocytosis can only be established by the pathologist and is not allowed to be made on the basis of clinical findings alone. Many patients with systemic mastocytosis complain of non-specific mediator-associated abdominal symptoms (epigastric pain, diarrhoea, etc.) without morphological evidence of involvement of the mucosa of the gastrointestinal (GI) tract. We here report on the extremely unusual case of a woman without any symptoms but systemic mastocytosis with marked involvement of the GI tract mucosa was detected after prophylactic endoscopy. Morphological criteria for the diagnosis of mastocytosis are delineated with special emphasis on the clear differentiation from the much more common reactive mast cell hyperplasia.
This is a preview of subscription content, log in to check access.
Access options
Buy single article
Instant access to the full article PDF.
US$ 39.95
Price includes VAT for USA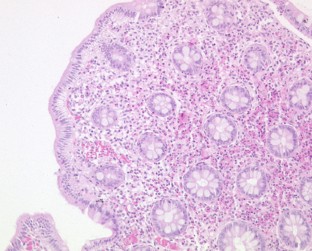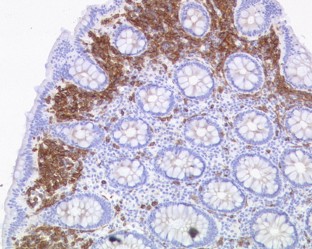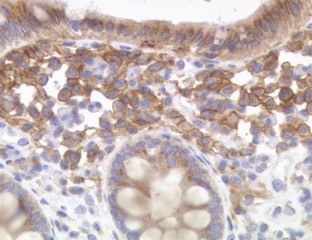 Literatur
1.

Akin C (2005) Clonality and molecular pathogenesis of mastocytosis. Acta Haematol 114: 61–69

2.

Bedeir A, Jukic DM, Wang L et al. (2007) Systemic mastocytosis mimicking inflammatory bowel disease: a case report and discussion of gastrointestinal pathology in systemic mastocytosis. Am J Surg Pathol 30: 1478–1482

3.

Cherner JA, Jensen RT, Dubois A et al. (1988) Gastrointestinal dysfunction in systemic mastocytosis: a prospective study. Gastroenterology 95: 657–667

4.

Escribano L, Orfao A, Diaz-Agustin B et al. (1998) Indolent systemic mast cell disease in adults: immunophenotypic characterization of bone marrow mast cells and its diagnostic implications. Blood 91: 2731–2736

5.

Fishman RS, Fleming CR, Li CY (1979) Systemic mastocytosis with review of gastrointestinal manifestations. Mayo Clin Proc 54: 51–54

6.

Hahn HP, Hornick JL (2007) Immunoreactivity for CD25 in gastrointestinal mucosal mast cells is specific for systemic mastocytosis. Am J Surg Pathol 31: 1669–1676

7.

Horny H-P, Sotlar K, Stellmacher F et al. (2006) An unusual case of systemic mastocytosis associated with chronic lymphocytic leukaemia (SM-CLL). J Clin Pathol 59: 264–268

8.

Horny H-P, Sotlar K, Valent P (2007) Mastocytosis: state of the art. Pathobiology 74: 121–132

9.

Kojima M, Nakamura S, Itoh H et al. (1999) Mast cell sarcoma with tissue eosinophilia arising in the ascending colon. Mod Pathol 12: 739–743

10.

Jakate S, Demeo M, John R et al. (2006) Mastocytic enterocolitis: increased mucosal mast cells in chronic intractable diarrhea. Arch Pathol Lab Med 130: 362–367

11.

Jensen RT (2000) Gastrointestinal abnormalities and involvement in systemic mastocytosis. Hematol Oncol Clin North Am 14: 579–623

12.

Mahood JM, Harrington CI, Slater DN, Corbett CL (1982) Forty years of diarrhea in a patient with urticaria pigmentosa. Acta Derm Venereol 62: 264–265

13.

Miner PB Jr (1991) The role of the mast cell in clinical gastrointestinal disease with special reference to systemic mastocytosis. J Invest Dermatol 96: 40S–65S

14.

Siegert SI, Diebold J, Ludolph-Hauser D, Löhrs U (2004) Are gastrointestinal mast cells increased in patients with systemic mastocytosis? Am J Clin Pathol 122: 560–565

15.

Sotlar K, Bache A, Stellmacher F et al. (2008) Systemic mastocytosis associated with chronic idiopathic myelofibrosis: a distinct subtype of systemic mastocytosis associated clonal hematological nonmast cell lineage disorder carrying the activating point mutations KITD816V and JAK2V617F. J Mol Diagn 10: 58–66

16.

Takasaki Y, Tsukasaki K, Jubashi T et al. (1998) Systemic mastocytosis with extensive polypoid lesions in the intestines: successful treatment with interferon-alpha. Intern Med 37: 484–488

17.

Valent P, Horny H-P, Li CY et al. (2001) Mastocytosis (mast cell disease). In: Jaffe ES, Harris NL, Stein H, Vardiman JW (eds) World Health Organization (WHO) classification of tumours. Pathology and genetics of tumours of haematopoietic and lymphoid tissues. IARC Press, Lyon, pp 291–302

18.

Valent P, Horny H-P, Escribano L et al. (2001) Diagnostic criteria and classification of mastocytosis: a consensus proposal. Conference report of "Year 2000 Working Conference on Mastocytosis". Leuk Res 25: 603–625

19.

Valent P, Akin C, Escribano L et al. (2007) Standards and standardization in mastocytosis: consensus statements on diagnostics, treatment recommendations and response criteria. Eur J Clin Invest 37: 435–453
Interessenkonflikt
Der korrespondierende Autor gibt an, dass kein Interessenkonflikt besteht.
About this article
Cite this article
Horny, H., Berndt, R., Sotlar, K. et al. Systemische Mastozytose mit starkem Befall des Gastrointestinaltrakts. Gastroenterologe 3, 519 (2008). https://doi.org/10.1007/s11377-008-0233-7
Schlüsselwörter
Mastozytose

KITD816V

Gastrointestinum

Mastzellenhyperplasie

Tryptase
Keywords
Mastocytosis

KITD816V

Gastrointestinal tract

Mast cell hyperplasia

Tryptase