Zusammenfassung
NSAR sind Mittel der Wahl zur Behandlung der inflammatorisch bedingten Hyperalgesie. Wegen ihrer weltweit hohen Verordnungshäufigkeit haben auch seltene Nebenwirkungen epidemiologische und gesundheitsökonomische Bedeutung. Traditionelle NSAR (tNSAR) führen durch gastrointestinale Komplikationen häufig zu Krankenhausaufenthalten. Unter selektiven COX-2-Hemmern (COXIBe) treten Nebenwirkungen im gesamten Gastrointestinaltrakt nur selten auf. Protonenpumpenhemmer (PPI) vermindern das Risiko für UAW im oberen Gastrointestinaltrakt, vor klinisch relevanten Läsionen an Dünn- und Dickdarm schützen sie nicht. Mit der Fortentwicklung diagnostischer Methoden wird die Überprüfung von Therapiekonzepten möglich. Die Analyse neuerer klinischer Daten hat ein anderes Problem aufgedeckt: Sowohl tNSAR als auch COXIBe erhöhen das kardiovaskuläre Risiko. Beim differenzialtherapeutischen Einsatz müssen in jedem Einzelfall die Risiken dem Nutzen der Therapie gegenübergestellt werden.
Abstract
Non-steroidal anti-inflammatory drugs (NSAIDs) are the method of choice for treatment of inflammatory hyperalgesia. However, because the number of prescriptions world wide is very high, even rare side-effects have significant epidemiologic and health economic consequences. Traditional NSAIDs (tNSAIDs) often lead to patient hospitalisation because of gastrointestinal (GI) complications. By using selective cyclo-oxygenase-2 inhibitors (Coxibs), side-effects occur only rarely in the whole GI tract. Proton pump inhibitors reduce the risk for the upper GI tract but are no protection from clinically relevant lesions of the colon and small intestine. The continuous development of investigation methods has thrown light onto the dark side of the small intestine and allows a closer scrutiny of the therapy concepts. The analysis of recent clinical data has revealed another problem: tNSAIDs as well as Coxibs increase the cardiovascular (CV) risk. Therefore, for the differential therapeutic use of the possible therapy regimens, the GI and CV risks must be balanced against the use of the NSAID therapy for each individual case.
This is a preview of subscription content, log in to check access.
Access options
Buy single article
Instant access to the full article PDF.
US$ 39.95
Price includes VAT for USA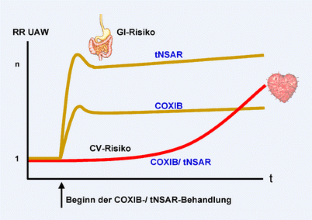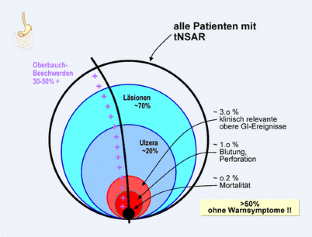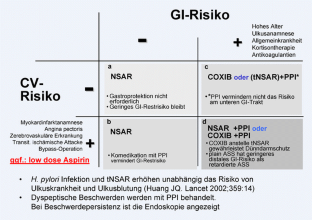 Literatur
1.

Bresalier RS, Sandler RS, Quan H et al. (2005) Cardiovascular events associated with rofecoxib in a colorectal adenoma chemoprevention trial. N Engl J Med 352(11): 1092–1102

2.

Bolten WW, Lang B, Wagner AV, Krobot KJ (1999) Consequences and costs of NSAID-induced gastropathy in Germany. Akt Rheumatol 24: 127–134. Available from http://www.thieme.de/rheuma/aktuelles/aktuell-en.pdf

3.

Bolten WW (2005) Der steinige Weg zu besser verträglichen Antirheumatika. DMW 130(33): 1897

4.

Bolten WW (2006) Problem of the atherothrombotic potential of non-steroidal anti-inflammatory drugs. Ann Rheum Dis 65(1): 7–13

5.

Cryer B, Kimmey MB (1998) Gastrointestinal side effects of nonsteroidal anti-inflammatory drugs. Am J Med 105(1B): 20S–30S

6.

Hooper L, Brown TJ, Elliott R et al. (2004) The effectiveness of five strategies for the prevention of gastrointestinal toxicity induced by non-steroidal anti-inflammatory drugs: systematic review. BMJ 329(7472): 948–950

7.

Kearney PM, Baigent C, Godwin J et al. (2006) Do selective cyclo-oxygenase-2 inhibitors and traditional non-steroidal anti-inflammatory drugs increase the risk of atherothrombosis? Meta-analysis of randomised trials. BMJ 332(7553): 1302–1308

8.

Laine L, Connors LG, Reicin A et al. (2003) Serious lower gastrointestinal clinical events with nonselective NSAID or coxib use. Gastroenterology 124(2): 288–292

9.

Singh G, Triadafilopoulos G (1999) Epidemiology of NSAID induced gastrointestinal complications. J Rheumatol 26 [Suppl 56]:18–24

10.

Talley NJ, Evans JM, Fleming KC et al. (1995) Nonsteroidal antiinflammatory drugs and dyspepsia in the elderly. Dig Dis Sci 40(6):1345–1350
Interessenkonflikt
Es besteht kein Interessenkonflikt. Der korrespondierende Autor versichert, dass keine Verbindungen mit einer Firma, deren Produkt in dem Artikel genannt ist, oder einer Firma, die ein Konkurrenzprodukt vertreibt, bestehen. Die Präsentation des Themas ist unabhängig und die Darstellung der Inhalte produktneutral.
About this article
Cite this article
Bolten, W. Gastrointestinale Nebenwirkungen durch nichtsteroidale Antirheumatika (NSAR). Gastroenterologe 1, 189–196 (2006). https://doi.org/10.1007/s11377-006-0033-x
Schlüsselwörter
Nichtsteroidale Antirheumatika

COXIB

Gastrointestinaltrakt

Unterer Gastrointestinaltrakt

Protonenpumpenhemmer

Kardiovaskuläres Risiko
Keywords
Non-steroidal anti-inflammatory drugs

Cyclo-oxygenase inhibitors

Gastrointestinal tract

Lower gastrointestinal tract

Proton pump inhibitors

Cardiovascular risk