Abstract
Purpose
Phytophthora blight caused by Phytophthora capsici (Pc) is one of the most economically destructive soilborne diseases of pepper (Capsicum annum L.) on a global scale. Biocontrol using antagonistic microbes, such as Purpureocillium lilacinum (Pl) and arbuscular mycorrhizal (AM) fungus Funneliformis caledonium (Fc), is one of the significant strategies for ecologically sound plant disease management. The purpose of this work was to investigate the sole and combined suppression of pepper Phytophthora blight by Fc and Pl.
Materials and methods
The 14-week pot experiment with three pepper plants per pot included five treatments: control (non-inoculation), inoculation with Pc, inoculation with Pc and Pl (Pc + Pl), inoculation with Pc and Fc (Pc + Fc), and inoculation with Pc, Pl, and Fc (Pc + Pl + Fc). Pots were randomly arranged with eight replicates per treatment. The incidence and severity of Phytophthora blight at plant full productive stage were recorded. The biomasses and N, P, and K concentrations of pepper shoots, roots, and fruits were all measured. In addition, root mycorrhizal colonization rate and soil pH, phosphatase activity, and available P concentration were also tested.
Results and discussion
The inoculation of Pc induced both high incidence (92%) and severity (33%) of pepper Phytophthora blight, and the alleviating effects of Pl, Fc, and Pl + Fc were 46%, 79%, and 59%, respectively. The Fc significantly increased (P < 0.05) root mycorrhizal colonization, nutrient (N, P, and K) acquisition, plant biomass, and fruit yield of pepper, while Pl only significantly increased (P < 0.05) plant nutrient (N and P) acquisition and tended to increase the fruit yield. The Pc, Pl, and Fc all had additive effects on decreasing soil pH, but only Fc significantly increased (P < 0.05) soil phosphatase activity and available P concentration, contributing partly to the elevated P acquisition as well as the increased P concentrations in both shoot and root.
Conclusions
Compared with the sole inoculation of Fc, the extra inoculation of Pl had negative effects on mycorrhizal colonization, soil P mobilization, and plant growth and nutrient acquisition. It suggests that AM fungus (Fc) has the superiority of formatting symbioses with plant roots and enhancing soil P mobilization for the suppression of pepper Phytophthora blight compared with Pl, and the joint application of different fungal agents to improve plant health needs careful consideration.
This is a preview of subscription content, log in to check access.
Access options
Buy single article
Instant access to the full article PDF.
US$ 39.95
Price includes VAT for USA
Subscribe to journal
Immediate online access to all issues from 2019. Subscription will auto renew annually.
US$ 199
This is the net price. Taxes to be calculated in checkout.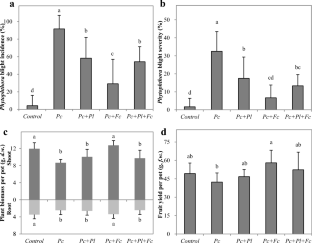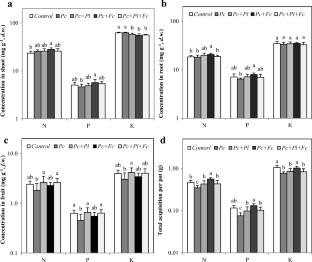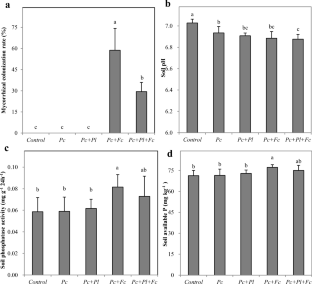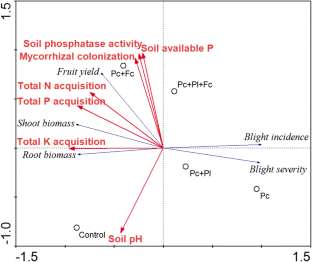 References
Azcón-Aguilar C, Barea JM (1996) Arbuscular mycorrhizas and biological control of soil-borne plant pathogens – an overview of the mechanisms involved. Mycorrhiza 6:457–464

Bellón-Gómez D, Vela-Corcía D, Pérez-García A, Torés JA (2014) Sensitivity of Podosphaera xanthii populations to anti-powdery-mildew fungicides in Spain. Pest Manag Sci 71:1407–1413

Chen YY, Chen PC, Tsay TT (2016) The biocontrol efficacy and antibiotic activity of Streptomyces plicatus on the oomycete Phytophthora capsici. Bio Control 98:34–42

Chuah AM, Lee YC, Yamaguchi T, Takamura H, Yin LJ, Matoba T (2008) Effect of cooking on the antioxidant properties of colored peppers. Food Chem 111:20–28

Cobb AB, Wilson GWT, Goad CL, Bean SR, Kaufman RC, Herald TJ, Wilson JD (2016) The role of arbuscular mycorrhizal fungi in grain production and nutrition of sorghum genotypes: enhancing sustainability through plant-microbial partnership. Agric Ecosyst Environ 233:432–440

Giovannetti M, Mosse B (1980) An evaluation of techniques for measuring vesicular–arbuscular mycorrhizal infection in roots. New Phytol 84:489–500

Holmes GJ, Ojiambo PS, Hausbeck MK, Quesada-Ocampo L, Keinath AP (2015) Resurgence of cucurbit downy mildew in the United States: a watershed event for research and extension. Plant Dis 99:428–441

Hu J, Lin X, Wang J, Shen W, Wu S, Peng S, Mao T (2010) Arbuscular mycorrhizal fungal inoculation enhances suppressiveness of cucumber Fusarium wilt in greenhouse soils. Pedosphere 20:586–593

Hu J, Li M, Liu H, Zhao Q, Lin X (2019) Intercropping with sweet corn (Zea mays L. var. rugosa Bonaf.) expands P acquisition channels of chilli pepper (Capsicum annuum L.) via arbuscular mycorrhizal hyphal networks. J Soils Sediments 19:1632–1639

Khan MA, Cheng Z, Khan AR, Rana SJ, Ghazanfar B (2015) Pepper-garlic intercropping system improves soil biology and nutrient status in plastic tunnel. Int J Agric Biol 17:869–880

Lan X, Zhang J, Zong Z, Ma Q, Wang Y (2017) Evaluation of the biocontrol potential of Purpureocillium lilacinum QLP12 against Verticillium dahliae in eggplant. BioMed Res Int 2017:4101357

Li XL, George E, Marschner H (1991) Extension of the phosphorus depletion zone in VA-mycorrhizal white clover in a calcareous soil. Plant Soil 136:41–48

Li Q, Ai G, Shen D, Zou F, Wang J, Bai T, Chen Y, Li S, Zhang M, Jing M, Dou D (2019) A Phytophthora capsici effector targets ACD11 binding partners that regulate ROS-mediated defense response in Arabidopsis thaliana. Mol Plant 12:565–581

Lopez DC, Sword GA (2015) The endophytic fungal entomopathogens Beauveria bassiana and Purpureocillium lilacinum enhance the growth of cultivated cotton (Gossypium hirsutum) and negatively affect survival of the cotton bollworm (Helicoverpa zea). Biol Control 89:53–60

Lu RK (1999) Analytical methods of soil agro-chemistry. China Agricultural Science and Technology Press, Beijing

Luangsa-ard JJ, Houbraken J, van Doorn T, Hong SB, Borman AM, Hywel-Jones N, Samson RA (2011) Purpureocillium, a new genus for the medically important Paecilomyces lilacinum. FEMS Microbiol Lett 321:141–149

Majid MU, Awan MF, Fatima K, Tahir MS, Ali Q, Rashid B, Rao AQ, Nasir IA, Husnain T (2016) Phytophthora capsici on chili pepper (Capsicum annuum L.) and its management through genetic and bio-control: a review. Zemdirbyste-Agriculture 103:419–430

Mansoor F, Sultana V, Ehteshamul-Haque S (2007) Enhancement of biocontrol potential of Pseudomonas aeruginosa and Paecilomyces lilacinus against root rot of mungbean by a medicinal plant Launaea nudicaulis L. Pak J Bot 39:2113–2119

Munawar M, Khan SA, Javed N, Haq IU, Gondal AS (2015) Bio-management of tomato wilt complex caused by Meloidogyne incognita and Fusarium oxysporum f. sp. Lycopersici. Nematology 17:479–485

Nannipieri P, Giagnoni L, Landi L, Renella G (2011) Role of phosphatase enzymes in soil. In: Bünemann E, Oberson A, Frossard E (eds) Phosphorus in Action. Soil Biology. Springer, Berlin, Heidelberg, pp 215–243

Nemec S, Datnoff LE, Strandberg J (1996) Efficacy of biocontrol agents in planting mixes to colonize plant roots and control root diseases of vegetables and citrus. Crop Prot 15:735–742

Olsen SR, Cole CV, Watanabe FS, Dean LA (1954) Estimation of available phosphorus in soils by extraction with sodium bicarbonate. United States Department of Agriculture, Washington, DC 19 pp

Ozgonen H, Erkilic A (2007) Growth enhancement and Phytophthora blight (Phytophthora capsici Leonian) control by arbuscular mycorrhizal fungal inoculation in pepper. Crop Prot 26:1682–1688

Phillips JM, Hayman DS (1970) Improved procedures for clearing roots and staining parasitic and vesicular- arbuscular mycorrhizal fungi for rapid assessment of infection. Trans Br Mycol Soc 55:158–161

Podsecdek A (2007) Natural antioxidant and antioxidant capacity of brassica vegetables: a review. LWT Food Sci Technol 40:1–11

Rao NBVC, Snehalatharani A, Emmanuel N (2012) New record of Paecilomyces lilacinus (Deuteromycota: Hyphomycetes) as an entomopathogenic fungi on slug caterpillar of coconut. Insect Environ 17:151–153

Reifschneider FJB, Boiteuxl LS, Vecchia PTD, Poulos JM, Kuroda N (1992) Inheritance of adult-plant resistance to Phytophthora capsici in pepper. Euphytica 62:45–49

Ren L, Zhang N, Wu P, Huo H, Xu G, Wu G (2015) Arbuscular mycorrhizal colonization alleviates Fusarium wilt in watermelon and modulates the composition of root exudates. Plant Growth Regul 77:77–85

Reyes-Tena A, Rincón-Enríquez G, López-Pérez L, Quiñones-Aguilar EE (2017) Effect of mycorrhizae and actinomycetes on growth and biocontrol of Capsicum annuum L. against Phytophthora capsici. Pak J Agric Sci 54:513–522

Rumbos C, Reimann S, Kiewnick S, Sikora RA (2006) Interactions of Paecilomyces lilacinus strain 251 with the mycorrhizal fungus Glomus intraradices: implications for Meloidogyne incognita control on tomato. Biocontr Sci Technol 16:981–986

Sang MK, Shrestha A, Kim DY, Park K, Pak CH, Kim KD (2013) Biocontrol of Phytophthora blight and anthracnose in pepper by sequentially selected antagonistic rhizobacteria against Phytophthora capsici. Plant Pathol J 29:154–167

Santísima-Trinidada ABL, Montiel-Rozasa MM, Diéz-Rojob MÁ, Pascuala JA, Ros M (2018) Impact of foliar fungicides on target and non-target soil microbial communities in cucumber crops. Ecotoxicol Environ Saf 166:78–85

Siddiqui IA, Qureshi SA, Sultana V, Ehteshamul-Haque S, Ghaffar A (2000) Biological control of root rot-root knot disease complex of tomato. Plant Soil 227:163–169

Singh S, Pandey RK, Goswami BK (2013) Bio-control activity of Purpureocillium lilacinum strains in managing root-knot disease of tomato caused by Meloidogyne incognita. Biocontr Sci Technol 23:1469–1489

Smith SE, Read DJ (2008) Mycorrhizal symbiosis, 3rd edn. Academic Press, London

Sultana V, Ara J, Parveen G, Haque SE, Ahmad VU (2006) Role of crustacean chitin, fungicides and fungal antagonist on the efficacy of Pseudomonas aeruginosa in protecting chili from root rot. Pak J Bot 38:1323–1331

Sunwoo JY, Lee YK, Hwang BK (1996) Induced resistance against Phytophthora capsici in pepper plants in response to DL-X-aminon-butyric acid. Eur J Plant Pathol 102:663–670

Tabatabai MA (1982) Soil enzymes. In: Page AL, Miller RH, Keeney DR (eds) Methods of soil analyses, Part 2, chemical and microbiological properties, 2nd edn. American Society of Agronomy, Madison, WI, pp 903–947

Udo IA, Uguru MI, Ogbuji RO (2013) Comparative efficacy of arbuscular mycorrhizal fungi in combination with bioformulated Paecilomyces lilacinus against Meloidogyne incognita on tomato in two ultisols of south-eastern Nigeria. Biocontr Sci Technol 23:1083–1097

Vierheilig H, Steinkellner S, Khaosaad T, García-Garrido JM (2008) The biocontrol effect of mycorrhization on soil borne fungal pathogens and the autoregulation of the AM symbiosis: one mechanism, two effects? In: Varma A (ed) Mycorrhiza: Genetics and Molecular biology, Eco-function, Biotechnology, Ecophysiology, Structure and Systematics. Heidelberg. Springer-Verlag, Germany, pp 307–320

Wang FY, Lin XG, Yin R, Wu LH (2006) Effects of arbuscular mycorrhizal inoculation on the growth of Elsholtzia splendens and Zea mays and the activities of phosphatase and urease in a multi-metal- contaminated soil under unsterilized conditions. Appl Soil Ecol 31:110–119

Wang H, Zhao X, Liu C, Liu L, Yu S, Liang C, Guan T, Irfan M, Zhao K (2015) Effects of the biocontrol agent Aspergillus flavipes on the soil microflora and soil enzymes in the rooting zone of pepper plants infected with Phytophthora capsici. J Phytopath 163:513–521

Wang G, Liu Z, Lin R, Li E, Mao Z, Ling J, Yang Y, Yin WB, Xie B (2016) Biosynthesis of antibiotic leucinostatins in bio-control fungus Purpureocillium lilacinum and their inhibition on Phytophthora revealed by genome mining. PLoS Pathog 12:e1005685

Yau JA, Dianez F, Marin F, Carretero F, Santos M (2013) Screening and evaluation of potential biocontrol fungi and bacteria foliar endophytes against Phytophthora capsici and Phytophthora parasitica on pepper. J Food Agric Environ 11:490–495
Acknowledgments
We would like to acknowledge Ms. Yu Zhang and Ms. Hongmin Liu for their assistance in the pot experiment and three anonymous reviewers for their suggestions on manuscript revision.
Funding
This work was supported by the National Key R&D Program (2017YFD0200603) of China, the National Natural Science Foundation (No.41671265) of China, the Knowledge Innovation Program (ISSASIP1634) of Chinese Academy of Sciences (CAS), and the Talents Project (Y412010009) of State Key Laboratory of Soil and Sustainable Agriculture, China. Junli Hu is supported by the fellowship of the Youth Innovation Promotion Association (No. 2016285), CAS.
Additional information
Publisher's note
Springer Nature remains neutral with regard to jurisdictional claims in published maps and institutional affiliations.
Responsible editor: Yongtao Li
About this article
Cite this article
Hu, J., Hou, S., Li, M. et al. The better suppression of pepper Phytophthora blight by arbuscular mycorrhizal (AM) fungus than Purpureocillium lilacinum alone or combined with AM fungus. J Soils Sediments 20, 792–800 (2020). https://doi.org/10.1007/s11368-019-02438-9
Received:

Accepted:

Published:

Issue Date:
Keywords
Funneliformis caledonium

Nutrient acquisition

Phytophthora capsici

Soil phosphatase

Soil available P

Soil pH