Abstract
Purpose
The environmental benefits of biochar application, ranging from improvements in crop yield to global change mitigation, have been extensively studied in the last decade. However, such benefits have not been profusely demonstrated under a Mediterranean climate and still less in combination with high pH soils. In our study, the short to medium effects of biochar application on a soil-plant system under Mediterranean conditions in an alkaline soil were assessed.
Material and methods
Barley plants were grown in field mesocosms during three agronomical years at three biochar addition rates (0, 5, and 30 t ha−1). Related to soil, different physicochemical parameters were analyzed as well as microbial respiration, biomass, and functional diversity. In the plant domain, in vivo ecophysiology variables such as leaf transpiration rate, stomatal conductance, and photosynthesis rate were determined while photosynthetic pigment content and soluble protein concentrations were measured in the laboratory. Additionally, crop yield and nutrient composition were also analyzed. The soil-plant connection was investigated by the N content ratio in both fractions establishing the nitrogen efficiency in the system.
Results and discussion
The highest rate of biochar amendment enhanced soil moisture and electrical conductivity combined with an increase of SO42−, Cl−, Mg2+, and K+, and decrease of NO3− and HPO4−. Notable variations regarding nutrition and moisture were induced in this Mediterranean alkaline soil after biochar addition although pH remained stable. Contrastingly, there were no major effects on microbial activity, but a lower abundance of the nosZ functional gene was found. Similarly, plant parameters were unaffected regarding chemical composition and ecophysiology although biochar induced a higher efficiency in the plant nitrogen uptake without increasing crop yield.
Conclusions
Biochar addition at the highest rate (30 t ha−1) reduced soil-soluble nitrate although N uptake by the plant remained invariable, in turn coupled to no effects on crop productivity. Our study showed that, in a Mediterranean agroecosystem, a wood biochar produced by gasification was unable to increase crop yield, but enhanced soil water retention, decreased the need for N fertilization, and decreased soil-soluble nitrate concentrations, something that could help to mitigate the excessive nitrate levels associated with over-fertilization.
This is a preview of subscription content, log in to check access.
Access options
Buy single article
Instant unlimited access to the full article PDF.
US$ 39.95
Price includes VAT for USA
Subscribe to journal
Immediate online access to all issues from 2019. Subscription will auto renew annually.
US$ 199
This is the net price. Taxes to be calculated in checkout.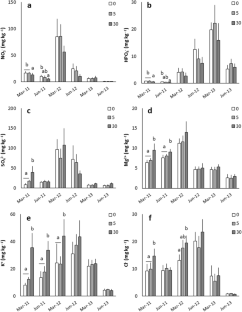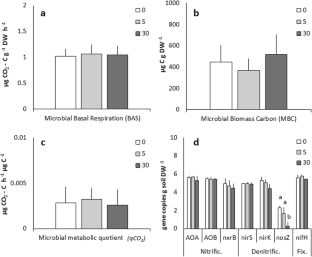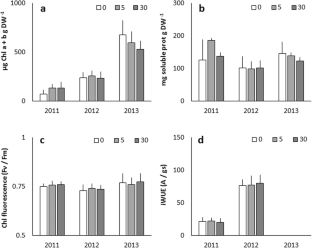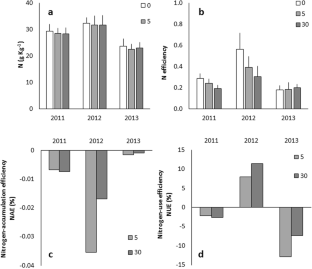 References
Addiscott TM, Powlson DS, Whitmore AP (1991) Farming, fertilizers and the nitrate problem. CAB International, Wallingford

Agegnehu G, Nelson PN, Bird MI (2016) The effects of biochar, compost and their mixture and nitrogen fertilizer on yield and nitrogen use efficiency of barley grown on a Nitisol in the highlands of Ethiopia. Sci Total Environ 569:869–879

Akhtar SS, Andersen MN, Liu F (2015) Residual effects of biochar on improving growth, physiology and yield of wheat under salt stress. Agric Water Manag 158:61–68

Ameloot N, De Neve S, Jegajeevagan K, Yildiz G, Buchan D, Funkuin YN, Prins W, Bouckaert L, Sleutel S (2013) Short-term CO2 and N2O emissions and microbial properties of biochar amended sandy loam soils. Soil Biol Biochem 57:401–410

Ameloot N, Maenhout P, Neve SD, Sleutel S (2016) Biochar-induced N2O emission reductions after field incorporation in a loam soil. Geoderma 267:10–16

Amonette JE, Joseph S (2009) Characteristics of biochar: microchemical properties. In: Lehmann J, Joseph S (eds) Biochar for environmental management. Earthscan, London, pp 33–52

Anderson TH, Domsch KH (1990) Application of ecophysiological quotients (QCO2 and QD) on microbial biomasses from soils of different cropping histories. Soil Biol Biochem 22:251–255

Atkinson CJ, Fitzgerald JD, Hipps NA (2010) Potential mechanisms for achieving agricultural benefits from biochar application to temperate soils: a review. Plant Soil 337:1–18

Baronti S, Vaccari FP, Miglietta F, Calzonari C, Lugato E, Orlandini S, Pini R, Zulian C, Genesio L (2013) Impact of biochar application on plant water relations in Vitis vinifera (L.). Eur J Agron 53:38–44

Blanco-Canqui H (2017) Biochar and soil physical properties. Soil Sci Soc Am J 81:687–692

Biederman LA, Harpole WS (2013) Biochar and its effects on plant productivity and nutrient cycling: a meta-analysis. GCB Bioenergy 5:202–214

Bradford MM (1976) Rapid and sensitive method for quantitation of microgram quantities of protein utilizing principle of protein-dye binding. Anal Biochem 72:248–254

Brookes PC, Joergensen RG (2006) Microbial biomass measurements by fumigation extraction. In: Bloem J, Hopkins DW, Benedetti A (eds) Microbial methods for assessing soil quality. CABI Publishing, King's Lynn, pp 77–83

Castaldi S, Riondino M, Baronti S, Esposito FR, Marzaioli R, Rutigliano FA, Vaccari FP, Miglietta F (2011) Impact of biochar application to a Mediterranean wheat crop on soil microbial activity and greenhouse gas fluxes. Chemosphere 85:1464–1471

Cayuela ML, van Zwieten L, Singh BP, Jeffery S, Roig A, Sanchez-Monedero MA (2014) Biochar's role in mitigating soil nitrous oxide emissions: a review and meta-analysis. Agric Ecosyst Environ 191:5–16

Chan KY, Van Zwieten L, Meszaros I, Downie A, Joseph S (2007) Agronomic values of greenwaste biochar as a soil amendment. Aust J Soil Res 45:629–634

Cid N, Bonada N, Carlson SM, Grantham TE, Gasith A, Resh VH (2017) High variability is a defining component of Mediterranean-climate rivers and their biota. Water 9:52. https://doi.org/10.3390/w9010052

Cornelissen G, Martinsen V, Shitumbanuma V, Alling V, Breedveld GD, Rutherford DW, Sparrevik M, Hale SE, Obia A, Mulderm J (2013) Biochar effect on maize yield and soil characteristics in five conservation farming sites in Zambia. Agronomy-Basel 3:256–274

Ding Y, Liu YX, Wu WX, Shi DZ, Yang M, Zhong ZK (2010) Evaluation of biochar effects on nitrogen retention and leaching in multi-layered soil columns. Water Air Soil 213:47–55

El-Naggar A, Awad YM, Tang XY, Liu C, Niazi NK, Jien SH, Tsang DCW, Song H, Yong SO, Sang SL (2018) Biochar influences soil carbon pools and facilitates interactions with soil: a field investigation. Land Degrad Dev 29:2162–2171

Enders A, Hanley K, Whitman T, Joseph S, Lehmann J (2012) Characterization of biochars to evaluate recalcitrance and agronomic performance. Bioresour Technol 114:644–653

Forster JC (1995) Soil sampling, handling, storage and analysis. In: Methods in applied soil microbiology and biochemistry. Alef K, Nannipieri P (eds) London Academic Press, 608

Foskolos A, Calsamiglia S, Chrenková M, Weisbjerg MR, Albanell E (2015) Prediction of rumen degradability parameters of a wide range of forages and non-forages by NIRS. Animal 9:1163–1171

Gao S, DeLuca TH, Cleveland CC (2019) Biochar additions alter phosphorus and nitrogen availability in agricultural ecosystems: a meta-analysis. Sci Total Environ 654:463–472

Gunther S, Grunert M, Muller S (2018) Overview of recent advances in phosphorus recovery for fertilizer production. Eng Life Sci 18:434–439

Hagemann N, Arter J, Behrens S (2016) Elucidating the impacts of biochar applications on nitrogen cycling microbial communities. In: Ralebitso-Senior T, Orr C (eds) Biochar application. Essential soil microbial ecology. Elsevier, United Kingdom pp 163–198

Haider G, Koyro HW, Azam F, Steffens D, Müller C, Kammann C (2015) Biochar but not humic acid product amendment affected maize yields via improving plant-soil moisture relations. Plant Soil 395:141–157

Hansen V, Muller-Stover D, Imparato V, Krogh PH, Jensen LS, Dolmer A, Hauggaard-Nielsen H (2017) The effects of straw or straw-derived gasification biochar applications on soil quality and crop productivity: a farm case study. J Environ Manag 186:88–95

Harter J, El-Hadidi M, Huson DH, Kappler A, Behrens S (2017) Soil biochar amendment affects the diversity of nosZ transcripts: implications for N2O formation. Sci Rep 7:3338. https://doi.org/10.1038/s41598-017-03282-y

Harter J, Krause HM, Schuettler S, Ruser R, Fromme M, Scholten T, Kappler A, Behrens S (2014) Linking N2O emissions from biochar-amended soil to the structure and function of the N-cycling microbial community. ISME J 8:660–674

Jeffery S, Verheijen FGA, van der Velde M, Bastos AC (2011) A quantitative review of the effects of biochar application to soils on crop productivity using meta-analysis. Agric Ecosyst Environ 144:175–187

Jeffery S, Abalos D, Spokas KA, Verheijen FGA (2015) Biochar effects on crop yield. In: Lehmann J, Joseph S (eds) Biochar for environmental management: science, technology and implementation. Routledge, New York, USA, pp 1–13

Jeffery S, Abalos D, Prodana M, Bastos AC, Van Groenigen JW, Hungate BA, Verheijen F (2017) Biochar boosts tropical but not temperate crop yields. Environ Res Lett 12:053001

Joseph SD, Camps-Arbestain M, Lin Y, Munroe P, Chia CH, Hook J, van Zwieten L, Kimber S, Cowie A, Singh BP, Lehmann J, Foidl N, Smernik RJ, Amonette JE (2010) An investigation into the reactions of biochar in soil. Aust J Soil Res 48:501–515

Kammann C, Graber ER (2015) Biochar effects on plant ecophysiology. In: Lehmann J, Joseph S (eds) Biochar for environmental management: science, technology and implementation. Routledge, New York, pp 1–13

Karhu K, Mattila T, Bergström I, Regina K (2011) Biochar addition to agricultural soil increased CH4 uptake and water holding capacity—results from a short-term pilot field study. Agric Ecosyst Environ 140:309–313

Kavitha B, Reddy PVL, Kim B, Lee SS, Pandey SK, Kim KH (2018) Benefits and limitations of biochar amendment in agricultural soils: a review. J Environ Manag 227:146–154

Kottek M, Grieser J, Beck C, Rudolf B, Rubel F (2006) World map of the Köppen-Geiger climate classification updated. Meteorol Z 15:259–263

Kuypers MM, Marchant HK, Kartal B (2018) The microbial nitrogen-cycling network. Nat Rev Microbiol 16:263–276

Lawlor DW, Kontturi M, Young AT (1989) Photosynthesis by flag leaves of wheat in relation to protein, ribulose biphosphate carboxylase activity and nitrogen supply. J Exp Bot 40:43–52

Lehmann J, Joseph S (2015) Biochar for environmental management: an introduction. In: Lehmann J, Joseph S (eds) Biochar for environmental management: science, technology and implementation. Routledge, New York, pp 1–13

Li Z, Song Z, Bhupinder PS, Wang H (2019) The impact of crop residue biochars on silicon and nutrient cycles in croplands. Sci Total Environ 659:673–680

Liang B, Lehmann J, Solomon D, Kinyangi J, Grossman J, O'Neill B, Skjemstad JO, Thies J, Luizao FJ, Petersen J, Neves EG (2006) Black carbon increases cation exchange capacity in soils. Soil Sci Soc Am J 70:1719–1730

Lichthenthaler HK, Wellburn A (1983) Determinations of total carotenoids and chlorophylls a and b of leaf extracts in different solvents. Biochem Soc Trans 11:591–592

Liu Q, Zhang Y, Liu B, Amonette JE, Lin Z, Liu G, Ambus P, Xie Z (2018) How does biochar influence soil N cycle? A meta-analysis. Plant Soil 426(1–2):211–225

Marks EAN, Alcañiz JM, Domene X (2014) Unintended effects of biochars on short-term plant growth in a calcareous soil. Plant Soil 385:87–105

Marks EAN, Mattana S, Alcañiz JM, Pérez-Herrero E, Domene X (2016) Gasifier biochar effects on nutrient availability, organic matter mineralization, and soil fauna activity in a multi-year Mediterranean trial. Agric Ecosyst Environ 215:30–39

Maynard DG, Kalra YP, Crumbaugh JA (2007) Nitrate and exchangeable ammonium nitrogen. In: Carter MR and Gregorich EG (eds) Soil sampling and methods of analysis. 2nd Edition. Canadian Society of Soil Science. CRC Press, Taylor and Francis Group, Boca Raton, FL, 1264

Mierzwa-Hersztek M, Klimkowicz-Pawlas A, Gondek K (2018) Influence of poultry litter and poultry litter biochar on soil microbial respiration and nitrifying bacteria activity. Waste Biomass Valorization 9(3):379–389

Mizuta K, Matsumoto T, Hatate Y, Nishihara K, Nakanishi T (2004) Removal of nitrate-nitrogen from drinking water using bamboo powder charcoal. Bioresour Technol 95:255–257

Novak JM, Busscher WJ, Watts DW, Amonette JE, Ippolito JA, Lima IM, Gaskin J, Das KC, Steiner C, Ahmedna M, Rehrah D, Schomberg H (2012) Biochars impact on soil-moisture storage in an ultisol and two aridisols. Soil Sci 117:310–320

Noyce GL, Basiliko N, Fulthorpe R, Sackett TE, Thomas SC (2015) Soil microbial responses over 2 years following biochar addition to a north temperate forest. Biol Fertil Soils 51:649–659

Olmo M, Albuquerque JA, Barrón V, del Campillo MC, Gallardo A, Fuentes M, Villar R (2014) Wheat growth and yield responses to biochar addition under Mediterranean climate conditions. Biol Fertil Soils 50:1177–1187

Pell M, Stenstrom J, Granhall U (2006) Soil respiration. In: Bloem J, Hopkins DW, Benedetti A (eds) Microbiological methods for assessing soil quality. CABI Publishing, King's Lynn

Philippot L, Hallin S, Schloter M (2007) Ecology of denitrifying prokaryotes in agricultural soil. Adv Agron 96:249–305

Prommer J, Wanek W, Hofhansl F, Trojan D, Offre P, Urich T, Schleper C, Sassmann S, Kitzler B, Soja G, Hood-Nowotny RC (2014) Biochar decelerates soil organic nitrogen cycling but stimulates soil nitrification in at temperate arable field trial. PLoS One 9:e86388

Rehman MZ, Khalid H, Akmal F, Ali S, Rizwan M, Qayyum MF, Iqbal M, Khalid MU, Azhar M (2017) Effect of limestone, lignite and biochar applied alone and combined on cadmium uptake in wheat and rice under rotation in an effluent irrigated field. Environ Pollut 227:560–568

Ribas A, Mattana S, Llurba R, Debouk H, Sebastia MT, Domene X (2019) Biochar application and summer temperatures reduce N2O and enhance CH4 emissions in a Mediterranean agroecosystem: role of biologically-induced anoxic microsites. Sci Total Environ 685:1075–1086

Rogovska N, Laird DA, Rathke SJ, Karlen DL (2014) Biochar impact on Midwestern Mollisols and maize nutrient availability. Geoderma 230:340–347

Saarnio S, Heimonen K, Kettunen R (2013) Biochar addition indirectly affects N2O emissions via soil moisture and plant N uptake. Soil Biol Biochem 58:99–106

Scheer C, Grace PR, Rowlings DW, Kimber S, Van Zwieten L (2011) Effect of biochar amendment on the soil-atmosphere exchange of greenhouse gases from an intensive subtropical pasture in northern New South Wales, Australia. Plant Soil 345:47–58

Sembiring H, Raun WR, Johson GV (1998) Nitrogen accumulation efficiency: relationship between excess fertilizer and soil-plant biological activity in winter wheat. J Plant Nutr 21:1235–1252

Shaaban M, Van Zwieten L, Bashir S, Younas A, Nuñez-Delgado A, Chhajro MA, Kubar KA, Ali U, Rana MS, Mehmood MA, Hu R (2018a) A concise review of biochar application to agricultural soils to improve soil conditions and fight pollution. J Environ Manag 228:429–440

Shaaban M, Wu Y, Khalid MS, Peng QA, Xu X, Wu L, Younas A, Bashir S, Mo Y, Lin S (2018b) Reduction in soil N2O emissions by pH manipulation and enhanced nosZ gene transcription under different water regimes. Environ Pollut 235:625–631

Sanchez-Garcia M, Roig A, Sanchezmonedero MA, Cayuela ML (2014) Biochar increases soil N2O emissions produced by nitrification-mediated pathways. Front Environ Sci 2:25

Sheng Y, Zhu L (2018) Biochar alters microbial community and carbon sequestration potential across different soil pH. Sci Total Environ 622:1391–1399

Shi RY, Li JY, Jiang J, Kamran MA, Xu RK, Qian W (2018) Incorporation of corn straw biochar inhibited the re-acidification of four acidic soils derived from different parent materials. Environ Sci Pollut Res 25:9662–9672

Si L, Xie Y, Ma Q, Wu L (2018) The short-term effects of rice straw biochar, nitrogen and phosphorus fertilizer on rice yield and soil properties in a cold waterlogged paddy field. Sustainability 10:537–544

Singh B, Singh BP, Cowie AL (2010) Characterisation and evaluation of biochars for their application as a soil amendment. Aust J Soil Res 48:516–525

Sombroek W, Ruivo ML, Fearnside PM, Glaser B, Lehmann J (2003) Amazonian dark earths as carbon stores and sinks. In: Lehmann J, Kern DC, Glaser B, Woods WI (eds) Amazonian dark earths: origin, properties, management. Kluwer Academic Publishers, Dordrecht, Netherlands

Sun X, Han X, Ping F, Zhang L, Zhang K, Chen M, Wu W (2018) Effect of ricestraw biochar on nitrous oxide emissions from paddy soils under elevated CO2 and temperature. Sci Total Environ 628:1009–1016

Tsukagoshi S, Fukui M, Shinoyama H, Noda K, Ikegami F (2010) The effect of charcoal amendment on the lettuce growth and NO3-N discharge from the soil medium. Acta Hortic 852:319–324

Vaccari FP, Baronti S, Lugato E, Genesio L, Castaldi S, Fornasier F, Miglietta F (2011) Biochar as a strategy to sequester carbon and increase yield in durum wheat. Eur J Agron 34:231–238

Ventura M, Sorrenti G, Panzacchi P, George E, Tonon G (2013) Biochar reduces short-term nitrate leaching from a horizon in an apple orchard. J Environ Qual 42:76–82

Wang J, Pan X, Liu Y, Zhang X, Xiong Z (2012) Effects of biochar amendment in two soils on greenhouse gas emissions and crop production. Plant Soil 360:287–298

Wang ZY, Chen L, Sun FL, Luo XX, Wang HF, Liu GC, Xu ZH, Jiang ZX, Pan B, Zheng H (2017) Effects of adding biochar on the properties and nitrogen bioavailability of an acidic soil. Eur J Soil Sci 68:559–572

Yoo G, Lee YO, Won TJ, Hyun JG, Ding W (2018) Variable effects of biochar application to soils on nitrification-mediated N2O emissions. Sci Total Environ 626:603–611

Yu Z, Chen L, Pan S, Li Y, Kuzyakov Y, Xu J, Brookes PC, Luo Y (2018) Feedstock determines biochar-induced soil priming effects by stimulating the activity of specific microorganisms: feedstock of biochar determines priming effects. Eur J Soil Sci 69(3):521–534

Yuan JH, Xu RK, Zhang H (2011) The forms of alkalis in the biochar produced from crop residues at different temperatures. Bioresour Technol 102:3488–3497

Zhang A, Bian R, Pan G, Cui L, Hussain Q, Li L, Zheng J, Zheng J, Zhang X, Han X, Yu X (2012) Effects of biochar amendment on soil quality, crop yield and greenhouse gas emission in a Chinese rice paddy: a field study of 2 consecutive rice growing cycles. Field Crop Res 127:153–160

Zheng H, Wang Z, Deng X, Herbert S, Xing B (2013) Impacts of adding biochar on nitrogen retention and bioavailability in agricultural soil. Geoderma 206:32–39
Acknowledgments
We want to thank Evan Marks and Gerardo Ojeda for their assistance in the experiment setup.
Funding information
This work was funded by the CARBONET project (CGL2010-15766) of the Spanish Ministry of Science and Innovation and partly by the project FERTICHAR (AGL2015-70393-R) of the Spanish Ministry of Economy and Competitiveness.
Ethics declarations
Conflict of interest
The authors declare that they have no conflict of interest.
Additional information
Publisher's note
Springer Nature remains neutral with regard to jurisdictional claims in published maps and institutional affiliations.
Responsible editor: Hailong Wang
About this article
Cite this article
Martos, S., Mattana, S., Ribas, A. et al. Biochar application as a win-win strategy to mitigate soil nitrate pollution without compromising crop yields: a case study in a Mediterranean calcareous soil. J Soils Sediments 20, 220–233 (2020). https://doi.org/10.1007/s11368-019-02400-9
Received:

Accepted:

Published:

Issue Date:
Keywords
Crop yield

Gasification biochar

Plant efficiency

Plant nutrition

Soil nutrition