Abstract
Purpose
Superabsorbent polymer (SAP) has been widely used to improve soil moisture conditions in the ecological restoration of mining land. The effect of SAP on water-soluble salt movement in SAP-modified gneiss spoil in a semiarid region was studied in this experiment.
Materials and methods
Weathered gneiss spoil, dress soil, SAP, and turf were mixed via the L25(56) orthogonal test, and the semiarid environmental conditions were controlled for 1 year in a climate chamber.
Results and discussion
The results showed that bulk density, field water-holding capacity, and daily average evaporation rate of the substrate were dominated by the proportions of the soil and turf contents but were not significantly influenced by the SAP. The water-soluble salt in the top layer of the substrate increased significantly as the SAP concentration increased; i.e., it increased by 36.5% per 0.1% increase in the SAP within the range of 0 to 1%. The major ions influenced by the SAP were Na+, Mg2+, Ca2+, Cl−, and SO42−. The SAP decreased the pH of the substrate before the experiment, but only the top layer was influenced by the increase in the SAP after 1 year. The electrical conductivity (EC), which reflects the content of soluble ions in different substrate layers, was significantly influenced by the SAP in the following order: EC-middle layer < EC-bottom layer < EC-top layer.
Conclusions
Based on the above results, we can conclude that the strong water and salt ion absorption ability of the SAP may limit the leaching of water-soluble ions and aggravate the accumulation of surface salts under semiarid environmental conditions. This study will be helpful for understanding the salt accumulation caused by the use of SAP in the remediation of mine spoil with high soluble salt contents.
This is a preview of subscription content, log in to check access.
Access options
Buy single article
Instant unlimited access to the full article PDF.
US$ 39.95
Price includes VAT for USA
Subscribe to journal
Immediate online access to all issues from 2019. Subscription will auto renew annually.
US$ 199
This is the net price. Taxes to be calculated in checkout.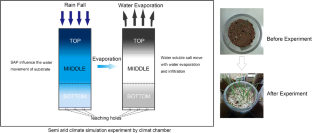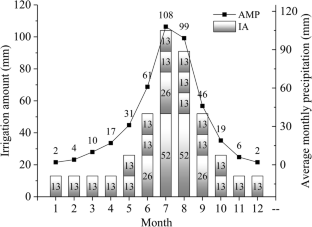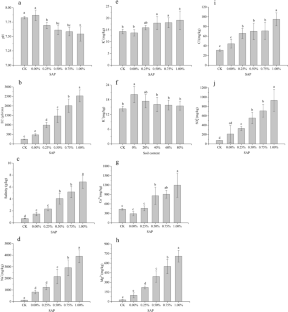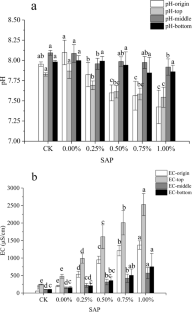 References
Abbott DE, Essington ME, Mullen MD, Ammons JT (2001) Fly ash and lime-stabilized biosolid mixtures in mine spoil reclamation. J Environ Qual 30:608

Agaba H, Orikiriza LJB , Obua J, Kabasa JD ,Worbes M, Hüttermann A (2011) Hydrogel amendment to sandy soil reduces irrigation frequency and improves the biomass of Agrostis stolonifera. Agr Sci 02:544-550

Ahirwal J, Maiti SK (2017) Assessment of carbon sequestration potential of revegetated coal mine overburden dumps: a chronosequence study from dry tropical climate. J Environ Manag 201:369–377

Andry H, Yamamoto T, Irie T, Moritani S, Inoue M, Fujiyama H (2009) Water retention, hydraulic conductivity of hydrophilic polymers in sandy soil as affected by temperature and water quality. J Hydrol 373:177–183

Asghar HN, Setia R, Marschner P (2012) Community composition and activity of microbes from saline soils and non-saline soils respond similarly to changes in salinity. Soil Biol Biochem 47:175–178

Bai WB, Zhang HZ, Liu B, Wu Y, Song JQ (2010) Effects of super-absorbent polymers on the physical and chemical properties of soil following different wetting and drying cycles. Soil Use Manag 26:253–260

Bai WB, Song JQ, Zhang HZ (2013) Repeated water absorbency of super-absorbent polymers in agricultural field applications: a simulation study. Acta Agric Scand 63:433–441

Ballesteros M, Cañadas EM, Foronda A, Peñas J, Valle F, Lorite J (2014) Central role of bedding materials for gypsum-quarry restoration: an experimental planting of gypsophile species. Ecol Eng 70:470–476

Bao SD (2015) Soil and agriculture chemistry analysis. China Agriculture Press, Beijing

Bello K, Sarojini BK, Narayana B, Rao A, Byrappa K (2018) A study on adsorption behavior of newly synthesized banana pseudo-stem derived superabsorbent hydrogels for cationic and anionic dye removal from effluents. Carbohydr Polym 181:605–615

Bhardwaj AK, Shainberg I, Goldstein D, Warrington DN, J Levy GJ (2007) Water retention and hydraulic conductivity of cross-linked polyacrylamides in sandy soils. Soil Sci Soc Am J 71:406

Busscher WJ, Bjorneberg DL, Sojka RE (2009) Field application of PAM as an amendment in deep-tilled US southeastern coastal plain soils. Soil Tillage Res 104:215–220

Cao YB, Wang BT, Guo HY, Xiao HJ, Wei TN (2017) The effect of super absorbent polymers on soil and water conservation on the terraces of the loess plateau. Ecol Eng 102:270–279

Castillo S, De La Rosa JD, Sánchez de la Campa AM et al (2013) Contribution of mine wastes to atmospheric metal deposition in the surrounding area of an abandoned heavily polluted mining district (Rio Tinto mines, Spain). Sci Total Environ 449:363–372

Chadwick OA, Gavenda RT, Kelly EF, Ziegler K, Olson CG, Elliott WC, Hendricks DM (2003) The impact of climate on the biogeochemical functioning of volcanic soils. Chem Geol 202:195–223

Chehab H, Tekaya M, Mechri B, Jemai A, Guiaa M, Mahjoub Z, Boujnah D, Laamari S, Chihaoui B, Zakhama H, Hammami M, del Giudice T (2017) Effect of the super absorbent polymer Stockosorb® on leaf turgor pressure, tree performance and oil quality of olive trees cv. Chemlali grown under field conditions in an arid region of Tunisia. Agric Water Manag 192:221–231

Chen Z, Chen WL, Li CJ, Pu YP, Sun HF (2016) Effects of polyacrylamide on soil erosion and nutrient losses from substrate material in steep rocky slope stabilization projects. Sci Total Environ 554-555:26–33

Clark EV, Daniels WL, Zipper CE, Eriksson K (2018) Mineralogical influences on water quality from weathering of surface coal mine spoils. Appl Geochem 91:97–106

Devine DM, Higginbotham CL (2005) Synthesis and characterisation of chemically crosslinked N-vinyl pyrrolidinone (NVP) based hydrogels. Eur Polym J 41:1272–1279

Donn S, Wheatley RE, McKenzie BM, Loades KW, Hallett PD (2014) Improved soil fertility from compost amendment increases root growth and reinforcement of surface soil on slopes. Ecol Eng 71:458–465

Dorraji SS, Golchin A, Ahmadi S (2015) The effects of hydrophilic polymer and soil salinity on corn growth in sandy and loamy soils. Clean Soil Air Water 38:584–591

Essawy HA, Ghazy MBM, El-Hai FA, Mohamed MF (2016) Superabsorbent hydrogels via graft polymerization of acrylic acid from chitosan-cellulose hybrid and their potential in controlled release of soil nutrients. Int J Biol Macromol 89:144–151

Fan RQ, Luo J, Yan SH, Zhou YL, Zhang ZH (2015) Effects of biochar and super absorbent polymer on substrate properties and water spinach growth. Pedosphere 25:737–748

Fernández-Calviño D, Cutillas-Barreiro L, Paradelo-Núñez R, Nóvoa-Muñoz JC, Fernández-Sanjurjo MJ, Álvarez-Rodríguez E, Núñez-Delgado A, Arias-Estévez M (2017) Heavy metals fractionation and desorption in pine bark amended mine soils. J Environ Manag 192:79–88

Ghollarata M, Raiesi F (2007) The adverse effects of soil salinization on the growth of Trifolium alexandrinum L. and associated microbial and biochemical properties in a soil from Iran. Soil Biol Biochem 39:1699–1702

Green VS, Stott DE, Norton LD, Graveel JG (2000) Polyacrylamide molecular weight and charge effects on infiltration under simulated rainfall. Soil Sci Soc Am J 64:1786

Güçlü G, Al E, Emik S, İyim T, Özgümüş S, Özyürek M (2009) Removal of Cu2+ and Pb2+ ions from aqueous solutions by starch-graft-acrylic acid/montmorillonite superabsorbent nanocomposite hydrogels. Polym Bull 65:333–346

Guilherme MR, Aouada FA, Fajardo AR, Martins AF, Paulino AT, Davi MFT, Rubira AF, Muniz EC (2015) Superabsorbent hydrogels based on polysaccharides for application in agriculture as soil conditioner and nutrient carrier: a review. Eur Polym J 72:365–385

Holden AA, Mayer KU, Ulrich AC (2012) Evaluating methods for quantifying cation exchange in mildly calcareous sediments in Northern Alberta. Appl Geochem 27:2511–2523

Hong CY, Chao YY, Yang MY, Cho SC, Huei KC (2009) Na(+) but not Cl(−) or osmotic stress is involved in NaCl-induced expression of glutathione reductase in roots of rice seedlings. J Plant Physiol 166:1598–1606

Hong HS, Ham SY, Kim JS, Kim IS, Lee EY (2016) Application of sodium polyacrylate and plant growth–promoting bacterium, Micrococcaceae HW–2, on the growth of plants cultivated in the rooftop. Int Biodeter Biodegr 113:297–303

Hou XQ, Li R, He WS, Dai XH, Ma K, Liang Y (2017) Superabsorbent polymers influence soil physical properties and increase potato tuber yield in a dry-farming region. J Soils Sediments 18:816–826

Hu Y, Schmidhalter U (2005) Drought and salinity: a comparison of their effects on mineral nutrition of plants. J Plant Nutr Soil Sci 168:541–549

Javed R, Shah LA, Sayed M, Khan MS (2018) Uptake of heavy metal ions from aqueous media by hydrogels and their conversion to nanoparticles for generation of a catalyst system: two-fold application study. RSC Adv 8:14787–14797

Jiang T, Teng LL, Wei SQ, Deng LL, Luo ZB, Chen YP, Flanagan DC (2010) Application of polyacrylamide to reduce phosphorus losses from a Chinese purple soil: a laboratory and field investigation. J Environ Manag 91:1437–1445

Johnson MS, Piper CD (1997) Cross-linked, water-storing polymers as aids to drought tolerance of tomatoes in growing media. J Agron Crop Sci 178:23–27

Jordán MM, Pina S, García-Orenes F, Almendro-Candel MB, García-Sánchez E (2007) Environmental risk evaluation of the use of mine spoils and treated sewage sludge in the ecological restoration of limestone quarries. Environ Geol 55:453–462

Jordán MM, García-Sánchez E, Almendro-Candel MB, Pardo F, Vicente AB, Sanfeliu T, Bech J (2017) Technosols designed for rehabilitation of mining activities using mine spoils and biosolids. Ion mobility and correlations using percolation columns. Catena 148:74–80

Kang SH, Hong SG, Moon J (2017) Absorption kinetics of superabsorbent polymers (SAP) in various cement-based solutions. Cem Concr Res 97:73–83

Kawasaki T, Shimizu G, Moritsugu M (1983) Effects of high concentrations of sodium chloride and polyethylene glycol on the growth and ion absorption in plants. Plant Soil 75:87–93

Kuka K, Franko U, Hanke K, Finkenbein P (2013) Investigation of different amendments for dump reclamation in northern Vietnam. J Geochem Explor 132:41–53

Li X, He JZ, Liu YR, Zheng YM (2013) Effects of super absorbent polymers on soil microbial properties and Chinese cabbage (Brassica chinensis) growth. J Soils Sediments 13:711–719

Li XD, Li Q, Su Y, Yue QY, Gao BY, Su Y (2015) A novel wheat straw cellulose-based semi-IPNs superabsorbent with integration of water-retaining and controlled-release fertilizers. J Taiwan Inst Chem Eng 55:170–179

Liao RK, Yang PL, Wang ZH, Wu WY, Ren SM (2018) Development of a soil water movement model for the superabsorbent polymer application. Soil Sci Soc Am J 82:436

Liu X, Chan ZL (2015) Application of potassium polyacrylate increases soil water status and improves growth of bermudagrass (Cynodon dactylon) under drought stress condition. Sci Hortic Amsterdam 197:705–711

Montiel-Rozas MM, Madejón E, Madejón P (2015) Evaluation of phytostabilizer ability of three ruderal plants in mining soils restored by application of organic amendments. Ecol Eng 83:431–436

Qiao DL, Liu HS, Yu L, Bao XY, Simon GP, Petinakis E, Chen L (2016) Preparation and characterization of slow-release fertilizer encapsulated by starch-based superabsorbent polymer. Carbohydr Polym 147:146–154

Ram LC, Masto RE (2010) An appraisal of the potential use of fly ash for reclaiming coal mine spoil. J Environ Manag 91:603–617

Rao P, Lo IMC, Yin K, Tang SCN (2011) Removal of natural organic matter by cationic hydrogel with magnetic properties. J Environ Manag 92:1690–1695

Rengasamy P (2002) Transient salinity and subsoil constraints to dryland farming in australian sodic soils: an overview. Aust J Exp Agr 42:351-361

Rhoades JD (1996) Salinity electrical conductivity and total dissolved solid. In: Page AL, Sommer CE, Nelson PW (eds) Methods of soil analysis. In: part 3. Chemical methods. ASA/SSSA, Madison, pp 417–436

Rhoades JD, Manteghi NA, Shouse PJ, Alves WJ (1989) Soil electrical conductivity and soil salinity: new formulations and calibrations. Soil Sci Soc Am J 53:433

Rhoades JD, Shouse PJ, Alves WJ, Manteghi NA, Lesch SM (1990) Determining soil salinity from soil electrical conductivity using different models and estimates. Soil Sci Soc Am J 54:46

Roshani A, Fall M, Kennedy K (2016) Impact of drying on geo-environmental properties of mature fine tailings pre-dewatered with super absorbent polymer. Int J Environ Sci Technol 14:453–462

Saifullah, Dahlawi S, Naeem A, Rengel Z, Naidu R (2018) Biochar application for the remediation of salt-affected soils: challenges and opportunities. Sci Total Environ 625:320–335

Santos ES, Abreu MM, Macías F, Magalhães MCF (2016) Potential environmental impact of technosols composed of gossan and sulfide-rich wastes from São Domingos mine: assay of simulated leaching. J Soils Sediments 17:1369–1383

Shah LA, Khan M, Javed R, Sayed M, Khan MS, Khan A, Ullah M (2018) Superabsorbent polymer hydrogels with good thermal and mechanical properties for removal of selected heavy metal ions. J Clean Prod 201:78–87

Sharma T, Madras G (2016) Effect of crosslinker on the swelling and adsorption properties of cationic superabsorbent. Bull Mater Sci 39:613–626

Shaygan M, Reading LP, Baumgartl T (2017) Effect of physical amendments on salt leaching characteristics for reclamation. Geoderma 292:96–110

Sheoran V, Sheoran AS, Poonia P (2010) Soil reclamation of abandoned mine land by revegetation: a review. Int J Soil Sediment Water 3:1-20

Slessarev EW, Lin Y, Bingham NL, Johnson JE, Dai Y, Schimel JP, Chadwick OA (2016) Water balance creates a threshold in soil pH at the global scale. Nature 540:567–569

Srivastava NK, Ram LC, Masto RE (2014) Reclamation of overburden and lowland in coal mining area with fly ash and selective plantation: a sustainable ecological approach. Ecol Eng 71:479–489

Tavakkoli E, Rengasamy P, McDonald GK (2010) High concentrations of Na+ and Cl– ions in soil solution have simultaneous detrimental effects on growth of faba bean under salinity stress. J Exp Bot 61:4449–4459

Touceda-González M, Álvarez-López V, Prieto-Fernández Á, Rodríguez-Garrido B, Trasar-Cepeda C, Mench M, Puschenreiter M, Quintela-Sabarís C, Macías-García F, Kidd PS (2017) Aided phytostabilisation reduces metal toxicity, improves soil fertility and enhances microbial activity in Cu-rich mine tailings. J Environ Manag 186:301–313

Tsai YC, Hong CY, Liu LF, Kao CH (2004) Relative importance of Na+ and Cl− in NaCl-induced antioxidant systems in roots of rice seedlings. Physiol Plant 122:86–94

Varennes AD, Qu G, Cordovil C, Gonçalves P (2011) Soil quality indicators response to application of hydrophilic polymers to a soil from a sulfide mine. J Hazard Mater 192:1836–1841

Vitousek PM, Chadwick OA (2013) Pedogenic thresholds and soil process domains in basalt-derived soils. Ecosystems 16:1379–1395

Walker DJ, Clemente R, Bernal MP (2004) Contrasting effects of manure and compost on soil pH, heavy metal availability and growth of Chenopodium album L. in a soil contaminated by pyritic mine waste. Chemosphere 57:215–224

Wong VNL, Dalal RC, Greene RSB (2008) Salinity and sodicity effects on respiration and microbial biomass of soil. Biol Fertil Soils 44:943–953

Xu H, Li TB, Chen JN, Liu CN, Zhou XH, Xia L (2017) Characteristics and applications of ecological soil substrate for rocky slope vegetation in cold and high-altitude areas. Sci Total Environ 609:446–455

Yang LX, Yang Y, Chen Z, Guo CX, Li SC (2014) Influence of super absorbent polymer on soil water retention, seed germination and plant survivals for rocky slopes eco-engineering. Ecol Eng 62:27–32

Yu J, Shainberg I, Yan YL, Shi JG, Levy GJ, Mamedov AI (2011) Superabsorbents and semiarid soil properties affecting water absorption. Soil Sci Soc Am J 75:2305

Yu J, Shi JG, Dang PF, Mamedov AI, Shainberg I, Levy GJ (2012) Soil and polymer properties affecting water retention by superabsorbent polymers under drying conditions. Soil Sci Soc Am J 76:1758

Yu J, Shi JG, Ma X, Dang PF, Yan YL, Mamedov AI, Shainberg I, Levy GJ (2017) Superabsorbent polymer properties and concentration effects on water retention under drying conditions. Soil Sci Soc Am J 81:889

Yuan BC, Li ZZ, Liu H, Gao M, Zhang YY (2007) Microbial biomass and activity in salt affected soils under arid conditions. Appl Soil Ecol 35:319–328

Zain G, Nada AA, El-Sheikh MA, Attaby FA, Waly AI (2018) Superabsorbent hydrogel based on sulfonated-starch for improving water and saline absorbency. Int J Biol Macromol 115:61–68

Zhang JG, Xu XW, Lei JQ et al (2008) The salt accumulation at the shifting aeolian sandy soil surface with high salinity groundwater drip irrigation in the hinterland of the Taklimakan Desert. Chin Sci Bull 53:63–70

Zhang Y, Chen H, Bai SH, Menke C, Zhang MY, Xu ZH (2017) Interactive effects of biochar addition and elevated carbon dioxide concentration on soil carbon and nitrogen pools in mine spoil. J Soils Sediments 17:2400–2409

Zhao Y, Chen Y, Zhao J, Tong ZR, Jin SH (2017a) Preparation of SA-g-(PAA-co-PDMC) polyampholytic superabsorbent polymer and its application to the anionic dye adsorption removal from effluents. Sep Purif Technol 188:329–340

Zhao Q, Guo F, Zhang Y, Ma SQ, Jia XB, Meng W (2017b) How sulfate-rich mine drainage affected aquatic ecosystem degradation in northeastern China, and potential ecological risk. Sci Total Environ 609:1093–1102

Zhuang WH, Li LG, Liu C (2013) Effects of sodium polyacrylate on water retention and infiltration capacity of a sandy soil. SpringerPlus 2:1–7

Zohuriaan-Mehr MJ, Kabiri K (2008) Superabsorbent polymer materials: a review, Iran. Iran Polym J 17:451–477
Additional information
Publisher's note
Springer Nature remains neutral with regard to jurisdictional claims in published maps and institutional affiliations.
Responsible editor: Fabio Scarciglia
About this article
Cite this article
Sun, Y., Zhao, T., Zhang, Y. et al. Response of water-soluble salt accumulation in weathered gneiss spoil substrate to the addition of superabsorbent polymer under a semiarid climate. J Soils Sediments 20, 190–203 (2020). https://doi.org/10.1007/s11368-019-02391-7
Received:

Accepted:

Published:

Issue Date:
Keywords
Ecological restoration substrate

Simulation experiment

Spoil utilization

Superabsorbent polymer

Water-soluble salt