Abstract
Purpose
Following ground-based skidding operations, understory vegetation and litter layer are commonly damaged or displaced by the movement of machines and timber on the machine operating trails, thus leaving the area vulnerable to increased runoff flow and sediment yield. One of the interim options available to suppress runoff and soil loss is the application of litter mulch directly after mechanized harvesting operations. The goal of the study is to assess the effects of broadleaves litter mulch on runoff and sediment yield immediately after rainfall events on a severely compacted skid trail in a mixed forest in Hyrcanian forests, northern Iran.
Materials and methods
The study included six treatments (undisturbed area, untreated trail, and four levels of litter rate; 0.42, 0.81, 1.31, and 1.69 kg m2 referred to as LR1, LR2, LR3, LR4, respectively) and two levels of trail gradient (10% and 20%), replicated in three plots (7 m long × 1 m width).
Results and discussion
The highest runoff values of 1.54 and 1.33 mm were measured at trail gradients of 20 and 10% for the untreated trail, respectively. The litter mulch application resulted in runoff decreasing by 49%, 67%, 75%, and 79% in the LR1, LR2, LR3, and LR4 treatments, respectively. The highest values of runoff coefficient were measured in the untreated trail (U; 4.6%), followed by LR1 > LR2 > LR3 ≈ LR4 treatments. Sediment yield in the untreated treatment was 7.32 g m−2 on the 10% gradient trail and 6.15 g m−2 on the 20% trail gradient. Sediment yield values in the LR1, LR2, LR3, and LR4 treatments were decreased by 76%, 85%, 90%, and 93%, respectively, compared to the untreated treatment.
Conclusions
By increasing the litter rate, runoff and sediment yield responses significantly decreased as the rainfall increased. The net differences between the tested litter rates and the runoff and sediment yield reductions were higher with increasing rainfall intensity.
This is a preview of subscription content, log in to check access.
Access options
Buy single article
Instant access to the full article PDF.
US$ 39.95
Price includes VAT for USA
Subscribe to journal
Immediate online access to all issues from 2019. Subscription will auto renew annually.
US$ 199
This is the net price. Taxes to be calculated in checkout.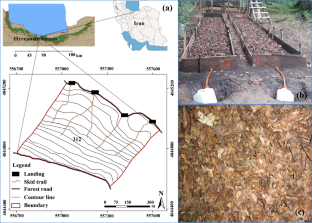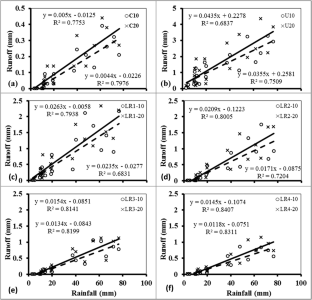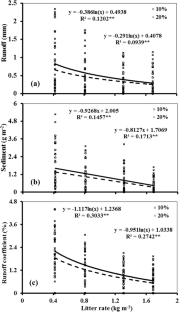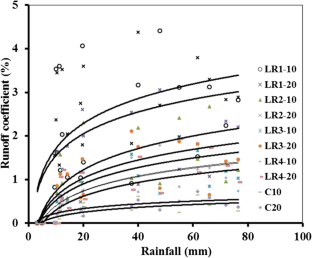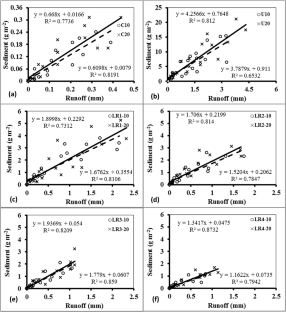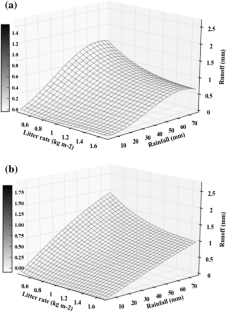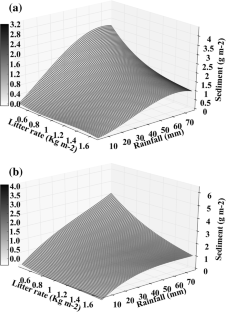 References
ASTM D 854–00. (2002) Standard test methods for specific gravity of soil solids by water pycnometer. ASTM International, West Conshohocken, PA

Bagarello V, Ferro V (2010) Analysis of soil loss data from plots of differing length for the Sparacia experimental area, Sicily, Italy. Biosyst Eng 105:411–422

Cerdà A, Doerr SH (2008) The effect of ash and needle cover on surface runoff and erosion in the immediate post-fire period. Catena 74:256–263

Dunkerley DL (2015) Percolation through leaf litter: what happens during rainfall events of varying intensity? J Hydrol 525:737–746

Etehadi Abari M, Majnounian B, Malekian A, Jourgholami M (2017) Effects of forest harvesting on runoff and sediment characteristics in the Hyrcanian forests, northern Iran. Eur J Forest Res 136:375–386

Gee GW, Bauder JW (1986) Particle-size analysis. In: Klute A (ed) Methods of soil analysis, part 1. Physical and mineralogical methods. Soil Science Society of America, Madison, pp 383–411

Geißler C, Kühn P, Böhnke M, Bruelheide H, Shi X, Scholten T (2012) Splash erosion potential under tree canopies in subtropical SE China. Catena 91:85–93

Gerrits AMJ, Pfister L, Savenije HHG (2010) Spatial and temporal variability of canopy and forest floor interception in a beech forest. Hydrol Process 24:3011–3025

Gerrits AMJ, Savenije HHG, Hoffmann L, Pfister L (2007) New technique to measure forest floor interception – an application in a beech forest in Luxembourg. Hydrol Earth Syst Sci 11:695–701

Ghahramani A, Ishikawa Y, Gomi T (2011a) Slope length effect on sediment and organic litter transport on a steep forested hillslope: upscaling from plot to hillslope scale. Hydrol Res Lett 5:16–20

Ghahramani A, Ishikawa Y, Gomi T, Shiraki K, Miyata S (2011b) Effect of ground cover on splash and sheetwash erosion over a steep forested hillslope: a plot-scale study. Catena 85:34–47

Gomyo M, Kuraji K (2016) Effect of the litter layer on runoff and evapotranspiration using the paired watershed method. J For Res 21:306–313

Jordán A, Zavala LM, Gil J (2010) Effects of mulching on soil physical properties and runoff under semi-arid conditions in southern Spain. Catena 81:77–85

Jourgholami M, Etehadi Abari M (2017) Effectiveness of sawdust and straw mulching on postharvest runoff and soil erosion of a skid trail in a mixed forest. Eco Eng 109:1–9

Jourgholami M, Fathi K, Labelle ER (2018) Effects of foliage and traffic intensity on runoff and sediment in skid trails after trafficking in a deciduous forest. Eur J Forest Res 137:223–235

Jourgholami M, Labelle ER, Feghhi J (2017) Response of runoff and sediment on skid trails of varying gradient and traffic intensity over a two-year period. Forests 8:472

Labelle ER, Jaeger D (2011) Soil compaction caused by cut-to-length forest operations and possible short-term natural rehabilitation of soil density. Soil Sci Soc Am J 75:2314–2329

Li X, Niu J, Xie B (2013) Study on hydrological functions of litter layers in North China. PLoS One 8(7):e70328. https://doi.org/10.1371/journal.pone.0070328

Li X, Niu J, Xie B (2014) The effect of leaf litter cover on surface runoff and soil erosion in northern China. PLoS One 9(9):e107789. https://doi.org/10.1371/journal.pone.0107789

Li X, Xiao Q, Niu J, Dymond S, McPherson EG, van Doorn N, Yu X, Xie B, Zhang K, Li J (2017) Rainfall interception by tree crown and leaf litter: an interactive process. Hydrol Process 31:3533–3542

Malvar MC, Silva FC, Prats SA, Vieira DCS, Coelho COA, Keizer JJ (2017) Short-term effects of post-fire salvage logging on runoff and soil erosion. For Ecol Manag 400:555–567

Miyata S, Kosugi K, Gomi T, Mizuyama T (2009) Effects of forest floor coverage on overland flow and soil erosion on hillslopes in Japanese cypress plantation forests. Water Resour Res 45:W06402

Nolan L, Aust WM, Barrett SM, Bolding MC, Brown K, McGuire K (2015) Estimating costs and effectiveness of upgrades in forestry best management practices for stream crossings. Water 7:6946–6966

Pintaldi E, D'Amico ME, Stanchi S, Catoni M, Freppaz M, Bonifacio E (2018) Humus forms affect soil susceptibility to water erosion in the Western Italian Alps. Appl Soil Ecol 123:478–483

Poltorak BJ, Labelle ER, Jaeger D (2018) Soil displacement during ground-based mechanized forest operations using mixed-wood brush mats. Soil Tillage Res 179:96–104

Sato Y, Kumagai T, Kume A, Otsuki K, Ogawa S (2004) Experimental analysis of moisture dynamics of litter layers – the effect of rainfall conditions and leaf shapes. Hydrol Process 18:3007–3018

Smets T, Poesen J, Knapen A (2008) Spatial scale effects on the effectiveness of organic mulches in reducing soil erosion by water. Earth-Sci Rev 89:1–12

Sosa-Pérez G, MacDonald LH (2017a) Effects of closed roads, traffic, and road decommissioning on infiltration and sediment production: a comparative study using rainfall simulations. Catena 159:93–105

Sosa-Pérez G, MacDonald LH (2017b) Reductions in road sediment production and road-stream connectivity from two decommissioning treatments. For Ecol Manag 398:116–129

Tsiko CT, Makurira H, Gerrits AMJ, Savenije HHG (2012) Measuring forest floor and canopy interception in a savannah ecosystem. Phys Chem Earth 47–48:122–127

Walkley A, Black IA (1934) An examination of the Degtjareff method for determining soil organic matter and a proposed modification of chromic acid titration method. Soil Sci 37:29–38
Acknowledgements
We would like to acknowledge the assistance of Jaafar Fathi, Forest Engineer, Kheyrud Forest Research Station, Nowshahr, and the field crews, Asghar Ghomi and Ghodrat Daneshvar. Financial support was provided by the Deputy of Research, University of Tehran. We thank the Editor and two anonymous reviewers for their valuable and helpful comments which improved the manuscript.
Additional information
Responsible editor: Nikolaus Kuhn
About this article
Cite this article
Jourgholami, M., Labelle, E.R. & Feghhi, J. Efficacy of leaf litter mulch to mitigate runoff and sediment yield following mechanized operations in the Hyrcanian mixed forests. J Soils Sediments 19, 2076–2088 (2019). https://doi.org/10.1007/s11368-018-2194-x
Received:

Accepted:

Published:

Issue Date:
Keywords
Forest harvesting

Forest soils

Mulch

Rainfall intensity

Runoff coefficient