Abstract
Purpose
Triclosan (TCS, 5-chloro-2-(2,4-dichlorophenoxy) phenol) an antimicrobial compound used in a range of household products, is an emerging hydrophobic organic contaminant, that may be incorporated into soil through the application of biosolids. The present study assessed the bioavailable fraction of TCS in a soil-biosolid system using wheat (Triticum aestivum) plant assays and a predictive extraction method using a solution of hydroxypropyl-β-cyclodextrin (HPCD) to determine if it was a reliable surrogate for this bioassay.
Materials and methods
Three soils were obtained from the central region of Chile (Cuesta Vieja, Polpaico, and Taqueral). Biosolid was obtained from a regional wastewater treatment plant. The soils were amended with biosolids at different rates (30, 60, 90, and 200 Mg ha-1). The TCS concentration was determined in biosolids, soil, and plant samples via gas chromatography coupled with mass spectrometry (GC-MS).
Results and discussion
The total TCS concentration in the biosolids was 5.45 mg kg-1. The results of the TCS extraction from the wheat plants (roots and shoots) indicated that TCS was primarily found in the roots. TCS uptake by the plant varied based on soil properties. The predictive capability of the HPCD extraction was assessed using a simple linear correlation test for TCS concentration in wheat plants.
Conclusions
The study yielded a linear relationship, which demonstrated the validity of the chemical method as a biosimulation technique.
This is a preview of subscription content, log in to check access.
Access options
Buy single article
Instant access to the full article PDF.
US$ 39.95
Price includes VAT for USA
Subscribe to journal
Immediate online access to all issues from 2019. Subscription will auto renew annually.
US$ 199
This is the net price. Taxes to be calculated in checkout.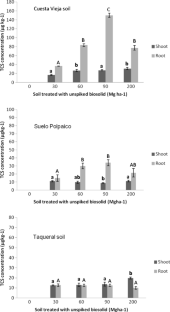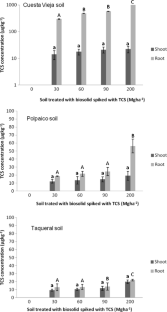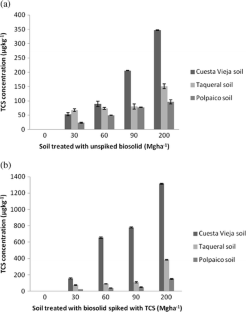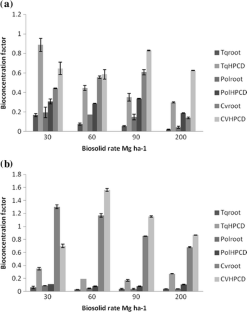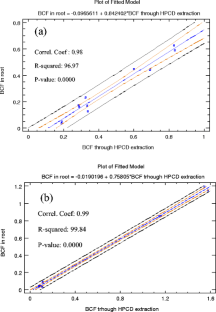 References
Aranami K, Readman JW (2007) Photolytic degradation of triclosan in freshwater and seawater. Chemosphere 66:1052–1056

Aryal N, Reinhold DM (2011) Phytoaccumulation of antimicrobials from biosolids: impacts on environmental fate and relevance to human exposure. Water Res 45:5545–5552

Bedoux G, Roig B, Thomas O, Dupont V, Le Bot B (2012) Occurrence and toxicity of antimicrobial triclosan and by-products in the environment. Environ Sci Pollut Res 19:1044–1065

Brown S, Kurtz K, Bary A, Cogger C (2011) Quantifying benefits associated with land application of organic residuals in Washington State. Environ Sci Technol 45:7451–7458

Cheng CY, Wang YC, Ding WH (2011) Determination of triclosan in aqueous samples using solid-phase extraction followed by on-line derivatization gas chromatography-mass spectrometry. Anal Sci 27:197–202

Clarke B, Smith SR (2011) Review of 'emerging' organic contaminants in biosolids and assessment of international research priorities for the agricultural use of biosolids. Environ Int 37:226–247

Coleman JOD, Blake-Kalff MMA, Davies TG (1997) Detoxification of xenobiotics by plants: chemical modification and vacuolar compartmentation. Trends Plant Sci 2:144–151

Coogan MA, Edziyie RE, La Point TW, Vanables BJ (2008) Snail bioaccumulation of triclocarban, triclosan, and methyltriclosan in a North Texas, USA stream affected by wastewater treatment plant runoff. Environ Toxicol Chem 27:1788–1793

Cuypers C, Pancras T, Grotenhuis T, Rulkens W (2002) The estimation of PAH bioavailability in contaminated sediments using hydroxypropyl-β-cyclodextrin and triton X-100 extraction techniques. Chemosphere 46:1235–1245

De Vere E, Purchase D (2007) Effectiveness of domestic antibacterial products in decontaminating food contact surfaces. Food Microbiol 24:425–430

Doik KJ, Clasper PJ, Urmann K, Semple KT (2006) Further validation of HPCD-technique for the evaluation of PAH microbial availability in soil. Environ Pollut 144:354–354

Epstein E (2003) Land application of sewage sludge and biosolids. Lewis Publishers. CRC Press, USA

Frantz S, Altenburger R, Heilmeir H, Schmitt-Jansen M (2008) What contributes to the sensitivity of microalgae to triclosan? Aquat Toxicol 90:102–108

Gasperi J, Geara D, Lorgeoux C, Bressy A, Zedek S, Rocher V, El Samrani A, Chebbo G, Moilleron R (2014) First assessment of triclosan, triclocarban and paraben mass loads at a very large regional scale: case of Paris conurbation (France). Sci Total Environ 493:854–861

Jachero L, Sepúlveda B, Ahumada I, Fuentes E, Richter P (2013) Rotating disk sorptive extraction of triclosan and methyl-triclosan from water samples. Anal Bioanal Chem 405:7711–7716

Karnjanapiboonwong A, Chase DA, Cañas JE, Jackson WA, Maul JD, Morse AN, Anderson TA (2011) Uptake of 17 α-ethynylestradiol and triclosan in pinto bean, (Phaseolusvulgaris). Ecotoxicol Environ Saf 74:1336–1342

Khaleel R, Reddy KR, Overcash MR (1981) Changes in soil physical properties due to organic waste applications: a review. J Environ Qual 10:133–141

Matsumura N, Ishibashi H, Hirano M, Nagao Y, Watanabe N, Shiratsuchi H, Kai T, Nishimura T, Kashiwagi A, Arizono K (2005) Effects of nonylphenol and triclosan on production of plasma vitellogen in and testosterone in male South African clawed frogs (Xenopuslaevis). Biol Pharm Bull 28:1748–1751

McBain AJ, Bartolo RG, Catrenich CE, Charbonneau D, Ledder RG, Bradford BP, Gilbert P (2003) Exposure of sink drain microcosm to triclosan: population dynamics and antimicrobial susceptibility. Appl Environ Microbiol 69:533–542

Orhan M, Kut D, Gunesoglu C (2007) Use of triclosan as antibacterial agent in textiles. Indian J Fibre Text Res 32:114–118

Pannu MW, Toor GS, O'Connor GA, Wilson PC (2012) Toxicity and bioaccumulation of biosolids-born Triclosan in food crops. Environ Toxicol Chem 31:2130–2137

Ried BJ, Stokes JD, Jones KC, Semple KT (2000b) Non exhaustive cyclodextrin-based extraction technique for the evaluation of PAH bioavailability. Environ Sci Technol 34:3174–3179

Ried BJ, Stokes JD, Jones KC, Semple KT (2004) Influence of hydroxypropil-beta-cyclodextrin on the extraction and biodegradation of phenantrene in soil. Environ Toxicol Chem 23:550–556

Sadzawka A, Carrasco MA, Grez R, Mora M, Flores H, Neaman A (2006) Métodos de Análisis recomendados para suelos de Chile. Revisión 2006. Instituto de Investigaciones Agropecuarias, Serie Actas INIA - N° 34, Santiago, Chile, p 164

Shaogang C, Chris DM (2007) Simultaneous determination of triclocarban and triclosan in municipal biosolids by liquid chromatography tandem mass spectrometry. J Chromatography A 1164:212–218

Simonich ST, Hites RA (1995) Organic pollutant accumulation in vegetation. Environ Sci Technol 29:2905–2914

Stevens KJ, Kim SY, Adhikari S, Vadapalli V, Venables BJ (2009) Effect of triclosan on seed germination and seedling development of three wetland plants. Environ Toxicol Chem 28:2598–2609

Stewart MJ, Parikh S, Xiao G, Tonge PJ, Kisker C (1999) Structural basis and mechanism of enoyl reductase inhibition by triclosan. J Mol Biol 290:859–865

Trapp S (2000) Modeling uptake into root and subsequent translocation of neutral and ionisable organic compounds. Pest Manag Sci 56:767–778

Wallace BM, Krzic M, Forge TA, Broersma K, Newman RF (2009) Biosolids increase soil aggregation and protection of soil carbon five years after application on a crested wheat grass pasture. J Environ Qual 38:291–298

Wong F, Bidleman T (2010) Hydroxypropyl-b-cyclodextrin as non-exhaustive extractant for organochlorine pesticides and polychlorinated biphenyls in muck soil. Environ Pollut 158:1303–1310

Wu C, Spongberg AL, Witter JD (2009) Adsorption and degradation of triclosan and triclocarban in soils and biosolids-amended soils. J Agric Food Chem 57:4900–4905

Wu C, Spongberg AL, Witter JD, Fang M, Czajkowski KP (2010) Uptake of pharmaceutical and personal care products by soybean plants from soils applied with biosolids and irrigated with contaminated water. Environ Sci Technol 44:6157–6161

Wu X, Ernst F, Conkle JL, Gan J (2013) Comparative uptake and translocation of pharmaceutical and personal care products (PPCPs) by common vegetables. Environ Int 60:15–22

Ying GG, Kookana RS (2007) Triclosan in wastewaters and biosolids from Australian wastewater treatment plants. Environ Int 33:199–205
Acknowledgments
The authors thank FONDECYT (Grants 1110115, 1100085) for financial support.
Additional information
Responsible editor: Jianming Xu
About this article
Cite this article
Corrotea, Y., Richter, P., Brown, S. et al. Determination of the bioavailable fraction of triclosan in biosolid-treated soils using a predictive method and wheat plant bioassays. J Soils Sediments 16, 1538–1546 (2016). https://doi.org/10.1007/s11368-015-1348-3
Received:

Accepted:

Published:

Issue Date:
Keywords
Bioavailability

Biosolids soil

Cyclodextrin

Triclosan