Abstract
Purpose
The aim of this study was to assess if veterinary antibiotics, which are introduced to agricultural fields via fertilizer, are present in water systems (in both water and sediment) following overland transport via runoff and soil erosion.
Materials and methods
Three water and sediment sampling schemes were conducted in Germany between June 2013 and June 2014 to examine the effects of (1) season, (2) heavy rainfall and (3) high veterinary antibiotic usage. The samples were analysed for 15 veterinary antibiotics using liquid chromatography tandem mass spectrometry.
Results and discussion
Antibiotics were detected in all three schemes in trace quantities. This is the first time that veterinary antibiotics have been detected in German sediment.
Conclusions
In particular, the presence of tetracycline in sediment taken from irrigation ditches in an agricultural area of high veterinary antibiotic usage offers proof that the overland transport of veterinary antibiotics is occurring. Due to the strong sorption of veterinary antibiotics (particularly tetracyclines) to soils, further research into their transport via soil erosion and assessment of their presence in sediment is advised.
This is a preview of subscription content, log in to check access.
Access options
Buy single article
Instant access to the full article PDF.
US$ 39.95
Price includes VAT for USA
Subscribe to journal
Immediate online access to all issues from 2019. Subscription will auto renew annually.
US$ 199
This is the net price. Taxes to be calculated in checkout.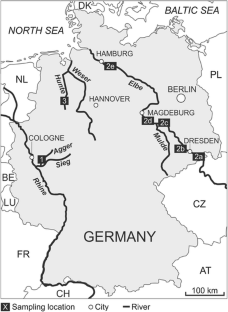 References
BVL (2013) Zweite Datenerhebung zur Antibiotikaabgabe in der Tiermedizin http://www.bvl.bund.de/DE/08_PresseInfothek/01_FuerJournalisten/01_Presse_und_Hintergrundinformationen/05_Tierarzneimittel/2013/2013_11_11_pi_Abgabemengen.html?nn=1401276. Accessed 24 October 2014

Christian T, Schneider RJ, Färber HA, Skutlarek D, Meyer MT, Goldbach HE (2003) Determination of antibiotic residues in manure, soil, and surface waters. Acta Hydrochim Hydrobiol 31:36–44

Davis JG, Truman CC, Kim SC, Ascough JC, Carlson K (2006) Antibiotic transport via runoff and soil loss. J Environ Qual 35:2250

Grummt T, Kuckelkorn J, Bahlmann A, Baumstark-Khan C, Brack W, Braunbeck T, Feles S, Gartiser S, Glatt H, Heinze R, Hellweg CE, Hollert H, Junek R, Knauer M, Kneib-Kissinger B, Kramer M, Krauss M, Küster E, Maletz S, Meinl W, Noman A, Prantl E-M, Rabbow E, Redelstein R, Rettberg P, Schadenboeck W, Schmidt C, Schulze T, Seiler T-B, Spitta L, Stengel D, Waldmann P, Eckhardt A (2013) Tox-Box: securing drops of life—an enhanced health-related approach for risk assessment of drinking water in Germany. Environ Sci Eur 25:27

Halling-Sørensen B, Sengeløv G, Tjørnelund J (2002) Toxicity of tetracyclines and tetracycline degradation products to environmentally relevant bacteria, including selected tetracycline-resistant bacteria. Arch Environ Contam Toxicol 42:263–271

Hamscher G, Sczesny S, Höper H, Nau H (2002) Determination of persistent tetracycline residues in soil fertilized with liquid manure by high-performance liquid chromatography with electrospray ionization tandem mass spectrometry. Anal Chem 74:1509–1518

Hamscher G, Pawelzick HT, Höper H, Nau H (2005) Different behavior of tetracyclines and sulfonamides in sandy soils after repeated fertilization with liquid manure. Environ Toxicol Chem 24:861–868

Hirsch R, Ternes T, Haberer K, Kratz K-L (1999) Occurrence of antibiotics in the aquatic environment. Sci Total Environ 225:109–118

Huckele S, Track T (2013) Risk management of emerging compounds and pathogens in the water cycle (RiSKWa). Environ Sci Eur 25:1

Jekel M, Ruhl A, Meinel F, Zietzschmann F, Lima S, Baur N, Wenzel M, Gnirß R, Sperlich A, Dünnbier U, Böckelmann U, Hummelt D, van Baar P, Wode F, Petersohn D, Grummt T, Eckhardt A, Schulz W, Heermann A, Reemtsma T, Seiwert B, Schlittenbauer L, Lesjean B, Miehe U, Remy C, Stapf M, Mutz D (2013) Anthropogenic organic micro-pollutants and pathogens in the urban water cycle: assessment, barriers and risk communication (ASKURIS). Environ Sci Eur 25:20

Jekel M, Dott W, Bergmann A, Dünnbier U, Gnirß R, Haist-Gulde B, Hamscher G, Letzel M, Licha T, Lyko S, Miehe U, Sacher F, Scheurer M, Schmidt CK, Reemtsma T, Ruhl AS (2015) Selection of functional organic indicator substances for the anthropogenically influenced water cycle. Chemosphere 125:155–167

Kay P, Blackwell PA, Boxall ABA (2005a) A lysimeter experiment to investigate the leaching of veterinary antibiotics through a clay soil and comparison with field data. Environ Pollut 134:333–341

Kay P, Blackwell PA, Boxall ABA (2005b) Transport of veterinary antibiotics in overland flow following the application of slurry to arable land. Chemosphere 59:951–959

Kemper N, Färber H, Skutlarek D, Krieter J (2008) Analysis of antibiotic residues in liquid manure and leachate of dairy farms in northern Germany. Agric Water Manag 95:1288–1292

Kim S-C, Carlson K (2007) Temporal and spatial trends in the occurrence of human and veterinary antibiotics in aqueous and river sediment matrices. Environ Sci Technol 41:50–57

Kolpin DW, Furlong ET, Meyer MT, Thurman EM, Zaugg SD, Barber LB, Buxton HT (2002) Pharmaceuticals, hormones, and other organic wastewater contaminants in US Streams, 1999–2000: a national reconnaissance. Environ Sci Technol 36:1202–1211

Landwirtschaftskammer (2012) Kontrolle der Düngeverordnung. http://www.landwirtschaftskammer.de/landwirtschaft/ackerbau/pdf/duev-owi-cc.pdf. Accessed 16 July 2014

Li W, Shi Y, Gao L, Liu J, Cai Y (2012) Occurrence of antibiotics in water, sediments, aquatic plants, and animals from Baiyangdian Lake in North China. Chemosphere 89:1307–1315

Martinez JL (2009) Environmental pollution by antibiotics and by antibiotic resistance determinants. Environ Pollut 157(11):2893–2902

Ok YS, Kim S-C, Kim K-R, Lee SS, Moon DH, Lim KJ, Sung J-K, Hur S-O, Yang JE (2011) Monitoring of selected veterinary antibiotics in environmental compartments near a composting facility in Gangwon Province, Korea. Environ Monit Assess 174:693–701

Pérez S, Eichhorn P, Aga DS (2004) Evaluating the biodegradability of sulfamethazine, sulfamethoxazole, sulfathiazole, and trimethoprim at different stages of sewage treatment. Environ Toxicol Chem 24:1361–1367

Schröter K, Kunz M, Elmer F, Mühr B, Merz B (2014) What made the June 2013 flood in Germany an exceptional event? A hydro-meteorological evaluation. Hydrol Earth Syst Sci Discuss 11:8125–8166

Spielmeyer A, Ahlborn J, Hamscher G (2014) Simultaneous determination of 14 sulfonamides and tetracyclines in biogas plants by liquid-liquid-extraction and liquid chromatography tandem mass spectrometry. Anal Bioanal Chem 406:2513–2524

Triebskorn R, Amler K, Blaha L, Gallert C, Giebner S, Güde H, Henneberg A, Hess S, Hetzenauer H, Jedele K, Jung R-M, Kneipp S, Köhler H-R, Krais S, Kuch B, Lange C, Löffler H, Maier D, Metzger J, Müller M, Oehlmann J, Osterauer R, Peschke K, Raizner J, Rey P, Rault M, Richter D, Sacher F, Scheurer M, Schneider-Rapp J, Seifan M, Spieth M, Vogel H-J, Weyhmüller M, Winter J, Wurm K (2013) SchussenAktivplus: reduction of micropollutants and of potentially pathogenic bacteria for further water quality improvement of the river Schussen, a tributary of Lake Constance, Germany. Environ Sci Eur 25:2
Acknowledgments
This work is supported by the German Federal Ministry of Education and Research (BMBF) and was conducted within the RiSKWa-funded research project RiskAGuA, grants 02WRS1274A/B. Many thanks go to Christian Röder and Frank Wieczorek from the State Authority for Mining, Energy and Geology (LBEG), Lower Saxony, Germany; the Höck family; North Rhine-Westphalia, Germany and Tobias Schruff (IWW) for their support with sample taking and to Franziska Ribbe (IWW) for her conceptual and technical advice.
Additional information
Responsible editor: Henner Hollert
About this article
Cite this article
Bailey, C., Spielmeyer, A., Frings, R.M. et al. From agricultural fields to surface water systems: the overland transport of veterinary antibiotics. J Soils Sediments 15, 1630–1634 (2015). https://doi.org/10.1007/s11368-015-1140-4
Received:

Accepted:

Published:

Issue Date:
Keywords
Environmental contamination

Overland transport

Sediment

Surface water

Veterinary antibiotics