Abstract
Introduction
Given the complex interactions of re-suspension processes and bioavailability of sediment-bound pollutants such as dioxin-like chemicals, there is need for a better integrative understanding of the cause–effect relationship of these pollutants. Currently, the majority of studies investigating potential risks of these chemicals only focus on characterizing sediment extracts via in vitro bioassays, thereby disregarding bioavailability, uptake, metabolism, and elimination rates of these compounds in vivo. To determine to which extent mechanism-specific effects in vitro reflect possible adverse effects in vivo, the research project dioRAMA, involving partnership between the Institute for Environmental Research of RWTH Aachen University and the Department Biochemistry/Ecotoxicology of the German Federal Institute of Hydrology, was established.
Methods
Animals from an elevated trophic level—common roach (Rutilus rutilus)—will be exposed to sediments from two major German rivers. Exposure will be performed in a system that enables a concurrent monitoring of environmental parameters. In parallel, in vitro studies will be conducted to determine dioxin-like potentials of sediment and fish extracts from the in vivo exposure experiments using different cell lines with varying endpoints. Moreover, extract fractionation procedures, using the strategy of effect-directed analysis, will enable the detection of specific contaminant groups responsible for the biological activity observed.
Conclusion
A closer interconnection between applied ecotoxicological science and regulatory needs will facilitate the improved assessment of dioxin-like compounds in sediment and biota. Consequently, this will enable their application in sediment management programs, which is one of the main goals of the dioRAMA project.
This is a preview of subscription content, log in to check access.
Access options
Buy single article
Instant access to the full article PDF.
US$ 39.95
Price includes VAT for USA
Subscribe to journal
Immediate online access to all issues from 2019. Subscription will auto renew annually.
US$ 199
This is the net price. Taxes to be calculated in checkout.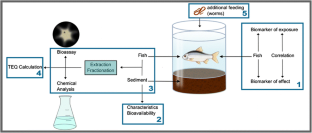 References
Ankley GT, Cook PM, Carlson AR, Call DJ, Swenson JA, Corcoran HF, Hoke RA (1992) Bioaccumulation of PCBs from sediments by oligochaetes and fishes: comparison of laboratory and field studies. Can J Fish Aquat Sci 49:2080–2085

ARGE-Elbe (ed) (1996) Umgang mit belastetem Baggergut an der Elbe. Zustand und Empfehlungen. Arbeitsgemeinschaft für die Reinhaltung der Elbe, Hamburg

Barceló D, Petrovic M (eds) (2007) Sustainable management of sediment resources: sediment quality and impact assessment of pollutants. Elsevier, Amsterdam

Behnisch PA, Hosoe K, Sakai S (2001a) Bioanalytical screening methods for dioxins and dioxin-like compounds—a review of bioassay/biomarker technology. Environ Int 27:413–439

Behnisch PA, Hosoe K, Sakai S (2001b) Combinatorial bio/chemical analysis of dioxin and dioxin-like compounds in waste recycling, feed/food, humans/wildlife and the environment. Environ Int 27:495–519

Boettcher M, Grund S, Keiter S, Kosmehl T, Reifferscheid G, Seitz N, Rocha PS, Hollert H, Braunbeck T (2010) Comparison of in vitro and in situ genotoxicity in the Danube River by means of the comet assay and the micronucleus test. Mutat Res Genet Toxicol Environ 700:11–17

Brinkmann M, Hudjetz S, Cofalla C, Roger S, Kammann U, Giesy JP, Hecker M, Wiseman S, Zhang XW, Woelz J, Schüttrumpf H, Hollert H (2010) A combined hydraulic and toxicological approach to assess re-suspended sediments during simulated flood events. Part I—multiple biomarkers in rainbow trout. J Soils Sediments 10:1347–1361

Burton A (ed) (1992) Sediment toxicity assessment. Lewis Publishers, Inc, Chelsea

Ebi KL, Menne B (eds) (2006) Climate change and adaptation strategies for human health, vol 2. (Springer) Steinkopf Verlag, Darmstadt

Fent K (ed) (2007) Ökotoxikologie. Georg Thieme Verlag, Stuttgart

Götz R, Bauer O-H, Friesel P, Herrmann T, Jantzen E, Kutzke M, Lauer R, Paepke O, Roch K, Rohweder U, Schwartz R, Sievers S, Stachel B (2007) Vertical profile of PCDD/Fs, dioxin-like PCBs, other PCBs, PAHs, chlorobenzenes, DDX, HCHs, organotin compounds and chlorinated ethers in dated sediment/soil cores from flood-plains of the river Elbe, Germany. Chemosphere 67:592–603

Hallare A, Seiler T-B, Hollert H (2011) The versatile, changing, and advancing roles of fish in sediment toxicity assessment—a review. J Soils Sediments 11:141–173

Hamers T, van Schaardenburg MD, Felzel EC, Murk AJ, Koeman JH (2000) The application of reporter gene assays for the determination of the toxic potency of diffuse air pollution. Sci Total Environ 262:159–174

Hanisch C, Zierling L, Junge FW, Czegka W (2005) Verlagerung, Verdünnung und Austrag von schwermetallbelasteten Flusssedimenten im Einzugsgebiet der Saale. Vgl. der sächsischen Akademie der Wissenschaften zu Leipzig 64

Hecker M, Hollert H (2009) Effect-directed analysis (EDA) in aquatic ecotoxicology: state of the art and future challenges. Environ Sci Pollut Res 16:607–613

Heimann W, Sylvester M, Seiler T-B, Hollert H, Schulz R (2011) Sediment toxicity in a connected oxbow lake of the Upper Rhine (Germany): EROD induction in fish cells. J Soils Sediments 11:1279–1291

Hilscherova K, Machala M, Kannan K, Blankenship A, Giesy J (2000) Cell bioassays for detection of aryl hydrocarbon (AhR) and estrogen receptor (ER) mediated activity in environmental samples. Environ Sci Pollut Res 7:159–171

Hollert H, Dürr M, Erdinger L, Braunbeck T (2000) Cytotoxicity of settling particulate matter and sediments of the Neckar River (Germany) during a winter flood. Environ Toxicol Chem 19:528–534

Hollert H, Heise S, Keiter S, Heininger P, Förstner U (2007) Wasserrahmenrichtlinie—Fortschritte und Defizite. Umweltwiss Schadst Forsch 19:58–70

Keiter S, Grund S, van Bavel B, Hagberg J, Engwall M, Kammann U, Klempt M, Manz W, Olsman H, Braunbeck T, Hollert H (2008) Activities and identification of aryl hydrocarbon receptor agonists in sediments from the Danube river. Anal Bioanal Chem 390:2009–2019

Kramer VJ, Etterson MA, Hecker M, Murphy CA, Roesijadi G, Spade DJ, Spromberg JA, Wang M, Ankley GT (2011) Adverse outcome pathways and ecological risk assessment: bridging to population-level effects. Environ Toxicol Chem 30:64–76

Monod G, Devaux A, Rivière JL (1987) Characterization of some monooxygenase activities and solubilization of hepatic cytochrome P-450 in two species of freshwater fish, the nase (Chondrostoma nasus) and the roach (Rutilus rutilus). Comp Biochem Physiol C 88:83–89

Safe SH (1990) Polychlorinated biphenyls (PCBs), dibenzo-p-dioxins (PCDDs), dibenzofurans (PCDFs), and related compounds: environmental and mechanistic considerations which support the development of toxic equivalency factors (TEFs). Crit Rev Toxicol 21:51–88

Safe SH (1995) Modulation of gene expression and endocrine response pathways by 2,3,7,8-tetrachlorodibenzo-p-dioxin and related compounds. Pharmacol Ther 67:247–281

Schüttrumpf H, Brinkmann M, Cofalla C, Frings R, Gerbersdorf S, Hecker M, Hudjetz S, Kammann U, Lennartz G, Roger S, Schäffer A, Hollert H (2011) A new approach to investigate the interactions between sediment transport and ecotoxicological processes during flood events. Environ Sci Eur 23:1–5

Stachel B, Christoph EH, Götz R, Herrmann T, Krüger F, Kühn T, Lay J, Löffler J, Päpke O, Reincke H, Schröter-Kermani C, Schwartz R, Steeg E, Stehr D, Uhlig S, Umlauf G (2006) Contamination of the alluvial plain, feeding-stuffs and foodstuffs with polychlorinated dibenzo-p-dioxins, polychlorinated dibenzofurans (PCDD/Fs), dioxin-like polychlorinated biphenyls (DL-PCBs) and mercury from the River Elbe in the light of the flood event in August 2002. Sci Total Environ 364:96–112

UFZ (2003) Schadstoffbelastung nach dem Elbe-Hochwasser 2002 - Ermittlung der Gefährdungspotentiale an Elbe und Mulde, UFZ Umweltforschungszentrum Leipzig-Halle GmbH, Magdeburg, Germany

Whyte JJ, Jung ER, Schmitt JC, Tillitt ED (2000) Ethoxyresorufin-O-deethylase (EROD) activity in fish as a biomarker of chemical exposure. Crit Rev Toxicol 30:347–570

Wölz J, Borck D, Witt G, Hollert H (2009a) Ecotoxicological characterization of sediment cores from the western Baltic Sea (Mecklenburg Bight) using GC–MS and biotests. J Soils Sediments 9:400–410

Wölz J, Cofalla C, Hudjetz S, Roger S, Brinkmann M, Schmidt B, Schaffer A, Kammann U, Lennartz G, Hecker M, Schuttrumpf H, Hollert H (2009b) In search for the ecological and toxicological relevance of sediment re-mobilisation and transport during flood events. J Soils Sediments 9:1–5

Wölz J, Brack W, Moehlenkamp C, Claus E, Braunbeck T, Hollert H (2010) Effect-directed analysis of Ah receptor-mediated activities caused by PAHs in suspended particulate matter sampled in flood events. Sci Total Environ 408:3327–3333

Wölz J, Schulze T, Lübcke-von Varel U, Fleig M, Reifferscheid G, Brack W, Kühlers D, Braunbeck T, Hollert H (2011) Investigation on soil contamination at recently inundated and non-inundated sites. J Soils Sediments 11:82–92

Zielke H, Seiler T-B, Niebergall S, Leist E, Brinkmann M, Spira D, Streck G, Brack W, Feiler U, Braunbeck T, Hollert H (2011) The impact of extraction methodologies on the toxicity of sediments in the zebrafish (Danio rerio) embryo test. J Soils Sediments 11:352–363
Additional information
Responsible editor: Arnold V. Hallare
About this article
Cite this article
Eichbaum, K., Brinkmann, M., Buchinger, S. et al. The dioRAMA project: assessment of dioxin-like activity in sediments and fish (Rutilus rutilus) in support of the ecotoxicological characterization of sediments. J Soils Sediments 13, 770–774 (2013). https://doi.org/10.1007/s11368-013-0668-4
Received:

Accepted:

Published:

Issue Date:
Keywords
Biomarker of effect and exposure

Dioxin-like activity

Rutilus rutilus